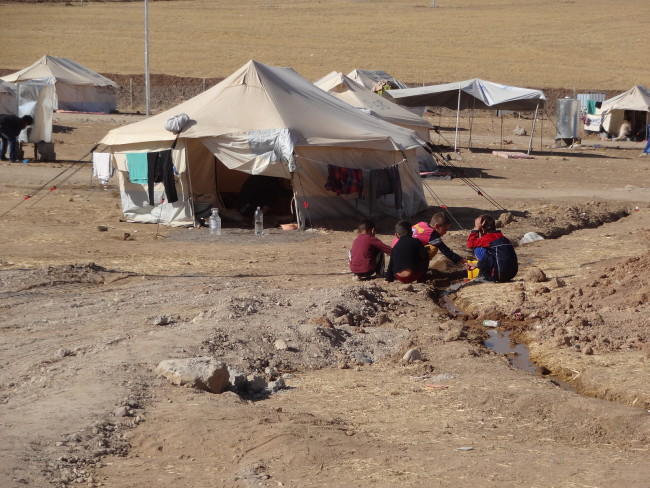 The Middle East faces the prospect of an influx of hundreds of thousands more refugees, especially minor children.
In a recent piece for the Brookings Institution, Omer Karasapan, Regional Knowledge & Learning Coordinator, World Bank, states that, of the 4 million Syrian refugees in the region, more than a million are children under 18, who have left Syria without papers. "There are also around 10,000 minors who have arrived in neighboring countries paperless and without an accompanying adult."
Karasapan adds that newborn refugees, like some 70 percent of Syrians in Lebanon who are unregistered, are the most at risk of "permanent statelessness".
"Since only fathers can confer citizenship in Syria, Lebanon and Jordan, an absent father will preclude registration. It is estimated that 25 percent of refugee families are headed by women, with husbands either separated, fighting, or dead," Karasapan notes.
Apart from the Syrian refugees, other stateless populations in the Middle East include the Palestinians, the Bidoon in the Persian Gulf region and Kurds in Syria and Lebanon. According to UNHCR, its financial requirements for the Middle East have increased dramatically "from USD 506.4 million in 2011 to a revised 2014 budget of USD 1.6 billion, as a result of needs arising from the crisis in Syria. In 2015, these financial requirements have increased again to USD 1.7 billion due to growing needs chiefly stemming from developments in Iraq, Syria and Yemen".
UNHCR estimates that more than 300,000 civilians have been displaced in the recent conflict in Yemen.
By the end of 2014, a whopping 38 million people had been forced to leave their countries due to conflict, according to UN figures, a 4.7 million increase compared to 2013. Of these, 11 million people were 'newly displaced' and nearly 4 million – the highest count – were in the Middle East region. Ninety percent of all IDPs (internally displaced people) in the Middle East and North Africa were from Syria and Iraq.
Responding to this mounting refugee crisis will be a major theme at the World Economic Forum's Middle East and North Africa meeting, to be held between 21 and 23 May in Jordan.