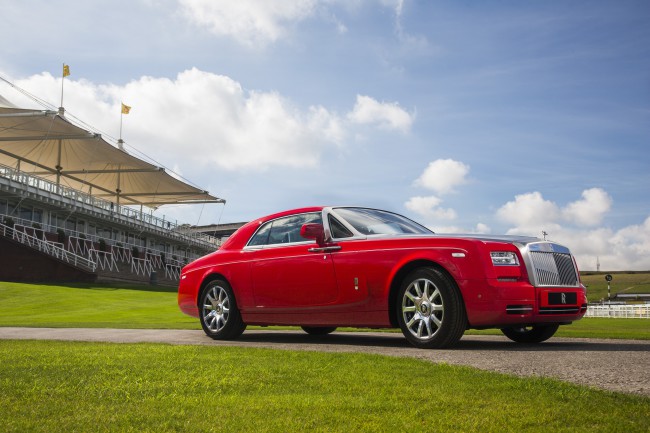 Fancy your time behind luxury wheels? Serious about your equestrian pursuits? Rolls-Royce combines your dual passions into a new collection of ultra-bespoke cars.
Inspired by the region's heritage in equestrianism, the iconic British motorcar manufacturer has unveiled the 'Al Adiyat' collection, which includes a custom-made Wraith and a Phantom Coupé, two of the ten vehicles that have been created specifically for its UAE clientele.
'Al Adiyat', a phrase derived from the Arabic expression 'wal Adiyat' is the title of a chapter in the Holy Quran, and means 'those who run'. "It refers to the stallions and mares that were traditionally used in wars and expeditions across Arabia," Rolls-Royce said in a statement.
 The collection is available in three colors: St. James Red, Arctic White and Infinity Black
"Horses are an integral part of Arabian heritage and often associated with royalty and luxury in the region, so these unique bespoke vehicles draw immense parallels with these associations, all the while maintaining the sophistication that Rolls-Royce vehicles epitomize." Arno Husselmann, General Manager at Abu Dhabi Motors, added.
The collection is available only at the Abu Dhabi Motors dealership, which is Rolls-Royce's dealer in Abu Dhabi and Al Ain.
The interiors use various combinations of Mugello Red and Arctic White leather contrasted against Piano White and Piano Black veneers
'Al Adiyat' is the latest in a series of concept collections the brand has unveiled in the last year. Its Suhail Collection for instance, celebrated the life of influential Arab Mathematician and Inventor Ibn Al-Haytham. Global limited collections such as Waterspeed, which was inspired by English racing motorist Sir Malcolm Campbell's endeavors, Pinnacle Travel, the urban-oriented Metropolitan and the Maharajah, which showcased a century of the brand's tryst with Indian royalty, have all helped sales to grow globally by 31 percent in 2014, the company said.
Design your own Roller
Some 85 percent of all Rolls-Royce motorcars sold around the world are commissioned with some level of bespoke content, the company claims. And in order to showcase the level and scope of customization that goes into every vehicle through its bespoke design program, Rolls-Royce is bringing its interactive Inside Rolls-Royce public exhibition to Dubai between March 19 and 23 at the Beach, JBR, following recent showings in London and Berlin.
"Guests will even be presented with the opportunity to commission their very own bespoke Rolls-Royce via an iPad configurator," said the brand in a statement.