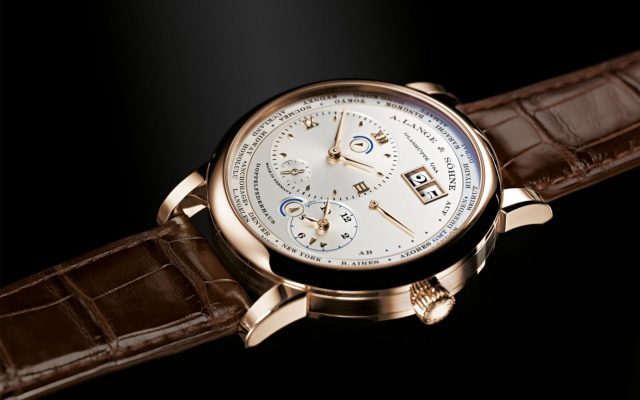 The first of a total of 100 new Richard Lange Jumping Seconds timepieces in platinum will be delivered to dealers this year. The typical regulator dial, the classic jumping seconds mechanism, the constant-force escapement and the zero-reset mechanism come together in a fascinating reinterpretation of the scientific observation watch.
For ten years, the name Richard Lange has stood for a continually growing watch family. It convincingly transitions the scientific observation watch, a genre traditionally nurtured by A. Lange & Söhne, from the past to the present.
Presented in January 2016, the Richard Lange Jumping Seconds broadens the watch family with a model including a classic function that was once a feature of A. Lange & Söhne's historic pocket watches. Its newly developed L094.1 manufacture caliber is endowed with this complication (also referred to as seconde morte), and has an innovative constant-force escapement. The mechanism utilizes the switching impulse of the jumping seconds integrated in the wheel train to deliver fresh energy to the remontoir spring of the constant-force escapement. In a separate wheel train between the mainspring barrel and the escapement, the constant-force mechanism compensates the gradually declining power of the mainspring. It assures virtually constant torque and a stable amplitude across the entire power-reserve period of up to 42 hours. The rhodié-colored regulator dial features a prominent seconds circle and presents itself in a stately platinum case with a diameter of 39.9mm.
A small aperture at the intersection of the hour and minute circles reminds the owner when it is time to wind the watch: the display switches to red ten hours in advance. In the movement, hand-finished to the strictest Lange standards, the technical processes are easily observable through the sapphire-crystal caseback. A five-pointed star, which controls the seconds jumps, rotates beneath a transparent sapphire bearing jewel in the middle of the mirror-polished end piece. The remontoir spring of the constant-force escapement can be seen through an opening in the three-quarter plate.