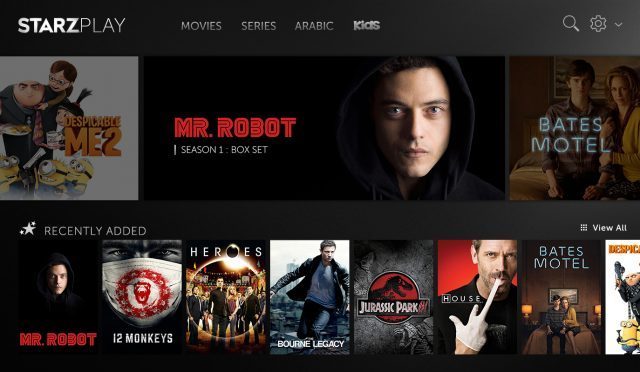 ·      Younger population and high income are facilitating the growth of video-on-demand in MENA
·      New alliance will ensure Middle East audience will access award-winning content
·      STARZ PLAY will substantially increase its services in the region
The video-on-demand (VOD) industry is growing at an escalating pace in the Middle East and North Africa region. A comparatively younger population, high income, increasing exposure to the West and a large number of expatriates are some factors that are fueling this industry in this region.
New Alliance
STARZ Play, the on-demand video streaming service available in 19 countries across the MENA region, has announced a new deal with NBCUniversal International Distribution to offer its subscribers popular TV box-sets, television series currently available in the US and the top-rates films.
Maaz Sheikh, CEO at STARZ PLAY, said: "NBCUniversal is known to cater to a broad audience and we are delighted to announce our deal with such a reputable studio. From The Fast and the Furious films – Universal Pictures' biggest franchise of all time – to the Jurassic Park movies, Universal Pictures delivers some of the most popular titles in the world of cinematography."
"This new arrangement is about adding more to STARZ PLAY's rich library of blockbuster Hollywood movies, current US TV series, documentaries and children's entertainment.  It also presents a remarkable opportunity that allows us to continue to meet our customers' requests," added Maaz.
Expanding portfolio
STARZ PLAY has increased its service to more than 6,000 hours of popular TV series and award-winning movies, which includes 4K content, to subscribers in 19 countries. The platform features English, Arabic and French audio options and user interfaces, plus one-click Arabic subtitling.
Belinda Menendez, President, NBCUniversal International Distribution & Networks, said: "From compelling and critically acclaimed TV series to blockbuster films, our diverse portfolio offers something for everyone, and we are delighted to partner with STARZ PLAY to bring our high-quality content to their viewers in the region."
The deal with NBCUniversal will also bring a number of other popular feature films to the service.