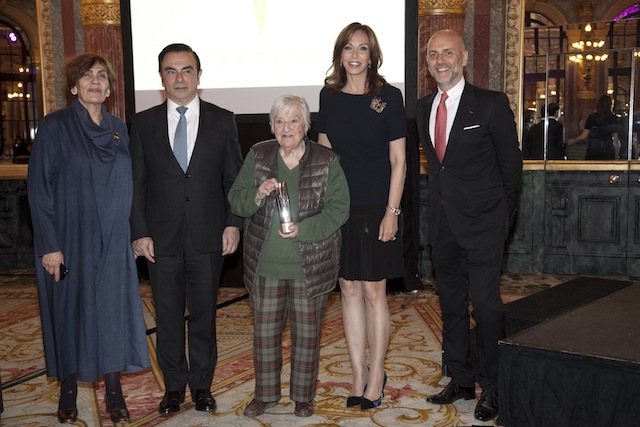 Since its inception, TAKREEM has always sought to establish a meeting platform, bringing together distinguished Arab personalities who have excelled in their respective fields in order to become a source of inspiration for Arab youth.
It is in Paris during a gala dinner that TAKREEM honored the Lebanese-American novelist and remarkable poet Etel Adnan in recognition of her astounding work and accomplishments.
One of the most influential artists of the 21st century, Etel Adnan is the author of numerous books of prose and poetry incorporating surrealist imagery; she is also a painter and a sculptor whose art has been exhibited internationally.
TAKREEM 2016 Jury Board meeting was held prior to the dinner whereby jury board members gathered to deliberate this year's laureates in the following fields: Young Entrepreneur, Humanitarian and Civic Services, Environmental Development and Sustainability, Scientific and Technological Achievement, Excellence in Education, Cultural Excellence, Outstanding Arab Woman, Corporate Leadership and International Contribution to Arab Society.
TAKREEM 2016 Jury Board members included Princess Banderi AlFaisal, HE Dr. Lakhdar Brahimi, Issa Abu-Issa, Sheikh Saleh Alturki, Carlos Ghosn, Shaikha Mai Al Khalifa, Dr. Farida Allaghi, Shaikha Paula Al Sabah, Nora Joumblatt, Samir Brikho, Dr. Ahmed Heikal, Nouha AlHegelan and Riad Al-Sadik.
Queen Noor Al Hussein, Raja Sidawi and Marc Levy were unable to attend the Board meeting however their active participation and relevant grading was incorporated into the deliberations for TAKREEM 2016 laureates.
The names of the laureates will be disclosed during the annual Awards Ceremony to be held in November.