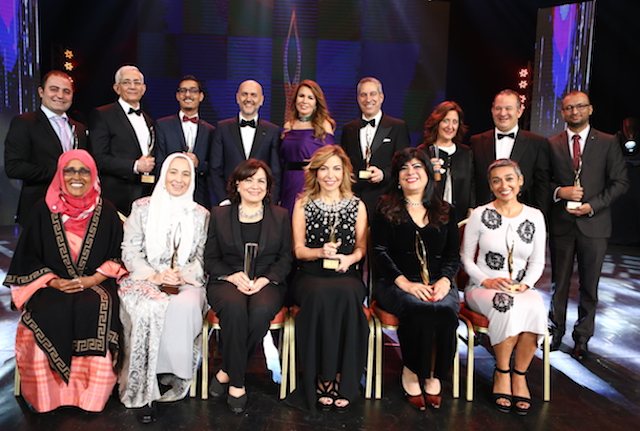 Following Beirut, Doha, Manama, Paris, Marrakesh and Dubai the 2016 TAKREEM Award Ceremony was held at the Cairo Opera House.
This year (2016), the Jury has voted to recognize the following laureates for their achievements.
· The Scientific and Technological Achievement Award:
DR. TAREK AMIN (KSA) one of the first Saudi surgeons to provide specialized surgical oncology services in Saudi Arabia; where he operates in King Faisal Specialist Hospital & Research Centre (KFSH). Dr. Amin has established numerous cutting edge surgical program and has pioneered the introduction of cytoreductive surgery, hyperthermic intraperitoneal chemotherapy (HIPEC) in the Kingdom.
· The Young Entrepreneur Award:
ZIAD SANKARI (Lebanon) the founder of Cardio diagnostics, a heart monitoring technology. The innovation encompasses an FDA approved wearable device 24/7 GPS enabled, allowing for monitoring centers to communicate diagnostic and preventive information to patients in the US and Lebanon. He was recognized by former US President Barack Obama as one of the emerging entrepreneurs from around the world.
· The Cultural Excellence Award:
FANNI RAGHMAN ANNI (Tunisia) an association producing artistic performances based on interactive and provocative improvisational approach. It advocates a culture of rights and freedom and means to empower the youth mainly in underprivileged areas; it also works with Syrian refugees.
· The Environmental Development and Sustainability Award:
FATIMA JIBRELL (Somalia) the founder of Adeso (previously Horn Relief), an association advocating the protection of Somalia's pastoral environment. She has played a key role in developing an indigenous environmental movement in Somalia, and gained international acclaim for inspiring social and political change.
· The Outstanding Arab Woman Award:
ZAINAB SALBI (Iraq) a social activist and journalist who founded Women for Women International, a grassroots humanitarian and development organization dedicated to helping women surviving wars to rebuild their lives. The organization has served 400,000 women, with more than $100 million in aid and loans. Salbi is the author of several bestsellers. She was named a Young Global Leader by the World Economic Forum. And has received several prestigious distinctions.
· The Excellence in Education Award:
AL NAYZAK (Palestine) a non-profit Jerusalemite initiative that looks for young talents in science, technology, engineering, and math (STEM) and means at integrating technology in education at school. It inaugurated the first Science and Technology House in Palestine, which receives around 15,000 visitors annually.
· The Humanitarian And Civic Services Award:
AZZA ABDEL HAMEED (Egypt) founder of Nida Society for the rehabilitation of children with sensory communication disorders. Azza Abdel Hameed also founded "Wataneya Society for the Development of Orphanages" that addresses the need for reform of institutional homes in Egypt with a special focus on orphanages.
· The Corporate Leadership Award:
SELIM A. BASSOUL (Lebanon) Chairman of the Board of Directors and Chief Executive Officer of The Middleby Corporation (NADSAQ: MIDD), a leading global of commercial and residential kitchen equipment and food processing/packaging solutions. Middleby has been one of the best performing stocks on the NASDAQ exchange over the past 15 years. Through his Bassoul Dignity Foundation, he has developed stoves for refugees delivered to the camps.
· The International Contribution to Arab Society Award:
ASHOKA (Arab World) a network that aims at fostering the ecosystem for social entrepreneurs and youth. The network includes more than 3,000 Ashoka Fellows is implementing system-changing solutions to human and environmental problems in 89 countries. The movement is built through collaboration with the private sector, media, academia and government.
The Life Time Achievement Award was handed to Philanthropist and Technology magnate Bill Gates (USA) for his efforts to increase access to vaccines, improve agricultural production, improve sanitation, and respond to emergency situations.
Two Life Time Achievement Awards were given posthumously to the memory of:
– Dame Zaha Hadid (Iraq) one of the world most famous architects who has held numerous chairs and guest professorships at universities around the world including Columbia, Harvard, Yale and the University of Applied Arts in Vienna.
– Faten Hamama (Egypt) fondly called the Lady of the Arabic Screen, not only changed the Egyptian film industry, but also showed through her roles the extent to which women in Egyptian and Arab societies can be strong, self-determined, and independent.