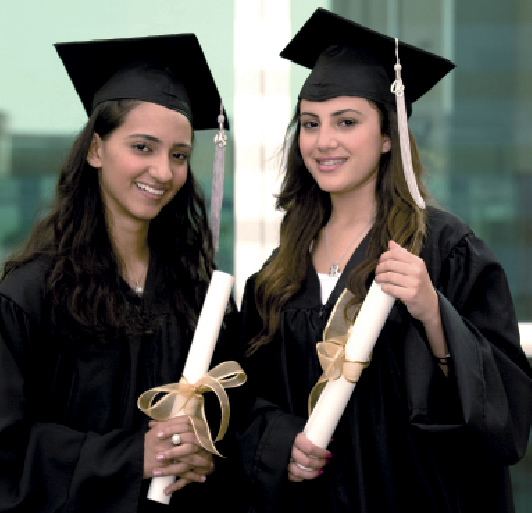 With a sizeable young population, oil-rich countries must reform their education 
systems to prepare new generations for the future.
The Arab countries in general and the Gulf Cooperation Council nations in particular have one of the youngest populations in the world, with a very high population growth. This should be good news in a world today where nations as distinct as Italy and China are facing the major challenge of a rapidly ageing population.
Yet, this very strategic edge of the Arab or GCC world could become its Achilles heel in a decade or two unless the governments and indeed the societies react 
rapidly to address the challenges that a very young population brings.
Job creation is clearly a challenge that no government needs to be 
reminded about as unemployment was one of the principal reasons behind the Arab Spring movement that has flared across the entire Arab world for more than a year and a half. And governments all over the region are definitely trying to create jobs and also to some extent a social security net for the young unemployed. But a challenge that many governments continue to ignore, at their own peril it may be added, is preparing the youth for the job market, or simply put an education system that produces talent more or less in concordance with the needs of the local economies.
Today, from Riyadh to Rabat, the focus is on education as a formality, a way to get hold of a degree, rather than something that would skill the youth in alignment with the industries and services that the societies need and hence ensure that the youth find the jobs that they need or like and the industries find the talent that is needed for their development.
"This is the major problem and I think everybody wants – and there is a societal pressure for people to get – university degrees. Everybody wants to be a doctor, an engineer, or if not have a university degree so that they could secure a good 
government job. And I think that will not do it," says Hilal Lashuel of Swiss Institute of Technology.
Hilal says one of the problems in the region is the stigma attached to certain categories of jobs that are seen as below dignity by most Arab youths. These include manual jobs like a plumber, carpenter, etc and most prefer to get a degree and seek a government job. "There is one good lesson we can learn from Switzerland. Only 10 to 15 per cent of Swiss youth go to university. Yet it is doing extremely well as a society. So it is worth looking into their system.
What they normally do is, I mean, some people may not agree with it, in the sixth grade they decide the orientation of the students. So there are people who could go and do whatever they want and there are others who do liberal arts, and the third track do not even go to high school. They immediately go to vocational school. And part of it is because, I think, they want to have a diversified workforce that can tackle all issues. So I think vocational training is important, but not without removing the societal stigma associated with some of these vocations," he says.
Another challenge in the Middle East is a near total absence of integration between industry and education. In most countries, universities tie up with industry and send their students, as part of the curriculum, to work in the relevant industry for, say, six months, to allow students to get some practical experience as well. In this region, unfortunately, when a student leaves university and sets foot in an office, this would be the first time that he would see real work and hence would need to be trained for a certain period before he really can perform any tasks.
A question of motivation
A major issue with the Gulf nations is the lack of motivation to excel and a near total absence of the necessity for the students to prove or excel themselves. Most parents do not motivate their children to study well and to choose a dynamic career path, and as a result students and their parents and even the governments are completely satisfied with mediocre performance. For example, even to gain admission in a good school in the west, especially in the United States, the Saudi students do not need to study hard like others as their government is keen to provide generous scholarships covering tuitions and other expenses of any student who gets admission in any overseas university. There are 130,000 Saudi students abroad on scholarships, with more than 80,000 in the US.
"Normally, you are out on scholarship because you are an exceptional student and that is the only time you get a fully paid scholarship. In Saudi Arabia, they send them only because they do not have adequate local capacity to handle these students. So any one who can secure an admission in any university, they get to go. So you know, there is no clear vision or strategy of what to do with the people whom we send and in what field we send them, how to reintegrate them when they come back. What does an education mean to an individual from the GCC? Is it a way of just getting job security? Do you educate for the sake of education? Do you educate for the sake of innovation? I do not think there is; right now it is not the latter," explains Hilal.
"There tends to be a trend of more job security. So the personal fulfillment from the job is not there. So there is a sense of entitlement, I am entitled to this, I am entitled to get a degree, I am entitled to get a job and I do not have to earn it and that is what I think will eventually destroy the system," says Hilal.
He adds that the solution might lie in throwing the gauntlet to the students. "Challenge your own people, let them prove themselves and then you can 
empower them. You can give them 
incentives. It's not a problem. You can give more incentives to a local youngster during their training than another."
Quality over quantity
To improve the quality of education, the governments also need to look at the entire aspect of curriculum, educational facilities and, of course, the faculty. Many experts say the quality of faculties available in the region could do with a significant dose of improvement at all levels of education, but especially in higher education. "Academics the world over interact with each other, visit other universities and, of course, publish because they know it is the only way of keeping in touch with the times. However, we have an extremely low level of publishing of research papers emerging from our 
region and this is largely because our 
own faculty is not motivated enough, 
or dare say not good enough," says a 
private educationist.
Leila of Booz & Co says that the quality of faculty has definitely not improved due to the recent moves by many GCC governments to "nationalize" certain sectors 
by giving preference to their nationals 
instead of employing the best possible talent available. "You are trying to reform 
the education system, but you are putting this reform in peril by trying to also 
address the challenge of employment by reserving jobs for the nationals. And those two things will not necessarily go together," she says.
Then there is the challenge of the curriculum, which in most cases remains fairly outdated. "You have issues of curricula that have not been refreshed and they have not been aligned to the skills required in the 21st century. So, at every level, if you talk about the levels, the school principals, the school leaderships, the teachers, the curricula, there is a lot that needs urgent attention. There is nothing for the special needs children, which is a big thing in other countries where they realize that if you make an early 
intervention you would get more success later. So on all the levels within school you are having issues."
The private sector
Across the GCC and notably in Saudi Arabia, the governments and companies believe that the private sector needs 
to step in and play its role in education. 
We have seen a boom of private sector educational institutions all over the region in the last decade or so and 
they have an implicit target that 25 per cent of nationals will be going to private schools within the next five to 10 years. Another aspect where the private sector can play a role is to involve the large employers to facilitate large-scale training and hence provide education that can lead 
to employment.
"The GCC governments realize that education is a pivotal pillar in the development and have undertaken several initiatives to enhance the quality and reach of education. Although the private sector market in the GCC is highly fragmented, it offers significant opportunities for investments and ample room for consolidation," says Sanjay Vig, Managing Director of 
Alpen Capital, which released a report on the private sector in education in GCC recently.
The share of GCC students in private schools would rise from 21 per cent in 2011 to over 30 per cent in 2016 and 
of the 51,450 schools estimated for 2016, 20.6 percent would be 
private sector.
The reformists
To conduct a significant reform in the sector, analysts say three things are needed, vision, political will and the leadership to ensure implementation. Most countries have one or two of these, but few have all three and hence the reforms are sluggish.
Qatar is showing the way ahead for reforms as the government has tied up with Rand Corporation and has revamped its entire education system. The UAE is also investing heavily in terms of reforming primary education, while the largest GCC nation, Saudi Arabia, continues to lag way behind, say experts, who blame the government's drive for Saudization which means only Saudi nationals are given priority for teaching jobs.
A report by Booz & Co says that Abu Dhabi offers another example of thinking ahead with a holistic approach. Abu Dhabi's Policy Agenda 2007–2008, issued by Abu Dhabi's Executive Council, sought to respond to the emirate's socioeconomic challenges with a reform of the education system, from primary level to professional training. In 2008 the emirate established the Abu Dhabi Education Council (ADEC) to oversee this education transformation.
Based on Abu Dhabi's vision and policy agenda, the reforms consisted of three phases. The first built capabilities and aligned education objectives with socioeconomic aspirations. The second phase compared local education outcomes to international benchmarks. Finally, the third phase (still ongoing) aims to help Abu Dhabi become an education leader by developing local and international human capital, report says.
But the experiments done in Abu Dhabi, Qatar and Dubai are not enough as the region is experiencing one of the world's fastest population growths and as a result the number of students in 
the near future is set to explode. By 
continuing without a clear strategy, the nations in the Arabian Gulf are painting their future black.