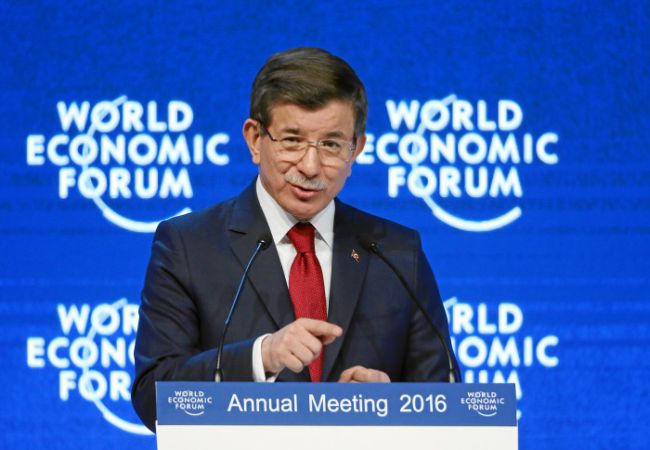 World leaders must adopt a more humane policy towards the refugee influx, said Ahmet Davutoğlu, Prime Minister of Turkey.
Speaking at the World Economic Forum in Davos, he said a humanitarian foreign policy should be the order of the day, especially towards refugees from Syria and other countries. "Before being political figures, we are human beings. If I don't feel the pain of Syrian children, my political decision won't be human," he said.
Turkey already hosts more than three million refugees and has spent more than $10 billion to meet their needs. As more and more Syrian refugees lose hope of ever going back home, the world needs to focus on a political solution in Syria that includes the government and the moderate opposition, but excludes terrorists. Until such a solution is reached, world governments must show solidarity that is more than just via financial means.
Turkey is working to educate more than 700,000 school-age refugees within its borders and has granted working papers to Syrian refugees. "To help refugees is our humanitarian duty," Davutoğlu said.
Turkey is located in a volatile part of the world, but this geography also puts it at the crossroads of trade. As an island of stability in this economically crucial region, the country sees opportunities to grow. "We want energy pipelines to run through Turkey. We want a modern Silk Road that runs from China to London," Davutoğlu said. The country's political maturity, as shown by its recent elections and its economic reform agenda, is attracting investment.
The country's GDP is growing at four percent, making it one of the world's fastest-growing economies. Also, the government is working to make Istanbul an international financial centre. Istanbul already has Europe's third-busiest airport, seeing more passenger traffic than Frankfurt.
"We are very confident that in ten or 20 years Turkey will be a hub of the energy market, a corridor of trade and the headquarters of international investors, and Istanbul will be one of the financial and economic global capitals," said Davutoğlu.