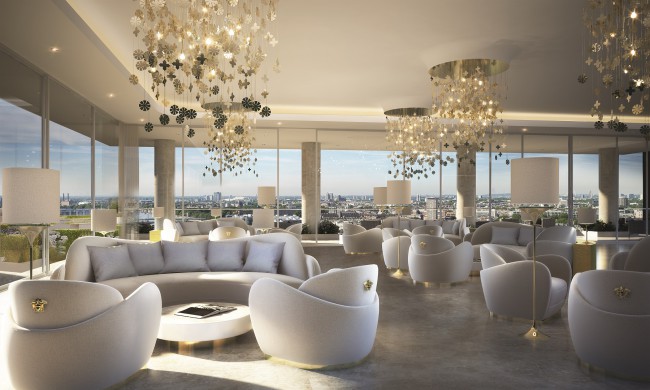 London is set to welcome its first fashion-branded residence within five years, thanks to Italian fashion house Versace and UAE-based premium real estate developer DAMAC.
AYKON Nine Elms, the first project of its kind in the English capital, will be developed by DICO UK Property Holding Ltd., a wholly owned subsidiary of DAMAC, and will feature interiors designed and fitted out by Versace Home.
This includes all the 50 stories that the project's 360 units span, in addition to the lobby and amenities of the project.
The residence tower, scheduled for completion in 2020, is located at London's Nine Elms regeneration area, adjacent to Battersea and overlooking the river Thames.
Units will comprise premium penthouses, one-, two- and three-bedroom units as well as Manhattan Studio units, all with overlooking views of the city and the river.
"Versace is synonymous with luxury and its participation in the real estate business provides the opportunity to fully experience the Versace lifestyle," Gian Giacomo Ferraris, CEO of the brand, said in a statement.
Versace has previously partnered with DAMAC to create a Versace residence in Dubai. The developer has also dealt with other fashion brands such as Armani and Bulgari to build hotels and residences.
However, the debut of branded residences is also evidence of the growing interest of luxury property investors in London's stable property market.
In the Middle East, Dubai had seen an exponential growth of its property market leading up to the market crash in 2008. Since then, property investors have been quite cautious about the stability of the market. Currently, analysts forecast inflation in house prices in the region to increase further in the coming years.
"[London] is seen as a safe haven for investment, given the clear and secure legal structure and real estate regulations," Will McKintosh, director of the Joint Head of Residential MENA Region at JLL, told Aficionado, a sister publication of TRENDS, in a recent interview.
When it comes to Arab investors, interest in premium property was evident, as they poured billions of dollars purchasing properties in central areas of London, such as Knightsbridge, Chelsea, Mayfair and Belgravia.
With that notion, a designer branded residence is a plus.
In a recent interview with Aficionado, Niall McLoughin, senior vice-president of DAMAC Properties, cited a Knight Frank report that confirms that, in Dubai, "branded projects drive 25-30 percent more value than similar projects nearby."
"There is a huge appetite from our current global customer base for luxury property investment in London," Hussein Sajwani, chairman of DAMAC said.
A number of internationally renowned companies are collaborating with DAMAC and Versace to complete the AYKON Nine Elms. These include internationally renowned architecture firms Kohn Pedersen Fox Associates and Turner & Townsend.
(This article first appeared in Aficionado, a sister publication of TRENDS)