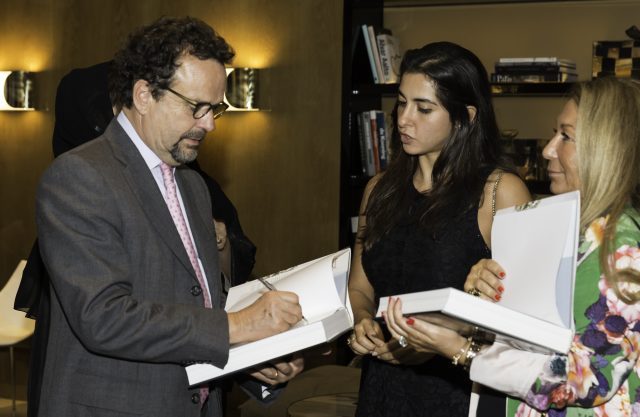 David Bennett, worldwide chairman of Sotheby's International Jewellery Division, who is often dubbed the "100-carat man" because of his unparalleled record of having auctioned seven 100-carat diamonds, introduced the elite audience (in Dubai) to the art of jewelry collecting with an emphasis on assessing gemstones; identifying jewels from a wide range of periods of jewelry creation and dating period pieces.
The session took audiences on a visual journey tracing the evolution of select jewelry pieces through the centuries, as the experts shared the intricacies involved in appreciating magnificent jewelry pieces.
Bennett was supported by Daniela Mascetti, senior international specialist at Sotheby's Jewellery Division and who is renowned for her expertise in the field and extensive knowledge of the history of jewels.
Exploring decorative arts
They used images from landmark jewelry sales at Sotheby's over the last 20 years to illustrate the importance of design, quality of workmanship and the intrinsic value of the pieces, many of which have previously been owned by royalty.
In each case, the experts underlined the particular importance of each jewel in its historical and social context as well as adding personal anecdotes that conveyed their infectious passion for this still largely unexplored area of a major segment of the decorative arts.
This informative session titled "Understanding the Art of Jewellery" featured during the first Ramadan Cultural Majlis for 2017 that was hosted by The Cultural Office of Her Highness Sheikha Manal bint Mohammed bin Rashid Al Maktoum in collaboration with Sotheby's Dubai.
This educational event was the first in a series of sessions to be held in Dubai which will be followed in future by short courses focusing on similar themes, following the MoU that was signed between The Cultural Office and Sotheby's Dubai in April 2017.
Initiating a dialogue
"In line with the commitment of Her Highness Sheikha Manal bint Mohammed bin Rashid Al Maktoum to bolster and support the growth of the UAE's artistic audiences and practitioners, Ramadan Cultural Majlis aims to bring together prominent figures and thought leaders to initiate a dialogue on various forms and aspects of art," said Mona Bin Kalli, the Director of The Cultural Office.
"The event is a key platform for influential figures to come together each year to embrace and support the development of the arts by actively participating, and exchanging their opinions and ideas. Our partnership with Sotheby's on this event has been very successful and we hope to host more such sessions that add to the already thriving art and cultural scene of Dubai," she added
David Bennett, worldwide Chairman, International Jewellery Division, Sotheby's, said: "Following Sotheby's Dubai's launch earlier this year, it was very important to our team to mark the occasion by hosting an inaugural Ramadan Majlis. We are delighted to be doing so with The Cultural Office of HH Sheikha Manal, continuing our relationship and creating shared educational experiences for our valued clients in the region, as well as welcoming new associates."