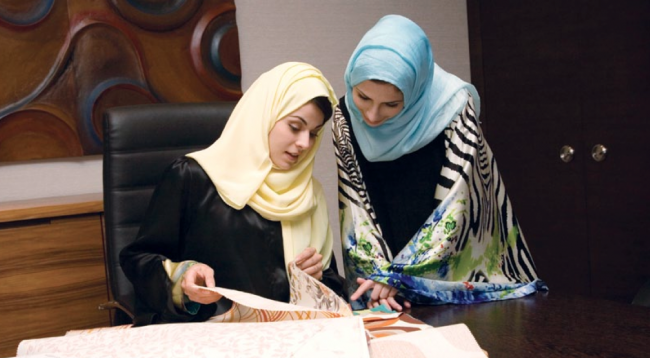 What countries such as the United States, Canada, China, Germany, Australia and New Zealand could not achieve, the UAE made mandatory in December 2012 – a quota for women in boardrooms of corporations and government-owned companies.
In a meeting, the UAE Cabinet issued a mandatory resolution to represent women in state-owned companies and agencies' board of directors. Announcing the cabinet decision on Twitter, Sheikh Mohammed bin Rashid Al Maktoum, vice-president and prime minister of the UAE and ruler of Dubai, said: "The presence of women on these boards will give more balance to these establishments' plans and decisions."
Emirati women have efficiently proven themselves in many workplaces and today we give them a new nerve to place themselves in the position of decision makers in all government establishments and bodies.
This decision to include women at senior management positions is likely to be replicated in other Gulf Cooperation Council states in the near future. Although a women-friendly initiative was long overdue, it has come at the right time as Arab women increasingly become active in contributing toward building societies and communities in the region. While women have played a vital role in the Arab Spring, businesswomen of oil-rich Gulf nations have already proved their mettle. Today, women are estimated to control 22 percent, or about $500 billion, of the region's investments, growing at an average eight per cent a year, according to a BCG Global Wealth report.
The majority of the ultra-wealthy Arab women live in countries such as Saudi Arabia, Kuwait, Qatar, Bahrain, Oman and the UAE where women hold more than $40bn in personal wealth. A GCC report showed Saudi women alone held $15bn, mostly in cash accounts and trust units, while women in less populated countries of Kuwait and the UAE had amassed a total of $18bn.
Managing money has not been a new thing for Arab women and they have been dealing with asset managers of multinational financial institutions to diversify their capital assets for years. The recent UAE cabinet decision is only a testament to the financial maturity of Arab women.
The visionary leadership of the UAE is well aware that Emirati women have left their male peers behind in terms of higher education, and to secure the future of corporate decision making, the inclusion of women in boardrooms is a sensible way to move forward. During a lecture at the Dubai School of Government, Suaad Al Oraimi, a gender specialist from the UAE University, said the country has subsidized education of women at different levels. "In fact, Emirati women have made great strides in education, exceeding their counterparts, men, in higher education. Women also have a larger representation in the federal government and a substantial number are currently running small and medium-sized businesses in the UAE," she said.
At a global level, Norway was the first country to introduce gender-based quotas at senior management level in 2005 by amending Norwegian Public Limited Liability Companies Act. In January 2011, France amended its laws to provide more women representation on boards of listed and non-listed companies.
The UAE's decision to include women in boardrooms will definitely improve the participation of Emirati women, but overall situation in the Gulf is not very encouraging at the moment. Research firm Booz & Company recently said that women hold ownership positions in only 20 per cent of businesses in the MENA region, compared with 32 per cent in the Organization for Economic Co-operation and Development countries, and 39 per cent in Latin America and the Caribbean.
The research and consultancy firm launched Third Billion Index recently, which is a ranking of 128 countries based on how effectively leaders are empowering women as economic agents. The UAE assumed 109th place on the Index. However, with high levels of education, strong personal ambitions and leadership support, Emirati women have the opportunity to advance rapidly as both workers and entrepreneurs, said Booz & Co.
Currently in the GCC boardrooms, the representation of women is close to two per cent, but by the end of 2013, in light of the recent cabinet decision, it is set to grow in double digits. Dubai Quality Group became the first entity to implement the new resolution by electing three women to its board, reported Wam, the UAE's official news agency.
The new chairman of DQG board, Dr Yousef Ebrahim Al Akraf, said the inclusion of three women members is in line with the directives of Sheikh Mohammed bin Rashid, reported Wam. The ball has been set rolling by the UAE leadership for women empowerment and now it's the responsibility of major private sector players to take this forward.