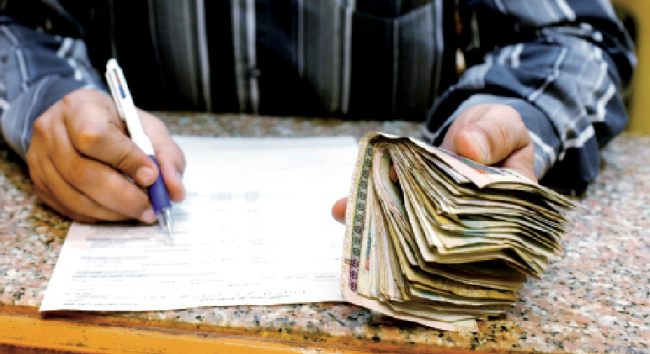 With US officials saying Egypt is a good place to invest, foreign investors looking to park their distressed capital are Cairo-bound.
The irony of the moment was impossible to ignore, playing out like some sort of scripted and tasteless joke. On September 11, 2012, a roomful of journalists, 
including several foreign correspondents, were gathered in a five-star Cairo hotel ballroom for a press conference to wrap up a heavily hyped US trade delegation to Egypt. The mood was optimistic and self-congratulatory; a group of American corporate executives sat alongside their Egyptian counterparts – all of them hailing the fact that the newly democratic Egypt was stable and open for business.
The trade delegation was the culmination of several months of behind-the-scenes work on both sides of the ocean. After more than a year of post-
revolutionary political uncertainty that had scared away desperately needed foreign investment, things finally seemed to be calming down in Cairo.
Mohammed Morsi of the Muslim Brotherhood had been installed as Egypt's first-ever democratically elected civilian president, and he quickly put his stamp on the country by ending a destabilizing power struggle with the military and sending the top two members of the Supreme Council of the Armed Forces into early retirement.
Now that there was finally some clarity on exactly whom to engage with, US investors – strongly backed by their government – seemed eager to get back into the Egyptian business.
"The US believes that Egypt is a good place to invest," stated Robert Hormats, the US Undersecretary of State for Economic Growth, Energy and the Environment, during a late August visit to Egypt that laid the groundwork for the US trade delegation visit the following month. US businesses, he said, are "eager to participate…and get a real feel of the new Egypt." Hormats, a former vice-chairman at Goldman Sachs and primary international economic advisor to US Secretary of State Hillary Clinton, warned against the dangers of letting the day-to-day difficulties of post-revolutionary Egypt cloud the country's economic promise and ripe investor climate. "In time of transition, it is all too easy to become distracted by the challenges of the moment," he said.
About two weeks later, the trade delegation came to town riding high on a wave of optimism and sponsored by the local American Chamber of Commerce. The participants received high-level 
access to Morsi, Prime Minister Hisham Qandil, Egypt's economic planners, and even held a brainstorming session with leaders of all of the major opposition parties – something that would have been unthinkable under the government of 
deposed dictator Hosni Mubarak.
Such delegations took place routinely under Mubarak, but this year's was one of the largest in history – proof of just how eager US businesses were to get in on the ground floor of post-revolutionary Egypt. The participants sounded genuinely giddy over the level of access they were granted by the Morsi government. And Egyptian officials seemed to be saying all the right things, emphasizing transparency, reduced bureaucracy, serious anti-corruption campaigns, a commitment to Intellectual Property Rights and 
SMEs development.
"I can't tell you how important stability and transparency are to US companies," said G. Steven Farris, CEO of Apache – a major American petroleum company. "I think this country truly is on the cusp of having a tremendous influx of people ready to do business."
Then, in just a moment, everything changed for the worse.
Right around the exact time Farris was saying those words, news started coming in on journalists' smartphones that something shocking was happening at the US embassy across town – which days earlier had hosted a welcome reception for the trade delegation members. A seemingly harmless protest by hardcore Salafist Muslims outside the fortress-like embassy walls had apparently spun out of control. There were images of young protestors scrambling over the walls and taking down the US flag and replacing it with the black banner of militant Islamism.
The September trade delegation was meant to be a crowning triumph for Morsi's young government and the launch of Egypt's informal re-integration into the global economy after nearly 18 months of economic hardship. Instead, it turned into an example of Egypt's "one step forward, two steps back" post-revolutionary saga, and an object lesson on just how easily the perception of frightening instability can be fostered by a relatively small incident involving a comparatively tiny group of protestors incensed by a completely obscure and amateurish YouTube video. The embassy protests and their aftermath dominated the next week, with angry Egyptian youth battling police for several days. The images of the clashes, televised worldwide, looked truly frightening and genuinely made it seem like Egypt's capital city was in the grip of societal convulsions.
The truth was far more mundane. The protestors outside the US embassy and in nearby Tahrir Square never numbered more than 1,500 people. The group of young men battling with the police never numbered more than 300. And the whole affair took place in a 1,000-meter stretch between Tahrir and the embassy.
That, more than anything, is the primary obstacle facing Egypt's economic leaders as they struggle to attract foreign investors: not just instability, but the emotion-and-media fueled idea of instability.
Hisham Fahmy, the CEO of the American Chamber of Commerce in Egypt, can't keep from grimacing when asked about the US trade delegation and the way it ended. Fahmy sums up the main challenge in attracting foreign investors to modern-day Egypt very simply: "Uncertainty and the perception of uncertainty."
Fahmy believes the embassy clashes did hurt Egypt economically, but not because it scared away any potential major foreign investors. "Something like that is costly in terms of tourism, but it doesn't necessarily scare away foreign direct investment," he said. "Investors think more long-term and do tend to look deeper."
Likewise, Gamal Moharam, a prominent Egyptian business figure and the current president of the American Chamber of Commerce in Egypt, downplays the direct impact the embassy clashes had on the commitment or enthusiasm of the trade delegates. "Half of (the delegation participants) were already investing in Egypt very heavily," he said.
But Moharam also candidly admitted that it's a difficult time to attract international investors – despite what he 
describes as a strong macroeconomic profile for the country. "Is it a positive (investment) climate? No, we can't say it's 100 per cent positive," Moharam said. "But the potential is there, the infrastructure is there, the population is large and young, the banking industry is strong."
Despite these strong points, post-revolutionary Egypt does offer some specific problems that investors never had to deal with under Mubarak. Most prominent among them in an ongoing re-analysis of Mubarak-era business deals that threatens to unravel existing foreign investments or tie them up in court for years. Many of these disputed deals center around Mubarak's large-scale privatization program – in which 382 state-owned companies were sold between 1991 to 2009 for a total of $9.4 billion, according to government statistics. Some of those sales were criticized at the time as sweetheart corruption-
riddled deals that auctioned off Egyptian national assets for well-below 
market value. Now, after the revolution, activists are seeking to revisit some of them. In September, Khaled Ali, a prominent human rights lawyer who was a fringe presidential candidate earlier this year, convinced a Cairo court to strip Mexico's Cemex cement company of its decade-old ownership of the 
Assuit Cement Company.
Another largely post-Mubarak problem: Egypt's resurgent labor movement. Labor activism had been bubbling for years near the end of Mubarak's reign, but a combination of strategic concessions and violent repression had kept things under control. Those movements are now in full flower at factories and worksites across the country. By mid-October, the industrial port of Ain Sukhna – managed by Dubai-based DP World – had been shut for more than a week after months of labor tensions culminated in a full-scale strike by the dock workers.
The ongoing nervousness of Western investors does not mean that all foreign investment in Egypt has ground to a halt. Arab investment money, particularly from the Gulf, has been flooding into Egypt in 2012 – often taking advantage of bargain prices born of fear and desperation.
The Qatari state-backed investment house QInvest is currently in the final stages of a megadeal to purchase a 60 per cent share of EFG Hermes, Egypt's most prominent investment bank. The merger has received final approval from Egyptian regulatory authorities and is expected to be concluded in the coming months.
Meanwhile, media reports continue to circulate about Arab investors negotiating to buy the Egyptian operations of foreign banks. The prominent French newspaper Le Figaro recently reported that Dubai National Bank and Moroccan Attijari Wafa Bank had jointly offered to buy all of the Egyptian retail banking units of BNP Paribas Bank—which the French banking group put up for sale in June.
Meanwhile, despite embarrassing public setbacks like the September embassy clashes, President Morsi's government continues to put forward a positive and competent image – emphasizing a desire to combat Mubarak-era hangovers like choking bureaucracy and endemic corruption. Prime Minister Hisham Qandil has emerged as one of Morsi's primary weapons in this international charm offensive. Prior to his ascension to the Prime Minister's office, Qandil was a relatively obscure Irrigation Minister in the post-revolution government and he initially faced criticism as an inexperienced political neophyte. A trim, well-spoken technocrat with far-more-fluid command of English than his president, Qandil has become one of the international public faces of the new Egypt.
"We want Egypt to be a Mecca for investors," Qandil announced during an October speech to the Euromoney conference in Cairo.
"Allow me to confirm that the Egyptian government is committed to economic reform and free-market economics."
One of Qandil's most immediate 
challenges is securing a long-discussed 
$4.8 billion loan from the International Monetary Fund. Negotiations are ongoing, and the issue has become hypersensitive in the pressurized Egyptian atmosphere – 
taking on a psychological importance that exceeds its significant monetary value. The IMF loan symbolizes international confidence – and confidence breeds 
more confidence.
"Until the IMF deal is signed, you are still going to have a lot of people on the sidelines waiting for that stamp of approval and that policy backstop," Antony Simond of Aberdeen Asset Management, told 
Reuters in early October.
While the actual IMF money is 
certainly needed, its true value is psychological. An IMF delegation was scheduled to visit Cairo to continue negotiations in late September, but Qandil requested a month's delay to allow the Egyptians to polish their pitch and work on their proposed reform package. The reaction to the delay was an immediate drop in the Cairo Stock Exchange.
The IMF delegates are scheduled to return to Cairo in late October, and all eyes will be on the progress of those talks. Any collapse – or even further 
delays – of the negotiations could have a disastrous effect.