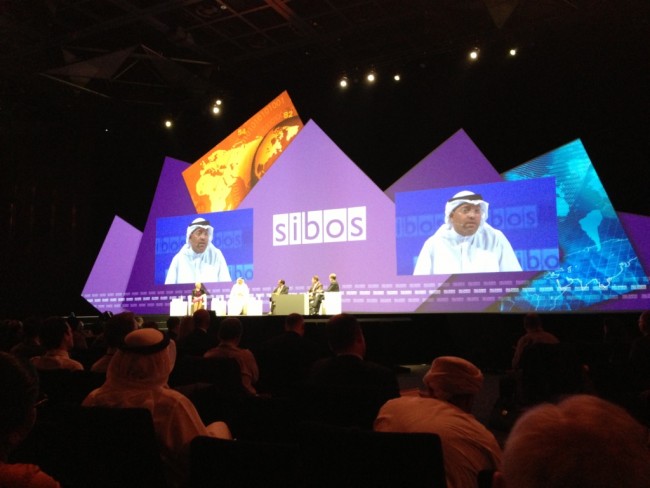 About 50 per cent of adults around the world do not have a bank account or access to financial services. And the financial institutions around the world should work to include half of the world's 'financially excluded' people, a session on financial inclusion at Sibos 2013 was told in Dubai.
The 'Big Issue Debate' looked at the positive relationship between financial development and economic growth, and between economic growth and poverty alleviation, and asked how the financial industry – along with other institutions – could work together to boost financial inclusion. The panelists discussed how technology can be used to bring banks closer to the world's poor.
Sido Bestani, Head of Middle East & North Africa at SWIFT, said: "Sibos began 35 years ago as SWIFT's international operations conference but has grown into a global forum for debate and collaboration on the most important topics in the financial industry. This debate is important because billions of people around the world are financially excluded and any solution will require banks and other institutions to work together. Sibos is the perfect venue to bring the right people together."
Osama Al Rahma, CEO of Al Fardan Exchange, one of the panelists in the discussion, said that a "common understanding" was needed to address this issue and highlighted the role of technology.
"Lots of stakeholders – including banks, regulators, governors, agents and technology providers – need to come together to create a solution for this challenge," said Al Rahma. "New technology means that we can now reach many more people and close gaps in financial services provision in remote rural communities. But we need to ensure that we do not 'impose' solutions on customers, but ensure we find out what they need and provide solutions that add real value for them."
He added that the cost of creating the right infrastructure can be shared among stakeholders or mitigated by collaboration. Citing an earlier UAE initiative to introduce pre-paid credit cards for the unbanked, Al Rahma said that the scheme was able to reach target customers by partnering with a local bank which already had an extensive cash machine network. "This means that the right outcome can be achieved at minimal cost," he said.
Remittances play a significant role in helping money to reach the poor, and the GCC region has become a major contributor. Experts say annual remittances by expats in the GCC countries are estimated to be about $120bn, with more than $48bn leaving Saudi Arabia alone in 2012. Moreover, this is expected to increase by 20% in 2013. Beneficiaries are largely spread across Asia and Africa. In Pakistan, for example, 60% of the remittances received come from the Middle East region.
Cost is a major issue for poor people. "Payments can act as the 'connective tissue' to get customers onboard, but unfortunately the poor pay a huge price for access to these and other financial services," said Rodger Voorhies, Director, Financial Services for the Poor, Bill & Melinda Gates Foundation.
Voorhies said that a study by the Foundation and McKinsey had looked at what would it take to reduce the cost of payments. "It concluded that a willingness to look at different business models is the biggest driver of cost reduction. For example, simply by changing payment delivery from cash to digital, 90% of the cost is removed," said Voorhies.