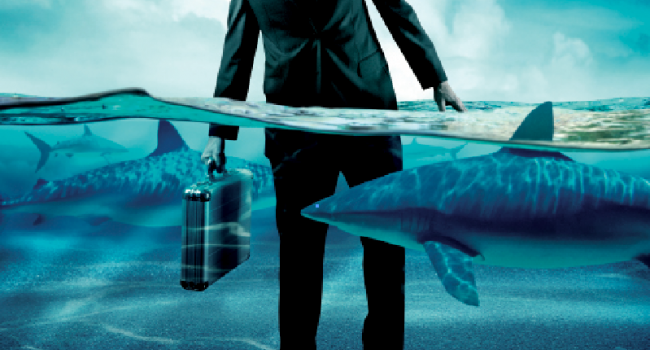 Conferences and forums in the region are the only events where one can see an assembly of professionals from both sides of the fence. However, the general rule of thumb is that opposites attract, and that happened at the Third Middle East SME Forum in Abu Dhabi last month. But it seemed no amount of attraction could bring bankers and SME representatives to come closer and hug each other.
While bankers and financial institutions said unprofessional and naïve practices adopted by some small- and medium-sized enterprises were a major hurdle in financing projects, the SME players shot back saying that lenders must adopt a more positive approach in dealing with the start-ups and small businesses.
Without doubt, there is a big gap and disconnect between the lender and SMEs. Abu Dhabi Commercial Bank's senior vice-president and head of business banking, Nilanjan Ray, explained the dilemma of financial institutions in dealing with lending to small businesses.
"The foremost disconnect happens at the initial stages. When a business is launched it is not the ideal stage when it should seek financing from a bank because bank financing is debt, which has to be repaid – and it has to be repaid out of the business cash flow.
"There is an equity risk, when a business is about to start or it is at a concept stage. For banks, it is 9 to 10 per cent interest and a capital back, so basically banks have no upside to share in the business which is being started. At the same time banks are not expecting to share the downside – an equity investment's value can become zero. This is a primary 
disconnect that happens.
"The second disconnect comes from security. There is a very common perspective in the market that banks lend against security. Any bank that only does that will lose business overall, for a simple reason that a security is only good when it can be comprehend. 
The realization of a security, when it comes to a company is a lengthy process, which may or may not happen. Many 
securities do not maintain their value over a period of time. You might lend to 
invest in a machine, but its value will depreciate if it is not maintained properly. This is not how the smart banks work," said the vice-president, whose bank was the headline sponsor of the Forum in 
Abu Dhabi.
The third major disconnect is the downside of having a tax-free 
environment and the subsequent lack of corporate governance. Ray said: "There is no tax in this market, so there are no issues dealing with reporting about the books. In a tax-free regime, sometimes we see over-reporting, meaning the financials are presented in a manner that look rosier than they actually are. And this generally happens where there are no tax implications on figures."
In Qatar, where the number of SMEs officially stands between 20,000 and 25,000, the banks are struggling to finance the capital-starved small businesses. "This is happening to the banks, not because there is not enough borrowing appetite but rather due to the unpreparedness of the SMEs," said Nadeem Khan, head of SME Credit at Commercial Bank of Qatar.
"Basically these SMEs are not ready with their documentation, they are not ready with their collateral, and they are not ready in terms of cleaning up their credit bureau reports," he said, adding: "There is not enough sophistication in the SMEs' financial statements, and we are also seeing that they are bidding 
on contracts in fields for which they 
don't have any experience.
"As a lending entity we need to make sure that these SMEs, who have 
huge borrowing appetite, are ready in terms of cleaning up their financials, 
reporting them properly and correcting their past mistakes."
Khan said that SMEs in Qatar contribute roughly 70 to 75 per cent to the country's non-oil gross domestic product. Despite the current challenges, Commercial Bank of Qatar has ambitious portfolio plans for the SME financing. "Currently, our book is $30 million to 35 million but we plan to take this to $750 million 
by 2015."
On SMEs' part, the managing director of Dubai-based Intercoil International, Hassan Abbas Al Hazeem, said: "To say the least, the financing system in the 
region is not SME-friendly."
However, after the recession the banks and governments have realized that SMEs are very important for economic growth, but a lot needs to be done to make lenders adopt a more positive outlook and attitude toward small- and medium-sized enterprises, he said, adding: "The SMEs and entrepreneurs are the true catalysts of an economy, but the financing system is more focused on securities. The lenders want to look at the current and past financials 
rather than the future potential of 
small businesses.
"It's a really tough environment for the SMEs in the Arabian Gulf countries, and the governments must work toward supporting entrepreneurs," said Al Hazeem, whose firm was established in 1974 and now exports sleep products to 17 countries.
The governments in the region are not unaware of the importance of the SME sector. Dubai SME, the agency of the Department of Economic Development in Dubai, launched a program recently where it offered its members a fee exemption of more than AED72 million. The department said that the SMEs do not have to pay more than AED1,000 in 
annual fees in the first three years of 
their operation.
Also, by the elimination of the labor security deposit together with the additional licensing fee, SME owners will save around 90 per cent of fee costs as well as from 10 to 20 per cent of their capital along three years.
In Saudi Arabia, on the financing front the Kafala Program issued 1,061 guarantees for SMEs since the beginning of 2012 valued at SAR600.8m. Since the beginning of 2006 to the end of August 2012, the program issued 4,156 guarantees for 2,564 SMEs valued at SAR1.95 billion, whereas the banks and other 
financing institutions provided funding facilities worth SAR4.21 billion.
Director of foreign trade and export support at Department of Economic Development in Abu Dhabi, Dr Adeeb Mahmoud Alafifi, said his department is focusing on SMEs in the UAE capital city to help them target foreign markets. "We have good number of packages, services and initiatives that target SMEs in 
Abu Dhabi.
"We are providing services such as capability building that entails training and enabling tools needed by SMEs to be competitive in the overseas market. The DED Abu Dhabi also focuses on economic promotion through overseas trade shows and exhibitions to act as a media tor between local SMEs and importers from the different parts of the world.
"In addition, the department offers advisory services to local SMEs that face customs and government regulation 
issues in exports markets."
Speaking about current trends, Alafifi said the new SMEs in the emirate are focusing a lot on the manufacturing sector, which is a vital part of Abu Dhabi 
2030 Vision.
One can hardly ignore a sector that contributes substantially to the GDP. One of the senior managers at Sheikh Mohammed Bin Rashid Established for SME Development, Essam Omran Dissi, said: "In Dubai, SMEs are like the heart of the overall economy. Approximately 95 per cent of the companies registered in Dubai are SMEs and they employ 42 per cent of Dubai's workforce, contributing 40 per cent to Dubai's GDP."
Dissi doesn't play a blame game when it comes to financing. "Banker are not financing entrepreneurs, or supporting them to realize their dreams, but let's be realistic. When you go to the bank it will ask you to produce three-year results. If you are a company with no track record or book keeping, don't go to the bank. We can't blame the banks, but at the same time we can't blame 
entrepreneurs for dreaming.
"There is a big gap and the government has intervened in the past to control market failures, but more angel investors and venture capital firms should be facilitated in the region.
"Also due to an absence of credit bureau, banks can't do much as there is no way of keeping a track of credit history. I know this is a non-tax economy, but does no tax means no information," said Dissi, whose department provides full service to Emiratis and advisory services to all residents.
Overall there are other challenges to the sector from the regulation aspect. Director for credit at Khalifa Fund for Enterprise Development, Ahsan Ali, said challenges for the SME sector include ease of doing business, licensing constraints and bankruptcy laws.
"Bankruptcy laws continue to be a major constraint. Business bankruptcy is the same as personal bankruptcy, and it is a criminal offence in most of 
the GCC."
"We are anticipating more positive changes in the next two years, where we will see new SME laws in the country."
Talking about the Khalifa Fund, Ali said: "Since 2007, the fund approved 450 [proposals]. We upgraded our presence last year, now we are present in the whole of the UAE, and we are looking to do 125 to 200 projects every year."
The fund follows the full cycle –starting from the idea. "We guide and coach SMEs and entrepreneurs, help them develop their plan and provide them post business support," said Ali.
It's high time that lenders work out programs to help SMEs because there is a significant opportunity in the UAE for almost 50,000 small business that are looking for additional capital and financing, said Emirates Money, a consumer finance arm of Emirates NBD.
According to a recent study by Dubai SME, a total of 230,000 SMEs are currently operational in the UAE, but only 140,000 of these are considered bankable, since the rest are too small.
Typically, half the 'bankable' SMEs turn to partners, new investors and non-professional sources, such as friends and family for additional access to 
capital, because they often find it challenging to access finance from banks and consumer finance companies.
More organizations such as the Khalifa Fund and Mohammed Bin Rashid Establishment, plus institutions such as ADCB and Emirates NBD, will not only benefit the SME sector of the GCC region, but also assist oil-rich countries to diversify their economies.