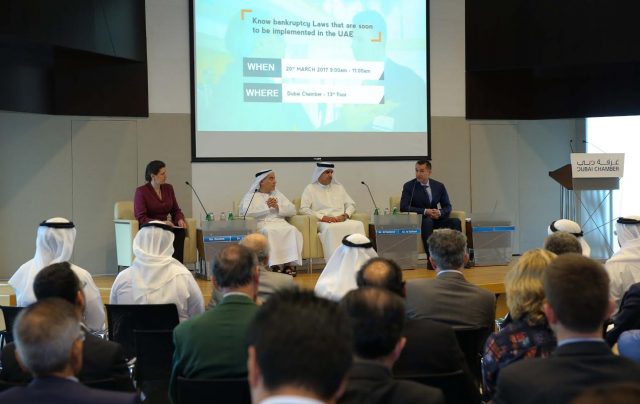 Adoption of new law reflects UAE's commitment to enhance the competitiveness
Federal Bankruptcy Law identifies different ways to avoid bankruptcy cases and the liquidation of debtors' assets
Talk Business at Breakfast is an initiative to strengthen ties between the business community and government authorities
As part of its continued efforts to boost mutual communication between the government and the private sector, the Dubai Chamber of Commerce and Industry hosted its Talk Business at Breakfast event, which aimed to provide more clarity on the UAE's new bankruptcy law and its impact on businesses in the country.
The Talk Business at Breakfast is a quarterly business briefing event aimed at strengthening ties between the business community and government authorities in the UAE.
Ensuring financial stability
HE Younis Haji Al Khoori, Undersecretary of the Ministry of Finance said: "This bankruptcy law is a result of the Ministry's commitment to develop a new draft legislation based on modern legal and economic principles to help ensure financial stability and develop the UAE's economic and financial legislative structure. The bankruptcy law provides protection to all parties involved, and helps in attracting foreign investments due to the increased trust in the economic environment and legislative and legal protection for businesses."
Meanwhile, HE Hamad Buamim, President and CEO, Dubai Chamber, highlighted the significance of the new law, and explained that it reflects the UAE's commitment to enhancing the competitiveness of its business community.
"The law sends a clear message to investors and key stakeholders in the private sector that the government will adapt regulation to meet their requirements and ensure their rights. It should improve ease of doing business, and will likely boost business confidence and foreign investment in the UAE," said Buamim.
Driving growth
Dubai Chamber's President and CEO explained how strategic partnerships and collaboration between Dubai's public and private sectors have served as key drivers of the emirate's economic growth and success. He added that the Chamber plays an active role in facilitating cooperation between the two sectors, and keeping businesses informed about the latest legal developments at the federal and local levels.
Bankruptcy Law
The Federal Bankruptcy Law issued under the federal decree No. (9) for 2016 on various bankruptcy cases. The law identifies different ways to avoid bankruptcy cases and the liquidation of debtors' assets, including consensual out-of-court financial restructuring, composition procedures, financial restructuring and the potential to secure new loans under terms set by the law.
The law is implemented on: companies that were established under commercial company laws, companies that were not established under the commercial company law, semi or fully owned companies by the federal or the local government with legislatives for establishment that fall under this law, companies and institutions established in free zones and which do not have provisions to regulate composition procedures or restructuring bankruptcy according to the Federal law No. (8) of 2004 concerning financial free zones, any trader or civil licensed company.