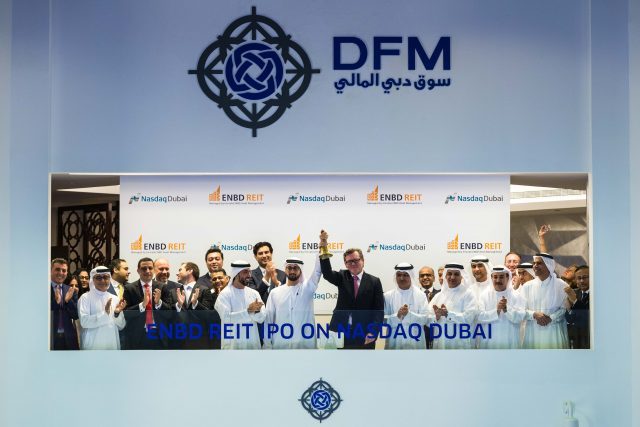 • ENBD REIT offered shares to institutional investors at a price of $1.11 per ordinary share
• REIT invests in predominantly income generating real estate
• REIT has consistently made dividend distributions since inception
ENBD REIT (CEIC) Limited, a Shari'a compliant real estate investment trust managed by Emirates NBD Asset Management Limited (the "Fund Manager"), has announced that its ordinary shares have been admitted to the Official List of Securities of the Dubai Financial Services Authority (DFSA) and to trading on Nasdaq Dubai ("Admission") under the ticker symbol ENBDREIT.
ENBD REIT offered 94,594,595 ordinary shares (the "Offer") to institutional investors at a price of $1.11 per ordinary share. Gross proceeds of the Offer amounted to approximately $105 million, before the deduction of commissions and other fees payable by or on behalf of ENBD REIT in connection with the Offer.
Shayne Nelson, Group Chief Executive Officer of Emirates NBD, says, "An immense amount of hard work was undertaken by the Emirates NBD Asset Management team, as well as the financial and legal advisory teams, who all deserve high praise. The strong interest the Offer received from GCC-based investors has been a clear testament to the appetite that exists for ENBD REIT's equity story, and we are looking forward to the continued deployment of its successful asset management and acquisition strategy."
Revamp strategy
The Fund Manager intends to use the proceeds of the Offer to fund acquisitions of high quality, income-generating real estate assets and make improvements to existing properties as part of its active asset management strategy.
The Fund Manager has identified a pipeline of opportunities to invest in commercial and alternative real estate assets. Based on the offer price, ENBD REIT will have a market capitalization of approximately $282.4 million at admission.

Eyeing increased revenues
ENBD REIT is closed-ended investment company, incorporated by the Fund Manager to invest in a diversified portfolio of Shari'a-compliant real estate in the UAE.
The REIT invests in predominantly income generating real estate, with the objective of providing investors with a regular source of income (by way of annual dividends of at least 80 percent of net audited annual income) and potential capital appreciation. ENBD REIT is categorized under DFSA regulations as a Public Fund, Domestic Fund, Islamic Fund, Property Fund and a Real Estate Investment Trust (REIT).
"Our IPO on Nasdaq Dubai has been a great success, and we are grateful to all parties involved in the process. Our rationale for the listing was to improve liquidity and allow greater flexibility in managing the REIT," said
Tariq Bin Hendi, Director of ENBD REIT.
"Our improved capital structure means ENBD REIT will have less of a requirement to retain cash for the purposes of managing liquidity in the event of investor withdrawals, and will allow us to remain more fully invested – thereby achieving long-term returns for our shareholders," added Hendi.
Emirates NBD Capital Limited (EMCAP) and EFG Hermes UAE Limited were Joint Global Coordinators and Joint Bookrunners for the Offer, while EMCAP acted as Listing Advisor to ENBD REIT. SHUAA Capital psc was Co-Lead Manager for the Offer.
Nasdaq welcomed ENBD REIT
"We are very pleased to welcome ENBD REIT to Nasdaq Dubai. Our exchange is ideally suited to the requirements of the REIT and its shareholders, offering international regulatory and corporate governance standards that are appealing to global, regional and local investors. Nasdaq Dubai provides extensive connectivity as well as high visibility through its international brand. This gives issuers global access to capital, and access for international investors to exciting opportunities in the UAE," said Hamed Ali, Chief Executive Officer of Nasdaq Dubai.
ENBD REIT's investment properties were independently valued at approximately $314 million as at 30 September 2016, with total assets at approximately $426.2 million.
Adjusted net asset value was approximately $191.8 million as at 31 December 2016. The REIT has consistently made dividend distributions since inception (save for one semi-annual period in 2011 when a capital distribution was made instead), and paid a 5.8 percent dividend for the full year 2016.
Arif Amiri, Chief Executive Officer of Dubai International Financial Centre Authority, says: "We would like to thank Emirates NBD Asset Management for choosing the Dubai International Financial Centre to establish ENBD REIT. It reinforces the trusted nature of the DIFC's legal and regulatory frameworks, providing a platform for regional and international investors to invest in Dubai and the UAE."
As the leading Financial Centre in the Middle East, North Africa and South Asia region, the DIFC and DFSA were involved in the re-domiciliation of the fund, supported the structuring and ensured it cleared regulatory requirements.