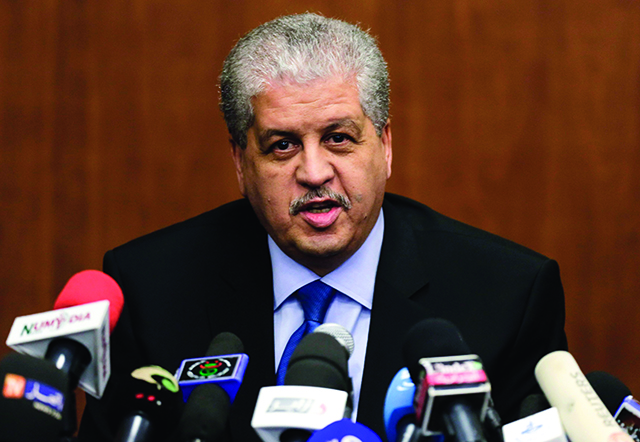 The prevailing doctrine in Algeria opposes any military operations on foreign soil. Taking this into consideration, how can Algeria's borders be secured? Could reinforcing the security measures already in place be an option? And is this approach sustainable in the longer run?
Section 28 of the Constitution forbids us to send Algerian armed elements outside our borders; it is a fundamental principle, inherited from the Algerian revolution and on which we will not compromise. Algeria does not interfere in other countries' affairs, which is why we did not take part in the first operation in Libya. No Algerian soldier will be sent abroad.
Regarding terrorism specifically, the Algerian approach has been devised several years ago and it remains the same, because it is based on our experience. Let's not forget that Algeria was one of the first countries hit by this scourge and, before September 11, we were alone in the arena, despite all our communication efforts around the actions we were undertaking then; some countries refused to provide us with ammunition. Some high executives even described Algeria as a "laboratory".
So, we had to manage our country's security alone. This approach proves costly due to its massive human and material requirements. Today, terrorists are weaker, both politically and militarily.
Indeed, out of Mali and Libya, ISIS and AQMI pose a serious threat to the region's stability. What foreign and domestic strategy do you recommend for Algeria, one of the last defenses in North Africa against the extremist threat?
State of play in the Sahel region and Libya is a concern on the humanitarian and security levels. These friendly and brotherly countries are plagued by internal conflicts and external plots that threaten their very existence. Algeria's position on these issues has not changed: the only long-term solution lies in an inclusive dialogue towards a political solution, in compliance with the national sovereignty, territorial integrity and non-interference principles.
The overriding objective to constantly keep in mind is to ensure that people in these countries live in dignity, away from fear and poverty, and enjoy complete sovereignty over their lands and wealth. The fight against terrorist and criminal groups is an important part of the problem, but it is not the only one.
Algeria continues to strive for peace and stability in Mali and the Sahel region. The Algiers Agreement provides a solid consensus base for national reconciliation, political dialogue, the fight against terrorism and crime, and continued development work as part of the recovery plan for the north of the country.
We advocate the same approach in Libya, where we remain committed to a political solution and support the creation of a national unity government in Tripoli. We also keep contributing to the search for peace in Libya through collaboration with Libya's neighboring countries and in coordination with the UN and its secretary general.
A military intervention will solve neither the terror issue, nor the political disputes in these countries. It will only add to the suffering of the people and stir up hatred, bitterness and extremism. The army is fully mobilized to ensure our security and our borders' inviolability. It will severely punish
any hostile attempt against our country or our security, within the limits of its constitutional duties – which do not include combat missions on foreign soil.
So, you are in favor of a clear, precise and limited UN mandate in Libya?
Absolutely, if the Libyan government requests it and it materializes under the UN's control.
What commitments do you expect the international community to make?
Many, starting with a coordination against terrorism at an international level, the draining of its sources of revenue – prohibiting the payment of ransoms in particular – a better control over arms, drugs and human trafficking, along with supporting African countries in terms of expertise, training, intelligence and equipment suited to counter-terrorism.
On the other hand, it is paramount that the ongoing political processes aiming to solve the various crises and political conflicts in the region get full support and that all of the parties involved feel the international community's firm and united stance against the use of violence and in favor of an inclusive national dialogue.
Developed countries are also responsible for kick-starting the development assistance programs that have been either put on hold or drastically reduced since the 2008 financial downturn; they must act as rapidly, if not more, than they did when they came to the rescue of the global stock market and banking system.
The world's peace and security are as important as any bank's or financial institution's operating statements.
In June 2012, Putin said in private to François Hollande: "You Westerners, you made huge mistakes: you let Mubarak down in Egypt, we got Morsi and the Muslim Brotherhood. You let Ben Ali down in Tunisia, we got Ennahda and the Salafis. You let Gaddafi down in Libya and caused chaos. Everything is worse than before and you ask me to let Bashar Al-Assad down? Sorry, but I'd rather have Bashar than the Islamists and the Muslim Brotherhood." How do you react to this analysis of the West's policies in the Middle East?
I am an Algerian politician and, as such, I won't comment on private conversations between foreign heads of states. Obviously, the way Europeans analyze the situation in the region is very different from that of Americans, Russians, Chinese and, especially, Arabs themselves, whose views are rarely taken into consideration, unfortunately. Today's scientific progress tells us about the human race's uniqueness, our environment's fragility, heavily impacted by human actions, and our need to live without being hidden or disconnected from one another. As a result, we should be humbler and accept the fact that military and financial powers shouldn't [be the only ones that] dominate international relations.
The state of the Middle East is indeed dire: five years of civil war in Syria, Iraq's chaos and fight against ISIS, Turkey's blind war against the Kurds, Iran's upper hand in Syria, Iraq and part of Lebanon through Hezbollah… What kind of future do you see for the region and could the situation escalate into World War III?
You left the Palestinian tragedy out of this sad picture, a people driven from their land for more than half a century and constantly assaulted, in complete denial of international law. That being said, the situation could really get worse, if what you refer to is indeed a threat against world peace and not a possible conflict between civilizations, an analysis I strongly oppose.
On humanitarian, political and security levels, the region is undergoing a real tragedy and becoming a growing threat to world peace. Under such circumstances, politicians have a duty to display composure and determination. There's no room for despair and fatalism. Admittedly, we have reasons to worry, but nothing is final. We always have other options than war and chaos.
The Middle East still is a land of peace, history and wisdom. Injustice aroused hatred, which bred terrorism, which in turn plagued the region and the world. Let's focus on our fundamentals: less injustice and an awareness that accusing Islam of being the root-cause would be a terrible mistake that would only propagate this culture of hate further.
How do you see Algerian politics evolving strategically?
Algeria is part of a large group called Africa and a subset of that group, called North Africa. Since our independence, we have always advocated an African depth and our approach has always relied on us remaining Africans.
On the economic level, we established the trans-Saharan route and, at the end of this year, we will launch a large container port not far from Algiers, similar to the Chinese port of Shanghai. The objective is to optimize logistics timings in Africa.
Moreover, also at the end of the year, we will organize, along with the Algerian employers, a major forum for African businessmen in Algiers. Of course, we have alliances with the Middle East, but we aim to secure our African depth.
Algeria recently revised its Constitution. What are your views on this reform and what does it do for Algeria? How will it be implemented and what are the challenges ahead?
Indeed, our Parliament met last February and voted the draft constitutional revision submitted by the President, Mr Abdelaziz Bouteflika. This is a major breakthrough in the history of our country's institutions; it is not a mere amendment of the basic law, but a true reshaping of our republic.
This revision aims to consolidate our people's identity and unity; expand the constitutional scope of rights and freedoms; deepen democracy, particularly in its pluralistic aspect; strengthen the foundations of the rule of law; and improve the independence of the judiciary.
We've moved forward on many levels, from the mention of national reconciliation in the Preamble to the promotion of Tamazight as a national and official language along with Arabic, to the state's and the citizens' environmental obligations; the constitutionalization of male/female parity; freedom of expression and the press; access to information; the consecration of the political opposition's status and right to parliamentary work, and access to public media.
Add to this the recognition of academic, cultural and artistic creation freedoms. Protection of the most vulnerable social groups – the children and the elderly – is now the joint responsibility of the state and the families. Political freedoms and the right to protest are strengthened, while the chance to question the constitutionality of laws is now given to all citizens.
As for execution challenges, I am not concerned; the head of state has always taken great care to ensure this new constitution is consensual, favoring an inclusive approach, based on the broadest possible range of consultations with various political and social players, and prominent lawyers. Three rounds of consultations have been conducted around this project, with hundreds of political parties, NGOs and academic, historical and religious personalities participating in each. This solid and broad national consensus base guarantees the success of this major Algerian collective work.
In recent years, Algeria has undertaken an ambitious reform program. How far on this road map are you standing today?
The President's constant objective has been to modernize the country and give it strong and stable institutions; this entailed ambitious and in-depth reforms.
In 2015, the first students from the education reform of 2003 enrolled in universities. We achieved excellent results in terms of success rate and widespread access to ICTs (information and communications  technologies). The next project is vocational education, which we need to develop and promote in order to correct the way parents and students perceive it.
As for the revision of the Family Code, it has allowed us to balance men's and women's rights in accordance with the values of the Algerian nation and to simplify the cumbersome and restrictive legal and administrative procedures. Other laws, such as those relating to the fund for payment of maintenance and allowances, children's rights and the fight against domestic violence, have subsequently consolidated social cohesion and peace.
Politically, the constitutional reform is the capping stone of a long process that included the revision of the electoral code, the law on political parties and associations, the wilaya and county codes, along with the enactment of new legislation confirming the opening of the audiovisual field and the political participation of women.
Measures have also been taken to reform our public services: procedures have been simplified and the level of services provided to citizen consumers and users has been improved.
On that front, I had specifically ensured the creation of new administrative units, the reduction of the number of documents required in various administrative records, improved reception and working conditions in health and education facilities, universal telecommunications services and the digitization of national registers (civil status, criminal records, vehicle registration and housing, etc.).
We realize that there's still much to be done, especially in terms of developing national production capabilities and improving our management capacity, but we are fully determined.
Oil prices have never been this low, which affects the economies of producing countries, such as Algeria. What political and social impact do you expect in the short and medium terms?
The drop in oil prices in global markets has been brutal and sudden. Within months, the barrel has lost nearly three quarters of its value. We are convinced that political and geo-strategy factors, more than just economics, currently impact the prices and impair any forecast on the medium term and in the long run.
Today, we are faced with aberrations, whereby terrorist groups are trading oil and influencing the world's supply and demand for energy products.
This situation negatively impacts producing countries' revenues, but could ultimately stall the global economy and growth engine. Those who see this as a great opportunity are sadly mistaken.
Algeria calls for a just and equitable energy price that can guarantee the investments required in the hydrocarbon sector, the development of oil-producing countries and the implementation of their own transition toward new and renewable sources of energy.
Internally, for more than a decade, we have opted for a prudential policy on public finances, positioning the preservation of macroeconomic stability as an overarching goal. Combined with the decision to repay the debt early, this approach allows Algeria to better absorb the oil shock and gives us some room for economic maneuvering.
Protecting Algerians' social entitlements and purchasing power while maintaining support for the growth and development of the national economy are our priorities in these difficult times. To succeed, corrective and rehabilitating measures were taken as early as in Fall 2014, aiming to control public spending and external trade, and to diversify budget resources.
We were then able to stabilize inflation and achieve drops of more than 11 percent of imports and eight percent of public
expenditure, while increasing our regular fiscal resources in 2015 by 9.3 percent.
Credits to the economy kept increasing – up by 22.7 percent compared with 2014 – and GDP growth between 2014 and 2015 remained virtually the same, standing at 3.8 percent – the target of the budget law for 2016 was 4.6 percent. It's challenging, but we are all striving to achieve this performance.
How can the Algerian economy's dependence on oil be further reduced? What other economic sectors should the country rely and focus on?
Since he was re-elected in April 2014, President Bouteflika has set the building of an emerging and diversified economy, generating wealth and jobs, as a national priority. This commitment is the road-map assigned to the government for the next five years, maximizing production outside of hydrocarbons in the industry, agriculture, energy, digital and tourism fields, and relying on a privileged instrument: the national enterprise, public and private, opened to partnerships and international expertise.
The agreement between the government, employers and trade unions for the implementation of a National Economic and Social Pact allows the combining of all of the country's potentials, aiming for the growth and diversification of the national economy.
The business climate is improving, despite the cumbersome and bureaucratic reflexes against which we struggle. The investment code, which has already provided very major benefits, especially in terms of tax, was amended to further liberate investment and to simplify and facilitate procedures.
Improving the business environment is also an important project for us. We are working on it without making any distinction between public and private companies. Add to this the modernization of financial systems through the enhancement of banks' governance of banks and financial markets' stimulation.
Are you planning to limit state intervention in corporations in Algeria?
The government's social action is paramount. We are often criticized because of the amount spent on social transfers: free education, free health… But we consider that these actions are part of the country's social fundamentals; they are a way to redistribute the oil income. Regarding public companies, we have strengthened them, but we say to them: do not remain on your own, opt for partnerships, the law allows it.
We have not finalized the agreement with the WTO yet, because we still do not agree on everything. We are strengthening our economy and industry so they are competitive; otherwise, we will fail from the start. We have signed an association agreement with the European Union, whereby we lower our tariffs and receive help in return to redress our economy – not financial help, but in terms of know-how, technology transfers and upgrades. To date, our expectations remain limited. We are not questioning the agreement, but we have to review the matter. We must not delude ourselves: without a reactive economy and solid economic foundations, you lose. We need to rebuild our economy to try to minimize our dependence to hydrocarbons.
What are the main challenges and priorities for Algeria in the next five to ten years?
To successfully achieve our economic transition, build an emerging economy, reduce youth unemployment, continue to modernize our country and open it up more to the world – these are Algeria's main projects for the years to come. This is a national political, economic and societal renewal, for which the guidelines and road map have been drawn by the President of the Republic, Abdelaziz Bouteflika. One of his sentences summarizes this approach: "We work to offer Algerians better living conditions than those of their parents, so that they can leave to their children an even stronger, more stable and more prosperous country."