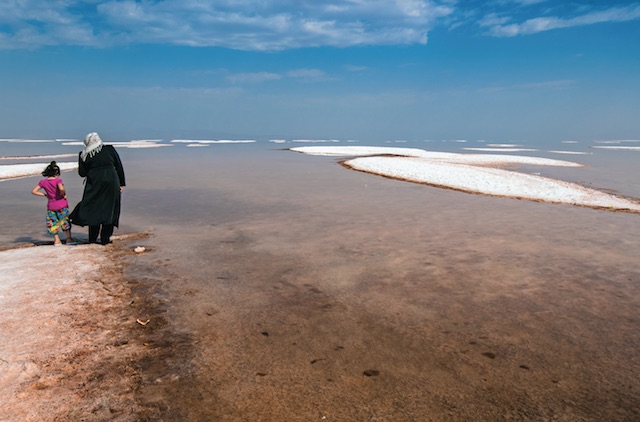 The social media campaign 'I am Lake Urmia', launched at the end of August, is one sign of growing public concern over the environment in Iran.
Prompted by findings that the salt lake in north-west Iran had lost 90 percent of its surface since the 1970s, campaigners are seeking a million signatures to present to the United Nations in the hope of fostering international debate.
Campaigners point out that Article 50 of Iran's constitution makes environmental sustainability a public duty and forbids "economic and other activities that inevitably involve pollution of the environment or cause irreparable damage". A 15-point plan based on the article was endorsed by hundreds of candidates in February's Parliamentary election.
Haunting images have hit home: boats stranded by the receding water at Urmia; Esfahan's famous Khaju bridge, a two-level structure built by Shah Abbas II in 1650, with no water under it in the Zayandeh Rud (rud, 'river'). The documentary Once Hamoun, made by film-maker Mohammad Ehsani, has sparked international interest in the Hamoun wetland near the Afghan border, which has been drying up for years amid growing tension between Tehran and Kabul.
Despite the verdant Caspian region and the lush valleys of Kurdistan, Iran, like much of the Middle East, has a large arid area. A relatively low annual rainfall of 250mm, a third of the world average, makes the country vulnerability to global warming. Agriculture – as in most of the developing world – is the heaviest user of water, absorbing 92 percent of consumption and reducing this means challenging assumptions over food security or self-sufficiency as well as vast improvements in water management.
The shrinking of surface water sources has led to greater extraction of non-renewable 'groundwater' below the surface. Iran has become one of the world's top groundwater miners, causing major subsidence in many areas, with some estimates suggesting that 70 percent of Iran's groundwater has been tapped.
"The Middle East is water bankrupt. We have written checks without enough money in the account," Kaveh Madani, reader in Systems Analysis and Policy at Imperial College, the University of London, told TRENDS. "Surface water was our checking account. First, we finished that. As soon as we start tapping into our savings account, groundwater, we're not sustainable anymore."
Water disputes
Politics may not offer solutions. Hamoun is largely fed by the Helmand River, long subject to dispute between Iran and Afghanistan, despite a water-sharing agreement signed in 1973.
Tehran blames Kabul for cutting off supplies by building dams and canals for irrigation schemes in Kandahar, Helmand and Nimroz provinces. Meanwhile, Afghanistan argues that the Helmand River supplies 40 percent of its surface water and that Iran itself diverts its flow.
Glaciers feeding the river have shrunk with global warming, while decades of war in Afghanistan have left 80 percent of its rural population without adequate access to drinking water.
Iran and Afghanistan are also at odds over the Hari Rud, which rises in the Hindu Kush and forms part of the Afghan-Iran border before expiring in Turkmenistan's Kara-Kum desert.
Afghanistan's Salma Dam, opened in June and partly financed by India, will reduce the flow of the Hari Rud into Iran, which, in 2005 with Turkmenistan, opened the Iran–Turkmenistan Friendship Dam (or Doosti Reservoir Dam) further to the north on the same river.
Desertification on the Iranian side and years of drought have encouraged locals to leave, with Shargh newspaper reporting 300 villages being abandoned. The nearby city of Zabol was once known for carpets knotted from -locally-farmed wool, but is now one of the world's two most polluted cities, according to the World Health Organization, due to dust storms brought by the famous '120-day wind' that once cooled the city, but now chokes it.
The diminishing of Lake Urmia, once twice the size of Luxembourg, and the drying up of the Zayandeh Rud through Esfahan, are probably due to rising water demand from agriculture. In Khuzestan province, in the south-west, the sugarcane industry has absorbed huge amounts of water and contributed to the drying out of rivers and soil salinity.
For Madani, problems have been compounded by short-sighted, grandiose schemes. "The region is in love with technological solutions, like concrete and steel," he said. "Iranians have jumped from dams to desalination and water transfer. The whole region is in what I call the hydraulic mission, where humans think they have to control -nature. They want to mimic the West and [political] instability in the region makes then worried about food self-sufficiency, or what they now call food security."
Water management
Like many developing countries, Iran has sought large-scale engineering solutions in water management, particularly in building dams to supply farming, as 75 percent of rain falls on only 25 percent of the land.
Many have lacked adequate environmental assessments, including the Gotvand Dam, in Khuzestan province, which was built on salt beds that make its reservoir's water too salty to use. Diverting water into the Zayandeh Rud to increase supply for major conurbations has simply encouraged further development and so increased demand.
President Hassan Rouhani, who was elected in 2013 pledging to tackle the environmental challenge, has assigned special responsibility to Masoumeh Ebtekar as Vice-President. The Rouhani government appears less sure than its predecessors over the value of dams and initially shelved a plan from the previous administration to pump desalinated water from the Caspian Sea through a 460km underground pipeline to Qom, Kashan and Esfahan. But the scheme is now apparently back in planning and, in March, Rouhani announced a $400 million budget as part of a far more ambitious project to pump water to 16 drought-ridden provinces. Construction has begun on a link from the Sea of Oman to northern Sistan-Baluchistan.
At the same time, the government has said $5 billion will be spent restoring Lake Urmia, with international cooperation, including the United National Environment Program, as well as adopting alternative approaches based on improving farming methods, educating farmers and phasing out water-hungry crops. In eastern Iran, the UN Environment Program and Unesco are both involved in plans to mitigate the damage being done to the Hamoun wetlands. However, it will take time to establish sustainable approaches, and many have a financial or political cost. During a BBC interview at the 2015 Paris climate talks, vice-president Ebtekar advocated a "total U-turn in agricultural policy".
Such measures could include incentives for conservation, water pricing, reducing leakage in existing networks, recycling waste water, improving farming -technology and ending or reducing subsidies of inefficient farming.
According to experts like Issa Kalantari, a former agriculture minister and now advisor to Ebtekar, the water crisis was more serious than the 1980-88 war with Iraq. "If water consumption for agriculture remains at the current level, in less than 25 years Iran's eastern and southern areas will be completely -deserted and 50 million people will have to emigrate," he told the IRNA news agency in September, arguing that 90 to 95 percent of reductions required in water consumption would have to be made by agriculture, with jobs needed elsewhere to replace losses
in farming.
However, it is far from clear that sustainable environmental policies are compatible with the desire expressed in 2014 by Ayatollah Ali Khamenei, the Supreme Leader, to double Iran's population.
Already, Iran has no serious plan to meet the target set by the Paris climate agreement of reducing greenhouse gas emissions by four percent by 2030 (or by 12 percent in return for $35 billion in international support). The Paris targets were set on the condition that international sanctions would be lifted, recognizing that they have made it harder for Iran to tackle its environmental problems.
The United States' sanctions measures in 2011, barring the supply of petrol to Iran, led to the production of domestic fuel with ten times the usual level of contaminants. Dam-building and subsidizing farming were also strategies designed both during the 1980-88 war with Iraq and international sanctions to reduce dependence on imports, contributing to an official ideology of "self-sufficiency," especially in wheat.
The Rouhani government has stressed its willingness to accept international assistance – both financial and technical – to address issues like degraded wetlands. But projects of the Washington-based 183-country Global Environmental Facility are frozen as the US continues to vote in international bodies against loans to Iran. Tehran also faces difficulties in finding international investors for infrastructure improvements due to international banks' reluctance to be involved in Iran, given Washington's disapproval.
Madani is hopeful but far from optimistic. "Lake Urmia has become a national symbol of environmental degradation," he said. "The scale was so big that people understood it. Iranians are sharing different ideas about the environment and experts are also rethinking. But we haven't ended our hydraulic period and I'm not sure we've hit our peak water usage. A problem created over 50 years can't be solved in four years [a presidential term]."
The time for complacency has passed, Madani added: "Did Californians get it so late, that they should not use so much water? They knew for many years, but the political cost of enforcing laws to reduce usage is generally high unless you have a crisis, or an extreme event. Before that, there is a threshold of tolerance."