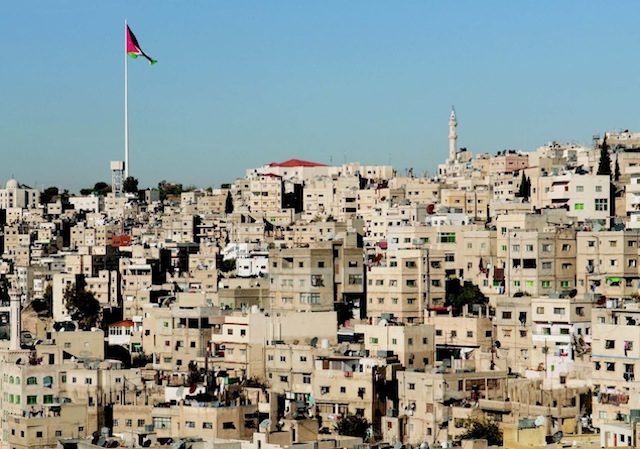 Lower oil prices are a big challenge for the producers in the Gulf. Is this a blessing in disguise for countries such as Jordan that don't produce crude oil?
Jordan has always believed that lower oil prices can create increasing risks in the medium term. Jordan is very much integrated into the GCC economy, whether in terms of investments being attracted from the GCC or in terms of assistance and aid that we are always grateful for.
Also, skilled Jordanian men and women are well-appreciated and work diligently and professionally in the GCC, and their remittance is a critical factor in our economy.
We went from oil being at very high prices since the Arab Spring hit the region and, automatically, we lost our gas supplies from Egypt. So, we were hit very hard economically because of the high oil prices. 2015 was the first year that the prices had dropped.
In spite of that, we are trying to do everything in our country to address the energy risks that have always been associated with 96 percent of our energy needs. Hence, in the past three years, we have embarked on a very aggressive energy diversification program.
We have moved very aggressively on a renewable energy program. During the Abu Dhabi Energy Summit in January 2016, we announced a new project with Masdar for a 200-megawatt solar project. This builds on another green project that Masdar has invested in. The latter is the largest wind farm in the Middle East and North Africa.
We are on our way to [ensuring that] a range of 15 to 20 percent of our electricity -production [will be from] renewable [sources] by 2020. We want to get ten percent of the total energy mix from renewable by 2020. We've also built a new gas terminal along our port city of Aqaba.
Jordan is proceeding very aggressively with an energy diversification program, which has [created] serious risks [for] our economy. [But,] we have turned those risks into an opportunity because it has opened up the door for private sector investments.
The GCC countries have been leaders in tapping into these opportunities that Jordan offered, whereby we converted a challenge into an investment opportunity and we have attracted investments on a public-private partnership basis to deliver in energy, as we are doing very well in water, sanitation, transport and urban development.
The second-biggest risk that has been pressuring our economy has been the overflow of refugees, especially from Syria. Refugees represent roughly 20 percent [in terms of their] ratio to the Jordanians living in Jordan.
The matter of Syrian refugees is now an international crisis issue. Did this increase international aid to Jordan?
Thanks to the efforts of Jordan and other neighboring countries, United Nations agencies and critical leaders around the world have understood that the burden of refugees does crush a country's abilities.
Owing to our Jordanian and Arab Islamic humanitarian values toward our neighbors, we have kept our borders open for refugees.
We are at a very good point in terms of maximizing the spotlight on the need to support the Syrian refugees on the humanitarian front and also to support the neighboring countries that are hosting refugees, both their governments as well as the host communities. Meanwhile, in parallel, we work aggressively as an international community in Geneva and Vienna, [trying] to arrive at a political solution to the Syrian issue.
What is the progress of the Jordan Re-launch project initiated last year during the World Economic Forum's Dead Sea Summit?
Green energy -projects are progressing very well. We are also focusing on $20 billion opportunities in infrastructure, energy, water, transport, urban development, tourism and ICT. All projects are on track and are being implemented along our Jordan 2025 vision.
What are your major takeaways from this year's WEF Annual Meeting?
For our region, I think that, given what we have seen and the slowdown in the international economy, the drop in oil prices… I think our region needs to take advantage of the risks as well as the opportunities being offered now to mitigate the risks and to counter them and hopefully build a positive momentum going forward.
The region has to start now. GCC countries, Jordan, Egypt, Morocco and others who are willing to join should start this regional club of nations to work much closer on economic integration, cross-border investments, exchange of policy-making reforms and experiences amongst us.
We are all now starting to deal with issues of cutting down subsidies, moving towards targeted subsidies to those who deserve them, becoming more competitive and improving our investment climate.
This is the time for us to come together as countries in the region. This is a time where public-private partnerships and governments pulling up their infrastructural needs as investment opportunities are going to be on the rise significantly.
Now, with lower oil prices, this means that governments have to put up more projects as investment opportunities in -infrastructure that usually would have been funded by governments, which also is a great opportunity for building our private sectors across the region.
I am cautiously optimistic that there are many countries that can come together to take advantage, mitigate the risks and the new realities that face us. However, we respond in a way [through which] we economically integrate even closer, work on co-investments, open up trade and continue the great labor market movement that has been a great way to ensure development across all our countries. The countries that receive the labor and the countries that send the labor have benefited from that.
It is a win-win for our region. On top of all of that, there is a very critical window for opportunity that has opened to maintain or to have a strong direction on economic reforms. That would focus on investment climates, competitiveness, women and youth empowerment, education and working together on regional mega projects.