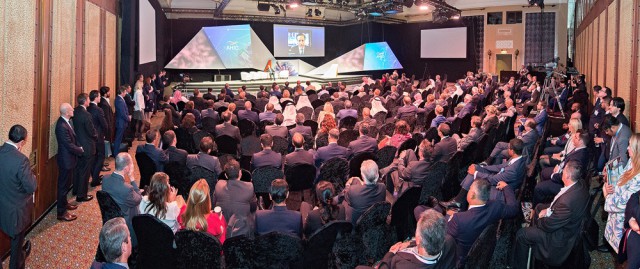 At a time when most of the industries are undergoing traumatic times in the wake of slow global economy and diminishing oil prices, one industry that is looking forward to have good times in 2017 is Middle East's hospitality sector.
Industry experts are expecting opening up on new avenues in this sector, which will be capable to draw impressive investment as well as new players. With strong market fundamentals in place and lucrative investment opportunities; stakeholders share a positive outlook for the Middle East hospitality industry in 2017.
In the lead-up to the 13th edition of the Arabian Hotel Investment Conference (AHIC), being held at Madinat Jumeirah in Dubai from April 25 to 27 this year, key speakers and sponsors at the annual knowledge platform and networking event revealed their optimistic forecast for the year ahead.
"Despite the oil price, the spotlight on elections globally and otherwise volatile regional conditions, our key partners in the region still identify in present market conditions attractive opportunities to invest. Investors may be cautious with their real estate investments in light of RevPAR contractions across certain markets in the region, however, many markets in the region are just beginning to mature and still represent attractive investments across many asset classes," said Olivier Granet, CEO of HotelServices Middle-East and Africa, and also a speaker at AHIC.
The experts acknowledged that while aspects of both development and operations were challenging in 2016, the market remains robust with investment potential.
Hamad Abdulla Al-Mulla, CEO of Katara Hospitality, Platinum Sponsor of AHIC 2017, said, "2016 will be remembered as a challenging year for hospitality investors as a mix of global geopolitical and economic issues has resulted in a more cautious approach towards investment decisions."
"The Middle East hotel market remains a vibrant and exciting one for investors. The region's fundamentals are strong, making it an attractive investment destination. In Qatar for example, the outlook for the hotel industry is especially promising. According to the Ministry of Economy and Commerce, in 2015, income from tourists amounted to QAR18.3 billion, nine-times the QAR2.1 billion recorded in 2010, demonstrating the clear opportunity for proven investors like Katara Hospitality in the region," he added.
The AHIC speakers and sponsors agreed that future investment would be focused on exciting master developments, new brands and gaps in the market, from growth in the economy, mid-market and upscale segments to luxury at scale, such as all-inclusive premium resorts.