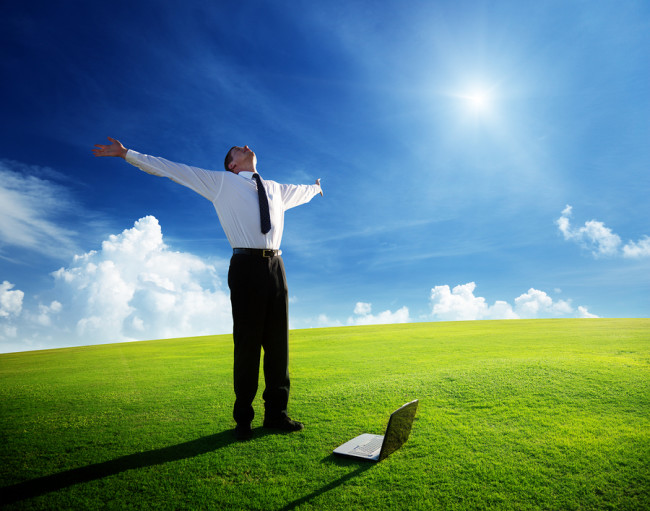 Despite the absence of perks in mature markets, professionals in the Middle East and North Africa region have a positive outlook on life.
A recent survey on personal fulfillment by job advisory company Bayt.com reveals 93.8 percent of professionals polled from the MENA region have a positive outlook on life, with 56 percent being "very positive" and 37.8 percent being "somewhat positive".
The job markets in the majority of the oil-rich countries in the Arab world are dominated by foreigners; perks such as retirement, life insurance and pension plans are not part of the compensation packages. However, there is no income tax in the GCC countries – this might change in the near future, however, as governments are contemplating taxes such as VAT.
In spite of the unique challenges, seven out of ten professionals polled in the MENA region consider themselves fulfilled in life, with 33.4 percent feeling both professionally and personally fulfilled. Almost one third (29.2 percent), however, do not feel fulfilled at all. Four out of five respondents believe that they are in control of their career and life, with 54.6 percent believing that they control their career and life "to a great extent".
Financial worries (29.5 percent), lack of training and development opportunities (16.3 percent) and feeling that their job is not suited to them (12.9 percent) are the most prominent reasons keeping MENA respondents from feeling fulfilled.
Other factors that prevent them from feeling fulfilled include a poor work environment (10 percent), bad management (7.3 percent) and a poor work-life balance (7.2 percent).
The majority of polled professionals (27.1 percent) prefer to spend their free time reading. 41 percent of those who prefer to read say that the activity enriches them both personally and professionally. For 9.7 percent, reading is a form of entertainment, while 4.4 percent feel that reading de-stresses them. On the other hand, 19.6 percent prefer to spend their free time with family. 12.2 percent spend their free time working more and 8.7 percent spend it with friends or exercising (7.1 percent).
The majority (97.2 percent) of polled professionals consider themselves to be healthy, with 75 percent believing themselves to be "very healthy", while 22.2 percent think of themselves as "moderately healthy".
Still, 70.8 percent of polled professionals in the MENA say that they experience stress on a daily basis, with 28.8 percent feeling "very stressed" and 42 percent feeling "somewhat stressed".
Commenting on the survey results, Suhail Masri, the vice-president of sales at Bayt.com, says: "Feeling fulfilled in the working environment has a considerable impact on the entire lives of employees. The poll results show that their professional life plays a great roll in reasons that keep them from being fulfilled.
"Happiness is subjective and professionals in the MENA really have to take care of their mental, physical and environmental well-being. Continuous learning, exercising regularly and properly managing time will really help MENA professionals in this regard.
"Employers in the region also have to keep abreast of trends and elevate support and engagement levels of their staff to ensure improved performance and employee retention," Masri concludes.