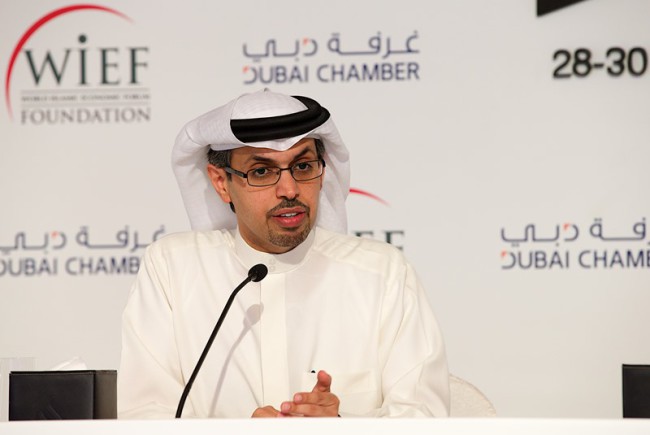 Dubai Chamber of Commerce and Industry has launched a new specialized unit to support research and studies on Islamic economy.
Addressing the concerns over unified code for Islamic financial services, Hamad Buamim, President and CEO of Dubai Chamber, announced the establishment of a GCC unified authority for standardizing Sharia-compliant products and services.
Buamim said the new unit will utilize digital application and platforms and use smart solutions to support the local business community to integrate itself within the Islamic economy system. It will enable a larger group of businesses to benefit from the Islamic economy culture and help transfer knowledge between partners at the local, regional and international levels, Buamim added.
The CEO said Dubai Chamber supported the idea of embracing the innovation culture to bring new ideas and solutions with the Islamic economy sector to ensure sustainable development of this sector internationally.
Expressing great satisfaction at the large participation at the 10th World Islamic Economy Forum, Buamim said the event has turnout to be remarkably successful from the first day, with more-than-expected participation of over 3,300 delegates from 104 countries.
Apart from the large number of participants, the 10th WIEF also included 181 speakers in as many as 37 sessions, covering 29 topics on Islamic economy. It also witnessed 150 bilateral meetings and the signing of 12 MoUs, Buamim said.
The Forum had the distinct participation of nine global leaders, including His Highness Sheikh Mohammed bin Rashid Al Maktoum, Vice President and Prime Minister of the UAE and Ruler of Dubai, as well as the prime ministers of Malaysia, Timor-Leste, Luxembourg, and presidents of Kazakhstan, Bangladesh, vice-president of Seychelles, deputy prime minister of Tajikistan and the president of the Islamic Development Bank. Among other key participants were 12 ministers and four central bank governors.
Stressing Dubai Chamber's commitment to further contribute to Dubai's efforts to transform into the global capital of Islamic economy, Buamim said: "Dubai offers a regional platform for leaders and specialists in the local and international economy to come together in events such as the WIEF that help build innovative partnerships at all levels.
During the first two days of the Forum, participants had the unique opportunity to listen to expert speakers on a variety of topics of current relevance, including role of Sukuk market in financial stability, developing a resilient economic model, managing global risks in business, Islamic finance's pivotal role in enabling trade, creating a sustainable network of women entrepreneurs, policies strategies to retain young talents, and sustainable urban planning.
It also included master-classes on potential of Halal vaccines, tackling water scarcity through cutting-edge technology, and successful zakat management.