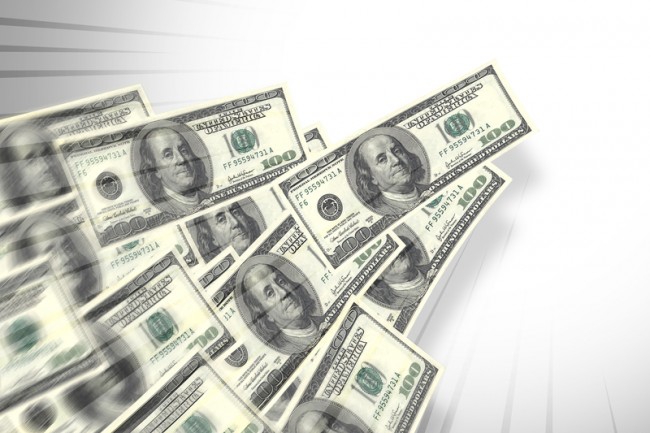 Private Equity-backed IPOs are set to experience a record year, and the Europe Middle East and Africa (EMEA) is driving this activity, says research firm EY.
The pace of IPO issuance has some fearing a summer slowdown, but EY analysts say such concerns are overblown. The second quarter of 2014 saw record amounts raised by PE-backed companies, and the pipeline remains strong.
"After years of stop-and-start activity, investors are clearly favoring a risk-on stance, allocating significant portions of their portfolios to new issues. Barring any systemic disruptions, year-end volumes might even double 2013's record activity," says Ernst and Young.
Last year saw a record for PE-backed IPOs, with 187 deals raising $58.5 billion. "Just six months into 2014, the value of PE-backed IPOs has nearly matched last year's total. PE-backed companies have raised $55.9bn across 134 deals so far this year. The second quarter was particularly active. PE-backed companies raised a record $38.1bn in 87 separate deals, a significant increase from Q1.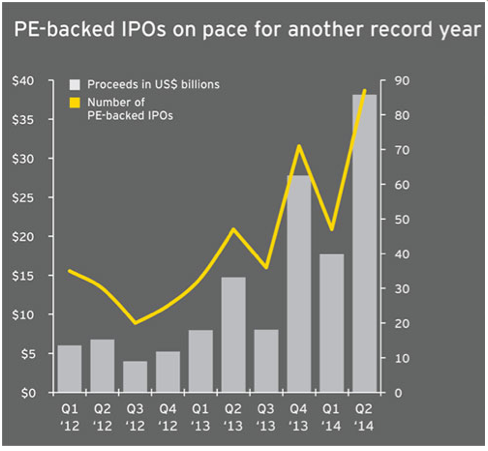 "The strength of the EMEA market is perhaps the top story for PE in 2014. Firms have raised $24bn in new offerings, taking 51 companies public. This is a 200 per cent increase compared to the first half of last year," say analysts.
The second quarter accounted for the bulk of the activity, with new offerings valued at $16.5bn, more than four times the amount raised in Q2 2013.
Primary offerings are not the only issues seeing activity from PE firms. Secondary offerings have grown markedly on the back of strong equities markets.
PE firms have raised $58.9bn across 178 separate follow-on deals in 2014, on track to exceed the $109.2bn raised in 2013.
PIPELINE MODERATES ON HIGH DEAL VOLUME BUT REMAINS ROBUST
The pipeline moderated in Q2 2014, as companies executed on their IPOs at a faster rate than the pipeline could replenish itself.
"Nonetheless, the pipeline for new deals remains solid. There are currently more than 100 PE-backed companies in registration to go public, and they are set to raise more than $20.3bn in total.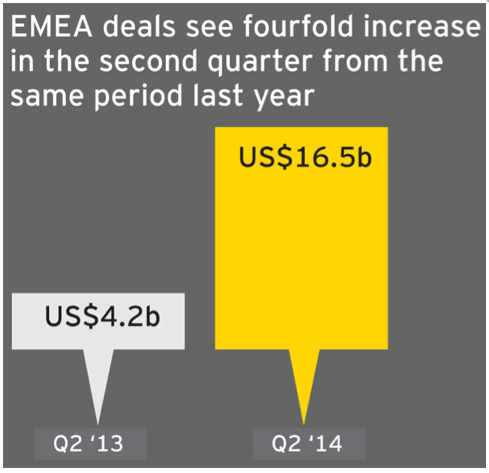 "Rising energy prices and strong investor demand for energy stocks are helping drive new PE-backed issuances. Last year, just one IPO in the sector priced in the first half of the year, raising $131 million. Thus far in 2014, eight such deals have raised more than $6.2b, and there are more in the pipeline.
"Other active sectors include consumer goods and services, retail and technology," says EY.
* Graph courtesy: EY