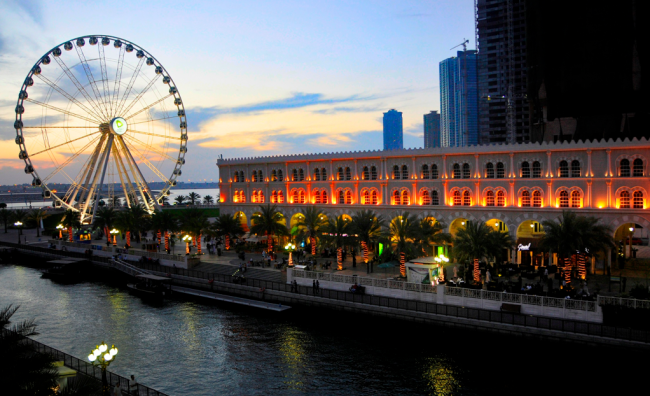 The emirate of Sharjah in the UAE has earned stable ratings from two international agencies with political stability, business-friendly environment and free trading zones contributing significantly to the positive outlook.
The Sharjah Finance Department says Moody's and Standard & Poor's have assigned long-term rating of 'A3' and 'A', respectively, to the cultural capital of the UAE. In both cases, Sharjah is rated as a sovereign government entity, and has a stable outlook.
This credit rating exercise is the first that the Government of Sharjah has undertaken. Sheikh Mohamed bin Saud Al Qasimi, Chairman of Sharjah Finance Department and Member of the Sharjah Executive Council, said: "These credit ratings firmly establish Sharjah within the top tier of sovereigns globally, affirming our position as a leading investment destination."
With a robust and diversified economy, the nominal GDP growth has been strong and steady, averaging 11 per cent from 2001 to 2012, with only a limited and short-lived impact from the global financial crisis.
Economic growth has been spread across a wide range of sectors, and in the financial year 2012 no individual sector represented more than 20 per cent of GDP. As such, Sharjah has one of the most diversified economies in the GCC region. The manufacturing sector is one of the most significant in the region, supported by 19 industrial zones and two thriving free zones.
Sharjah has taken advantage of its natural geographic advantages through world-class infrastructure and its membership of the UAE provides political stability, a business-friendly environment and financial strength.
The emirate is unique in holding ports on both the east and west coasts of the UAE, in addition to its international airport, which serves over 100 cargo and passenger destinations within a 4-hour radius. These logistics hubs are well connected by the strategic road network, with enhancements to north-south routes and a new east-west routes in progress, and are fully integrated with the Airport Free Zone and Hamriyah Free Zone.
Sharjah provides an affordable environment for people to live and do business with no income, sales or general corporate tax applied by the government, and only modest duties on imports and municipal services. Relatively low property prices combined with streamlined labour legislation keep business operating costs and wage bills down, and annual CPI inflation has remained below five per cent for the last five years.
Sharjah's strong government finances hold its public debt very low, with the Government's gross debt standing at less than six per cent of GDP at the end of 2012, offset by shareholdings in listed companies worth 2.7 per cent of GDP. New borrowing is used only to finance capital spending, with a focus on investments that generate a financial or economic return. A range of quasi-governmental bodies, such as the Sharjah Electricity and Water Authority (Sewa), Sharjah Airport Authority and free zones, carry out commercial activities that are aligned with the Government strategy as well as raising revenue, while the Government holds significant strategic shareholdings in private companies such as Air Arabia, Bank of Sharjah and Sharjah Islamic Bank. Government revenues come from a diverse range of sources, with just 21 per cent of revenues depending on hydrocarbon production in 2012.
Human capital development is a major focus of the Government, with particular priority given to education. Facilities in University City offering some of the best learning and research opportunities in the Middle East will be supplemented with the opening in 2014 of Al Qasimia Islamic University. Literacy rates were 92 per cent in 2010, and nearly half of Sharjah's local citizenship holds post-high school qualifications. Sharjah is well known for its focus on Islamic culture, heritage and values, and has turned this into an economic strength, with nominations such as the Sharjah Islamic Culture Capital of the Arab region for 2014 and Capital of Arab Tourism 2015, that are expected to boost the tourism industry and the emirate's profile globally.
A credit rating gives a widely recognized, internationally comparable assessment of the emirate's economic and financial status. According to Sheikh Mohamed bin Saud Al Qasimi, "the ratings will strengthen our position as we embrace the economic opportunities and challenges of the future".
Waleed Al Sayegh, Director-General of Sharjah Finance Department, says the Government of Sharjah expects the rating to:
* demonstrate that Sharjah is a modern, open state, managing its finances in line with international best practice;
* open Sharjah up to new investors and give confidence to existing ones;
* reduce the cost of borrowing for the emirate; and
* strengthen entities in the wider Sharjah public sector, and Sharjah-based private sector businesses.