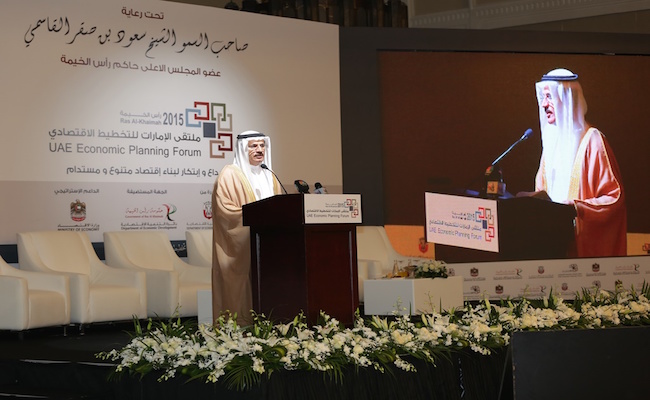 The UAE is aiming to trim the oil sector's share in the country's gross domestic product (GDP) to nearly 20 per cent in the next few years, according to His Excellency Engineer Sultan bin Saeed Al Mansouri, Minister of Economy.
Currently, the revenues from the hydrocarbon sector contribute 31 per cent of the GDP, while non-oil sector makes up 69 per cent.
The minister, while speaking at the inaugural session of UAE Economic Planning Forum in Ras Al Khaimah, said that his government was expecting to achieve a three to 3.5 per cent GDP growth in 2015 despite prevailing challenges. The GDP grew 4.6 per cent in 2014.
"The UAE economy has maintained positive growth levels despite a decline in oil prices and a slow global economic performance. This has come about as a result of our resilient economic policies that aim to increase diversification and decrease reliance on oil."
Al Mansouri also stated that the financial reserves in the country's foreign accounts have largely limited and cushioned the economy from market fluctuations.
The International Monetary Fund (IMF) estimates that gross official reserves of the UAE will grow 8.9 per cent to $83.7 billion in 2016 from $76.8bn in 2015.
"Within just 44 years, our economy has taken tremendous leaps compared to other global economies thanks to the federal government's dynamic approach that focuses on economic diversification with the view to achieving long-term sustainable development. In 2014, the UAE's GDP amounted to AED1.47 trillion compared to only AED6.5bn in 1971," added Al Mansouri.
The minister also highlighted the increasing capital flow into the country stating that the total volume of foreign investments exceeded $100bn in the last ten years.
The UAE topped the Middle East region and came at the 22nd place globally in the Global Investment Index 2015. More than 500 international companies have set up their regional headquarters in the country for their MENA operations.
"With 34 multi-specialty free zones in the country, full foreign ownership has now been made possible with zero tax rates and a 100 per cent profit transfer. All of these factors have significantly helped develop our infrastructure, attract greater foreign investment flows, transfer knowledge and technology to the UAE, and build a sustainable knowledge economy," said Al Mansouri.
(This story first appeared on www.AMEinfo.com, a TRENDS sister website)