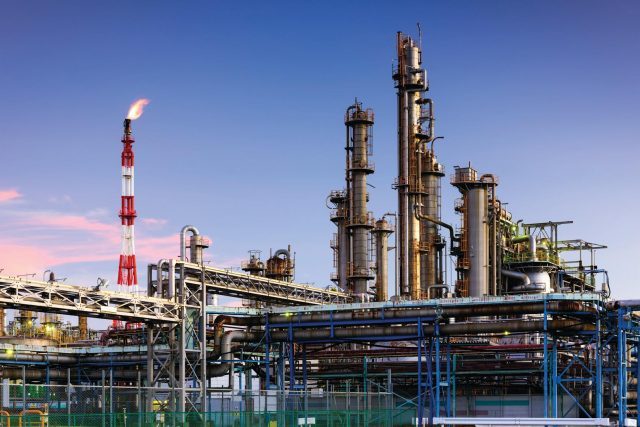 Constantly declining oil prices since 2014 have come as a rude shock to the energy-rich Gulf states, which have relied heavily on oil over the years to propel their economies. Rising fiscal deficits, squeezed revenues and skewed growth rates marked the year gone by across the Middle East.
In addition, the conflicts in Yemen and Syria took a toll on the economic outlook of the region, even as political and economic uncertainty kept foreign investors on tenterhooks.
Moody's Investors Service, in its December report, said Gulf Cooperation Council (GCC) companies, particularly those in oil and gas and oilfield services, were limiting growth prospects in the region due to falling oil prices. The trend is expected to continue with the International Monetary Fund (IMF) forecasting in its most recent economic outlook for the region that oil prices would average $50.10 per barrel in 2017. The fund has also projected a gross domestic product (GDP) growth of 2.3 percent for the GCC region in 2016 and forecast a slight recovery next year to 2.5 percent. The Middle East and North Africa (MENA) region faces a 16 percent decline in oil revenue in 2016-17. On account of sluggish economies, the combined fiscal deficit of the six GCC member states is estimated at $160 billion.
These low projections stem from weakening global oil prices and economic -reforms undertaken by the states in 2016. The year 2017 will witness both fiscal consolidation and economic diversification gaining strong momentum across the Gulf world.
While the United Arab Emirates and post-nuclear-deal Iran seemed slightly less affected by the downturn in 2016 thanks to their positive outlook and diversified economy, for the rest, it was time for a course correction.
Economic reforms
In September, Saudi Arabia kicked off the consolidation of its fiscal policy and economic reforms. Faced with a budget deficit of nearly $100 billion, the kingdom took a historical step by slashing salaries of ministers and Shura Council members by 20 and 15 percent, respectively, and scaling back financial perks for public sector employees. The Saudi Arabian Monetary
Agency announced a "supportive monetary policy" and deposited nearly $5.3 billion in the local bank sector to allow banks to lend to private-sector companies facing a liquidity crunch.
The Public Investment Fund (PIF) received $27 billion from official reserves to tap into the private sector and lessen dependence on oil. The fund is also aggressively pursuing domestic and international deals.
The PIF acquired 3.5 billion stakes in taxi-hailing app Uber Technologies Inc and plans to inject $45 billion into a $100-billion global technology fund formed by Japan's SoftBank Group Corp. It seeks to increase the proportion of foreign investments to 50 percent by 2020 from the current five percent.
As per US-based research firm Freeman & Co, the planned privatization of state-owned companies has attracted global investment to the kingdom. Fees paid to banks in Saudi Arabia jumped by almost a third to approximately $100 million in a few months.
According to a report by ICAEW, a world-leading body of chartered accountants, at $17.5bn, Saudi Arabia's inaugural bond issued in October is the largest emerging market bond in the history, reflecting the kingdom's ability to source cheap credit. ICAEW predicts Saudi Arabia's GDP will rise by 1.2 percent in 2016, which will remain same in 2017. The non-oil growth recovery is expected to be 1.5 percent in 2017 from –0.2 percent this year.
Revenue generation
Oman, Kuwait and Qatar also were not far behind in introducing a slew of economic measures in 2016 to rationalize subsidies and generate more revenue.
Qatar increased the price of residential electricity and water, and, at the same time, more than doubling the cost of postal services, while Kuwait passed bill to charge foreign residents and businesses more for water.
In September, Kuwait increased low-octane petrol prices by 41 percent and low-emission petrol by 83 percent. Oman increased the country's corporate tax rate from 12 percent to 15 percent to raise an additional $649 million; it also imposed additional $5.19 tax on outbound travelers.
Economists forecast Qatar to do well with a GDP growth of 3.6 per cent during 2016-18. FIFA World Cup 2022 is fueling construction and other sectors, with the government spearheading the initiative with investments and the private sector equally adding its share.
Oman, which has embarked on an austerity drive, is aiming at reducing its fiscal deficit to 11 percent of its GDP from the current 20 percent in the next financial year.
Meanwhile, Kuwait is expected to grow non-oil GDP by 1.5 percent. However, the slowdown will bring the overall GDP growth down to 2.3 percent from the current 2.8 percent.
Economic reforms have become a serious bone of contention among the political class in Kuwait, with many saying they are against such moves.
Bahrain's economy, meanwhile, is projected to do well with the UAE, Kuwait and Saudi Arabia's financial assistance. The economy is bound to register a firm growth of nearly 2.2 percent in 2016-17. However, the IMF's Dr Natalia Tamirisa has a word of caution for Arab nations relying only on taxes and subsidy cuts. "Oil-producing countries' cost-cutting measures and budget rationalization can have negative implications. They should consider developing sectors such as tourism, industry and transport, among others, and aim at economic diversification," she says.
Resilient UAE
Despite the volatile oil market, the UAE's $450 billion economy has shown the strength to ward off the negative trends. It has the lowest reliance on oil, just 30 percent, when compared to other Gulf states. The country has strongly prioritized diversification and is turning into a knowledge economy. Real estate, retail, tourism, aviation and manufacturing sectors are major contributors to the GDP. The UAE, economists forecast, is likely to record 3.5 percent growth in 2016-17 from the low of 2.2 percent in the last fiscal.
The industrial sector, which contributes 14 percent to the GDP, is also forecast to expand and contribute 20 percent in 2021. The latest outlook from Capital Economics has predicted the UAE to be the best performing economy in the Gulf in 2016-17.
"The key to the diversification drive is the growth of the industrial sector. The UAE seeks to attract more than $70 billion in industrial investments by 2025 and increase the share of the industrial sector in the country's GDP to 25 percent," says Sultan bin Saeed Al Mansouri, cabinet member and UAE Minister of Economy.
The UAE government has issued new rules and regulations to further improve the business environment. In September, the country's Cabinet approved the Bankruptcy Law (expected to come into effect in Q1 2017) pending presidential signature. The law is aimed at safeguarding the rights of creditors and debtors in insolvency situations, including measures that prioritize secured creditor rights and enable companies to restructure without unanimous creditor approval.
Other GCC states can take a leaf out of the UAE's book to substantially increase the contribution of non-oil sectors to their respective GDPs.
MENA's bright spot
So far, Iran has influenced the Middle East and world politics, and now it is poised to dominate economically. In January, as sanctions on the country were lifted partially in accordance with the nuclear deal, many nations flocked to the largest economic market outside the G20 to take early advantage. Among the deals struck was one by France's Airbus, which signed a provisional agreement to deliver 118 aircraft to renew Iran's civil aviation.
The Shiite nation has the largest gas reserves and the fourth-largest oil reserves in the world. Royal Dutch Shell and France's Total SA entered into agreement with the country for oil and natural gas development. Exports from Iran to the US increased to nearly $62 million after the nuclear deal.
According to a report from the McKinsey Global Institute, Iran could increase its GDP by $1 trillion and create nine million jobs by 2035. The country's burgeoning middle class, combined with a highly diversified economy – oil and gas account for just 23 percent of GDP – a growing real estate sector and one of the largest automotive sectors in the world are hard to ignore. The year ahead promises hectic economic activities.
Way forward
In December, major OPEC oil producers agreed at a meet to cut oil production and hinted at a major shift to rein in falling prices. Meanwhile, Saudi Prince Mohammed bin Salman recently floated the idea of establishing a Gulf economic union to give member countries protection from the slowdown.
The idea may prove to be one worth considering: there are strong indications of continued volatility and uncertainty in 2017 and beyond; so, working together as one unit, the Arab nations would be in a sound position to bear the brunt.