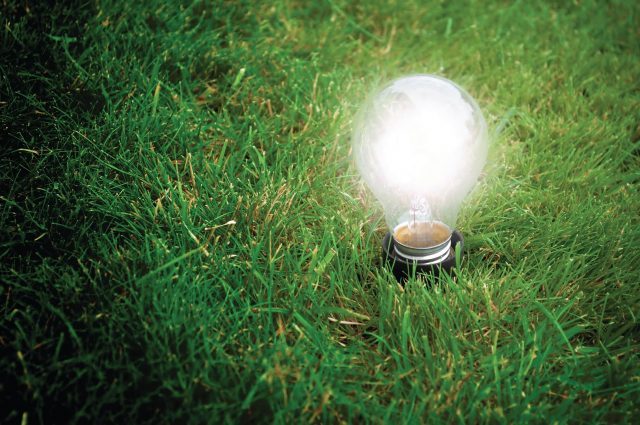 The Gulf Cooperation Council (GCC) occupies one of the largest hydrocarbon-producing regions in the world. The six-member council has almost one third of proven crude-oil reserves and nearly one fifth of global gas reserves. However, despite this mammoth stockpile, various dynamics are steadily indicating the necessity of the GCC embarking on a green march to ensure a sustainable tomorrow.
Regional policymakers are focusing on implementing a systematic diversification plan to direct the region's energy mix toward alternative or renewable sources to reduce carbon dioxide (CO2) emissions, resulting in a reliable socioeconomic benefit.
According to the IRENA Renewable Energy Market Analysis – The GCC Region report: "In recent years, several GCC countries have announced plans and targets for conserving natural resources, improving energy efficiency and deploying renewable technologies. Achieving renewable energy plans could result in cumulative savings for the region – the equivalent of 2.5 billion barrels of oil (2015 to 2030) – leading to overall savings of $55 billion to $87 billion, depending on oil and gas prices."
The region showcased its strength in renewables and displayed visionary projects and plans at the World Future Energy Summit (WFES) 2017 in Abu Dhabi last month. Stakeholders from around the world participated in the event, aimed at promoting and facilitating knowledge exchange to advance renewable energy, energy efficiency and clean technology.
WFES emphasized, apart from other benefits, how a push to go green will  have economic and job-related implications as well. IRENA also estimates that achieving the GCC renewable energy targets and plans could create an average of 140,000 direct jobs every year. In 2030 alone, close to 210,000 people could be employed by the renewables industry.
The UAE's green goals
Building a sustainable economy is one of the major goals of the UAE government. Projects such as Masdar City are exemplary efforts by the national leadership to aid the inclusion of a healthy and renewable-based energy mix. The UAE Energy Plan 2050, announced last month by His Highness Sheikh Mohammad Bin Rashid Al Maktoum, Vice-President and Prime Minister of the UAE and Ruler of Dubai, targets a combined reduction of 70 percent in national carbon emissions from UAE power plants. The aim is to generate 44 percent of total power from renewable energy resources, such as solar energy, 38 percent from gas, 12 percent from clean coal and six percent from nuclear energy. The plan intends to improve energy efficiency by 40 percent, to generate a saving of roughly AED700 billion.
The UAE has huge support from government and private organizations to meet these targets. Emirates Central Cooling Systems Corporation, (Empower), the world's largest district cooling service provider, is one of the main companies helping Dubai fulfill its Clean Energy Strategy 2050, whereby 75 percent of the emirate's total power output will come from clean energy by 2050.
At the WFES, Empower displayed the model of its third plant in Business Bay in Dubai and highlighted its role in providing environmentally friendly cooling services of the highest international standards in Dubai. The plant plays a significant role in conserving energy, preserving the environment and reducing carbon emissions when compared with other traditional cooling systems.
HE Ahmad Bin Shafar, CEO of Empower, said: "Empower's participation in this summit reflects the leadership position of the company on the local, regional and international levels. This leading position is being demonstrated by the advanced model of the plant in Business Bay. The model prompted debates about district cooling plants' operating systems, their efficiency in minimizing the energy consumption and water management."
Harnessing the sun
Geographic conditions prevalent in the region make solar the most powerful and one of the most effective renewable resources. As the IRENA report states, the abundance of solar resource potential and falling cost of associated technologies, mainly photovoltaic (PV) modules, are major factors influencing the attractiveness of solar energy in the region.
The GCC countries lie in the Global Sunbelt2 and have some of the highest solar irradiances. The report suggests that close to 60 percent of the GCC's surface area is found to have excellent suitability for solar PV deployment and developing just one percent of this area could create approximately 470GW of additional power-generation capacity.
"With the advent of the lowest solar prices in the world, Gulf countries are set to capitalize on their promising solar resources for power generation and water desalination. As the present analysis finds, the GCC region can cut its annual water use by 16 percent, saving 400 million barrels of oil, creating  210,000 jobs and reducing its per capita carbon footprint by eight percent by 2030 – all by achieving the renewable energy targets that national and sub-national governments have already put in place," said Adnan Z Amin, director of IRENA, in an official statement.
One of the Dubai Electricity and Water Authority's (DEWA) major projects to implement this strategy is the Mohammed bin Rashid Al Maktoum Solar Park, the largest single-site solar park in the world. The site will produce 5,000MW by 2030, with a total investment of AED50 billion. It will also reduce 6.5 million tones of carbon emissions annually.
At its stand at the WFES 2017, DEWA highlighted three smart initiatives that support the Smart Dubai plan and contribute to making Dubai the smartest and happiest city in the world. DEWA's initiatives include connecting solar energy to houses and buildings through the Shams Dubai initiative, installing smart applications through smart meters and grids, and building the infrastructure and electric vehicle charging stations through the Green Charger initiative.
Winds of change
The MENA region has seen various pioneering projects that are aimed at harnessing wind energy to produce power. Morocco and Egypt, despite various uncertainties, have made solid progress. Siemens plans to set up 12 wind farms in Egypt, while several wind farm projects are underway in Morocco. Meanwhile, the UAE, Saudi Arabia and Qatar have made major investments in wind energy generation.
Water waves
Countries, especially in this water- stressed region, are fast realizing the importance of water management and making efforts to reduce the future risk of severe water shortages.
According to The Future, a report by strategy consultants Booz Allen Hamilton, 25 countries will lack sufficient access to water to meet daily needs by 2025. The Water Resources Institute states that 14 of the world's 33 most-likely water-stressed countries in 2040 will be in the Middle East, including nine that will face extreme stress: Bahrain, Kuwait, Palestine, Qatar, United Arab Emirates, Israel, Saudi Arabia, Oman and Lebanon. All of this makes it important for regional powers to consider this problem seriously.
Major steps are being taken towards desalination, which provides a large share of the region's fresh water needs, ranging from 27 percent in Oman to 87 percent in Qatar, says the IRENA report. It also accounts for a substantial share of total energy consumption in most GCC countries – as much as 30 percent for Qatar and the UAE, for example. In Saudi Arabia, thermal desalination accounts for roughly ten percent of domestic oil consumption. Desalination also draws considerable volumes of natural gas, where available –  in Oman and Qatar, for example.
Long way to go
GCC countries are compelled to explore energy diversification strategies to meet growing energy demand with energy supply options. Renewable energy is a key part of the solution. The IRENA report states: "The GCC countries are endowed with hydrocarbon resources that have fueled development over the past decades. Blessed with abundant solar resources, the region can fuel economic growth and provide employment for future generations in a sustainable manner."