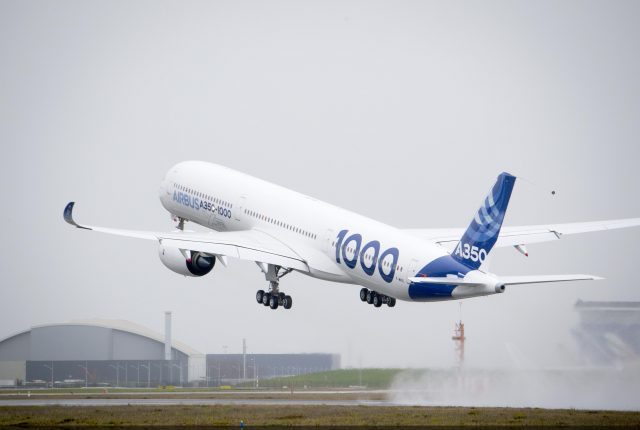 Journey into the future in 3D at the Airbus Digital Exhibition centre
Virtually fly an A400M or interactively explore an 'Airspace' cabin in 3D
Airbus will showcase its wide range of innovative technologies, products and services, from market-leading commercial and military aircraft to helicopters and space systems at the Paris Air Show, which runs from June 19-25.
In addition, there will be a new Digital Exhibition zone at the Airbus pavilion where traditional mock-ups give way to the latest digital immersive and interactive display technologies to convey an improved experience of Airbus' products and services, in life-like virtual reality scenarios.
Experience the first public flying appearance
In the static display areas, visitors will see a plethora of Airbus' real operational and development aircraft. Notably, this year's show will be the first time that Airbus showcases publicly in the flying display its new A321neo and also the latest member of the A350 XWB family – the A350-1000. Both of these new models are currently well into their certification flight-testing phases. The flagship A380 will also feature in both the static and flying displays.
Meanwhile Airbus Defence and Space's exhibits will include the A400M, the C295 and the Eurofighter Typhoon. At the other end of the size scale, but every bit as cutting-edge, will be a collection of unmanned air systems including the "Harfang", the DVF 2000 VT Aliaca, the DVF 2000 ER Arrano, and the Quadcruiser.
Revolutionizing the space business
In the space perimeter will be a comprehensive portfolio of satellites, highlighting recent successes such as the first all-electric satellite in the three-tonne class, EUTELSAT 172B, or PerúSAT-1, which was delivered in only 24 months and hence set a new benchmark in terms of delivery time. Guests to the Airbus pavilion will also have the opportunity to experience a virtual reality visit to the International Space Station ISS, and see how with 'Space Tug', Airbus is getting ready to revolutionise the space business through 'on-orbit' services.
Airbus Helicopters' line-up on the static display includes the H130, the H135 equipped with the Helionix digital avionics suit, the H145M fitted out with HForce and a Tiger helicopter from the French army which will also perform flight demos during the show.
Show-goers will be able to discover at first-hand Airbus Helicopters' innovative solutions for preparing the future of vertical take-off and landing (VTOL) with a mock-up of its new high-speed demonstrator at the Clean Sky booth. The future of unmanned flight is a key element in development with, on the military side, the VSR700 mock-up on the static display, and on the civil side a mock-up of CityAirbus, the 'urban air mobility' solution for congested cities, at the Paris Air Lab booth.