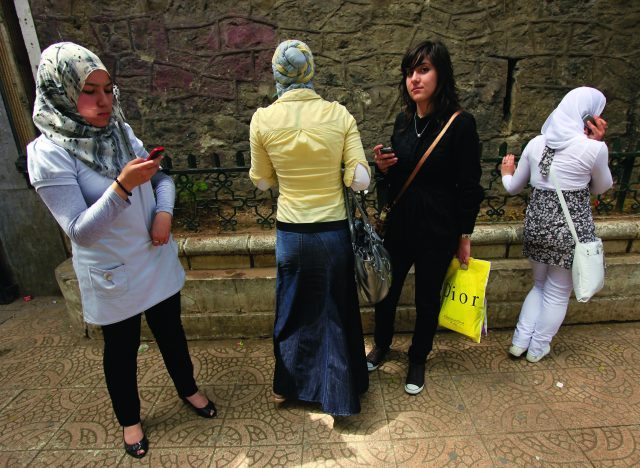 Algeria is in the midst of a telecom revolution. In this age of affordable access to digital devices, breaking into the mobile data market has been one of the main aims of major telecom companies operating in the country over the last year. Algeria has been looking to reap the benefits of serious investment into their telecom industry by spreading increased connectivity throughout the country.
The revolution gathered impressive pace in 2015 when the first Algerian telecom megadeal took place, with the Fonds National d'Investissement (FNI) buying a 51 percent stake in Omnium Télécom Algérie, formerly known as OTA, from Global Telecom Holding (GTH). The figure was a startling $2.643 billion. Omnium Télécom Algérie owns the Djezzy network, which is known for being the primary operator, covering 90 percent of Algeria.
This deal has been classed as one of the largest mergers and acquisitions deals in Algeria to date, and has led to an increase in available funding and strategies to take network coverage to the next level.
The move will allow for major strategic decision-making rights to be transferred to the FNI, whilst managerial and operational control will be retained by VimpelCom, whose subsidiary is GTH.
Speaking about the deal, the managing director of Shearman & Sterling Paris, Emmanuel Gaillard, who advised the group on the whole process, elaborated that: "This highly strategic acquisition for the Algerian state was achieved after three years of complex negotiations, between partners from different cultural backgrounds."
The CEO of VimpelCom, Jo Lunder, also commented on the deal, observing that following its completion, the company is now "positioned better than ever to lead the way in Algeria, offering customers high-quality mobile services and the best digital experience."
At the time, the Algerian Ministry of Finance stated that the acquisition allows Djezzy to "continue its development in a dynamic market and to increase investment in its network and equipment in order to maximize the opportunities offered by recent technology developments, including 3G."
This deal has allowed for a major change in investment and strategy in terms of telecoms access within Algeria, and has therefore enabled the revolution to move from just 3G data connection capabilities to 4G. Working towards providing 4G connectivity for the entire country is expected to support Djezzy's revenue streams and ward off shrinking profits.
The plan was unveiled after Global Telecom merged Mobilink, their Pakistani subsidiary, with Warid Telecom, in a move that will bring the number of participants engaging with 4G up to 50 million users.
Way forward
In today's increasingly digital age, the way forward seems to move toward an increased concentration of growing mobile data revenues, which have gone up by 56 percent on figures taken from 2015. This shows the clear need to move away from simply supporting more traditional voice and messaging services.
4G LTE services are already being advertised across the nation, and three of the main operators were awarded licenses to operate by the Regulatory Authority for Post and Telecommunications, namely Algérie Télécom Mobile (Mobilis), Optimum Telecom Algérie (OTA, trading as Djezzy) and Ooredoo Algeria. In terms of how this new 4G strategy will be rolled out, the government has decided to split the country into higher and lower priority classifications: C1 (15 high priority wilayas, or regions) and C2 (33 low priority wilayas).
As part of the terms and conditions laid out by the regulatory authority, each of these operators must fulfill a mandated minimum coverage, set at ten percent. This must happen within one year of commencing the initial operation in all of the following wilayas: Ouargla, Algiers and Oran (Mobilis); Djelfa, Setif and Constantine (OTA); and Bechar, Tlemcen and Tizi Ouzou (Ooredoo). After satisfying these commitments, each operator will then be instructed to roll out additional services to three or four further wilayas per year.
There now seems to be healthy competition to secure new customers and retain existing users within the current networks, which should push companies to keep trying to innovate and bring in 4G as quickly and effectively as possible. The CEO of Djezzy, Tom Gutjahr, commented on how they were approaching the imminent roll-out of the latest technological features and how they look to capitalize on latest developments, saying their "4G/LTE roll-out is not simply an evolution, it's a revolution for Algeria and will change the way we interact with our customers through the digital world. We are pleased to be rolling this innovative service out in Algeria, enabling access to a world-class high-speed network for more and more people across the country."
It is hoped that these continued improvements will provide a significant boost to Algeria's economy, on the back of advancements in innovation, productivity and much greater business optimization – all of which can be achieved by increased connectivity, improved bandwidth and faster access speeds.
By permitting more businesses to get online and access the much larger customer base which can be reached online, it is estimated that a considerable boon could be on its way to local economies across the nation.
It has been shown by the countries which have already rolled out 4G connectivity, such as the UK, the US, Sweden, Japan, Italy, France, Germany and South Africa – to name but a few – that the investment repays in dividends as businesses can optimize better and become more profitable in the long term.
Launching 4G
4G will allow customers and businesses alike to make conference calls with a high-quality resolution, as well as provide suitable entertainment with instant Internet connections and the ability to download high-definition shows and movies. Indeed, 4G is regarded as being ten times faster than previous 3G iterations, so it unsurprising to see Algeria's telecoms revolution gathering pace with quickening speed.
At a conference for Algerian media, the executive chairman of Djezzy, Vincenzo Nesci, made a gesture of thanks to the Algerian Regulatory Authority for the role played by the government in making the launch of 4G a feasible possibility in the near future, and also played up the impressive partnership they have with the FNI, who allowed this project to be developed so quickly and put in place strategies to make increased connectivity a reality.
VimpelCom Group's chief technology officer, Yogesh Malik, said that they are excited with the progress made, as "Algeria is an important market for the VimpelCom Group and, as a company that is customer obsessed, we are proud to offer 4G/LTE to our over 16 million customers and to furthering the digitization of the country."
Malik commented further: "VimpelCom is striving to bring digital enablement to each and every one of our more than 200 million customers across all our geographies and we are pleased to add Algeria to our portfolio of countries where 4G/LTE and high-speed wireless networks are today a part of our standard offering."
The fact that 3G only began to proliferate across Algeria in 2014 shows what huge strides have been taken in the last couple of years to really kick-start the telecom revolution and increase digital services at such a phenomenal rate.
The only reason this appears to be successful is due to a very real desire to implement these new and improved connections at a rate that can be afforded, given the increased control afforded to the holding companies following the mergers and acquisitions deal back in 2015.
This deal appears to have been a catalyst for the telecom revolution. The fact it took so long to come into force after long periods of due diligence shows how potentially useful it was that all of the important issues were ironed out prior to the acquisition taking effect. Seeing the speed of development since then would indicate just how seriously this challenge of rolling out 4G to as much of Algeria as possible is being taken.
The inaugural trial of the first 4G network was held in July 2016, when Ooredoo partnered with Nokia to hold tests in Tlemcen, based in the North West. The trials turned out to be a success, with testing speeds reaching up to 75mbps.
As part of the launch, Ooredoo is planning to offer citizens the chance to pay the same price as they currently do for their 3G connectivity service, in a move that is hoped will retain and expand their customer base.
To complete the trial phase, a preliminary license was sought from the Algeria Regulatory Authority for Post and Telecommunications, and the test produced figures stating that the speeds discovered were indeed the fastest connection speeds ever recorded in the country.
Ooredoo says the expansion of their network and improvements will permit greater roll-out of smart technologies, including e-commerce, m-payments, m-banking, m-health and m-education services.
Their CEO, Sheikh Saud Bin Nasser Al Thani, commented that the move into higher levels of 4G connectivity demonstrates the strength of conviction the mobile operator currently has to develop superfast networks across their entire coverage area.
Al Thani then went on to say that they "continue to offer our customers a better data experience, enabling them to enjoy faster downloads and clearer, buffer-free streaming, made possible by the latest network technology."
Rapid growth
Ooredoo is currently the third most widely used network operator in the country, with 30 percent market share. Comparing this to their rivals, GSMA intelligence figures show that Djezzy is in the lead with almost 38 percent , and Mobilis (Algérie Télécom Mobile) has 32 percent of the overall market share.
For those looking to make the most of technological development and increased connectivity and reap the benefits within their homes, by the end of 2015 the aim was to provide every home with fiber-optic infrastructure that could be accessed as and when required, according to Zohra Derdouri, Algeria's former Minister of Posts, IT and Communications.
It was noted at the time that "almost all of the municipalities in the country are already connected to the fiber network", with just a few areas remaining to be improved upon.
When examining some of the latest data available, which is from TeleGeography's GlobalComms Database and dates back to mid-2014, there was a rapidly growing network of fiber-optic infrastructure and transport, then covering some 57,000km. The aim was to have erected a further 20,000km of cabling by the tail end of 2015.
Once all of this has been brought in, fixed-line 4G connections will be accessible at all 48 administrative centers in Algeria. Another way assessing just how much of a revolution the telecoms industry is currently undergoing in Algeria, is to take a look at how much progress has been made in recent years. Since the turn of the century, market deregulation has enabled serious inroads of private investment in the drive for innovation.
Algeria has one of the highest levels of teledensity in Africa. This is a measure of how many are connected to telecoms services as compared to the population as a whole. It provides an excellent indication of how wide network-coverage is in a country, and indeed how well mobile operators have managed to roll this out.
Worth bearing in mind is the fact that Algeria was actually the last country in the whole of the African continent to even roll out a 3G network. Yet here we are, three years down the line, with speeds that have increased tenfold.
The mobile industry is thriving in the country and it should therefore come as no surprise that the government is willing to invest in the sector to help capitalize on these positive developments.
As such, it has given a €100 million boost to projects with a clear strategy to build and develop an infrastructure suitable for dealing with increased bandwidth and connectivity speeds.
This level of investment has allowed mobile operators to not worry about the infrastructure and instead rapidly develop strategies to help make all this a practical possibility, as well as find ways to bring about as wide a network as possible.
One of the key ways to design and enforce strategies that will deliver for years to come is to partner with the fastest-growing provider of 4G networks worldwide, ZTE, a telecom provider based in Shenzhen, China.
Here, Algérie Télécom Mobile is making the most of the expertise at ZTE to lead Algeria into the 4G era. In 14 provinces, ZTE has been responsible for arranging effective infrastructure, enabling high-speed connectivity that can be used by businesses and consumers alike.
In order to make the revolution a true success – one that develops long-lasting improvements to data speeds – it is important that as many people as possible can afford to gain the easy access to 4G networks and, furthermore, can afford the devices that are compatible with such network standards.
As mobile technologies improve year-on-year and the cost of accessibility to such devices becomes more practical, rolling out such services to more and more citizens will become a commonplace feature of the digital landscape, and these developments over the last few years really demonstrate how important it is to have a clear strategy in place.
In terms of the way forward, it is clear that although fixed-line connections have a huge part to play, for businesses who operate in offices and those who want Internet access at home, mobile connectivity is definitely the so-called gap in the market that ought to be both encouraged and exploited as well as possible.
The sheer number of benefits experienced by a more mobile world mean that there are many reasons for people to want to be able to access the Internet on the go, rather than being tied to one particular location with a good connection.
If a businessperson can, for example, take a conference call at very short notice after he has already left for lunch, then productivity and efficiency can be greatly increased. So, looking to move into this market offers far greater long-term certainty than fixed-line services do.
Challenges ahead
When all is said and done, one of the main reasons so many tend to have faith in fixed-line connectivity is because of the guarantee of a consistent and reasonably standard speed offering day and night – one does not expect to see much of a change in reliability. The key challenge going forward is how to ensure that the 4G network in place is similarly reliable.
Businesses need to know that they have a digital service they can rely on and trust, so it is imperative that any move towards mobile data revenue does not erode that trust, nor lead to a neglect of the improvement of fixed-line services as a result of a focus on 4G connectivity.
Algeria's main telecom operators must therefore work on strategies to continue this general trend that brought attention to the impressive telecoms revolution in the country. The turnaround from having no mobile data network of much note to rolling out 4G just a few years later is astonishing, but it is important to keep sight of the current state of play so as to ensure that many are not accidentally left out during the search for increased reliability in 4G coverage.
With the telecom industry investing so much money in future potential, retaining current customers should be seen as essential. To lessen the chances of any nightmare scenario, exemplary customer service is vital to maintaining healthy relationships with clients, as well as guiding them through all of the details, which may be causing consternation with the move toward increased 4G connectivity.
If users are encouraged to access their Internet and online-based services more regularly, and understand what benefits they can accrue from regular connectivity and its provision of much faster speeds, then much more data will be used and larger incomes will therefore be generated for telecoms companies. This then enables further investment in new infrastructure and the like, which can in turn generate future increases in revenue streams.
To ensure a lasting state of progress and innovation in the Algerian telecom industry, it is therefore vital that these continual technological improvements are supplemented with educational programs detailing the many uses and benefits of smart technology and what it can deliver. Given that a lot has been achieved in such a short space of time, it will be interesting to see what lies ahead for Algeria's telecom industry.