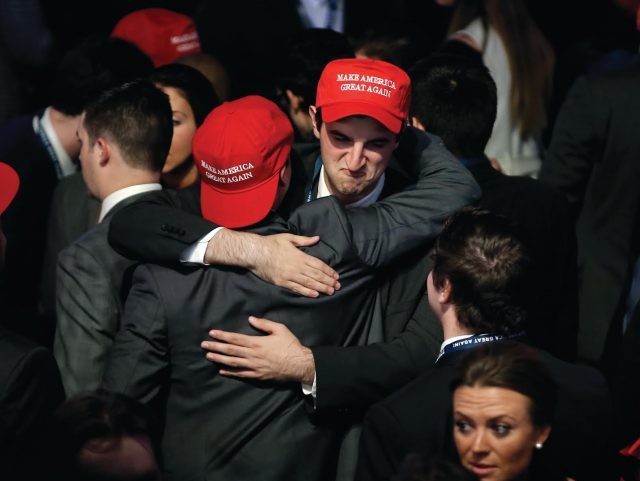 Starting at the beginning of his improbable, 18-month journey to the White House, US President Donald Trump repeatedly promised to "drain the swamp in Washington," "fix the disastrous mistakes of President Barack Obama," and "make America great again."
Trump, a billionaire New York real estate developer and star of a "realty" television show called The Apprentice, was equally verbose in his intention to fundamentally change America's relationship with the global community.
Trump's heated rhetoric was often aimed at Latinos, Muslim immigrants, NATO, global trade agreements, and fellow members in the Republican Party. But much of his bluster on the campaign trail was reserved for the foreign policy failings of the Obama administration.
During the highly contentious presidential campaign between Trump and Democratic Party candidate Hillary Rodham Clinton, many Middle East watchers
listened carefully to both candidates for any clues about what might lie ahead if either was elected.
Advocating stricter import rules and an end to American nation-building abroad, Trump has stopped short of calling for the United States to fully disengage from the Mideast. But on the campaign trail, America's newest President made it clear that he had no intention of perpetuating Obama's Mideast policies of confrontation and intervention.
"Donald Trump questions whether regional primacy is in the interest of the United States, rejects regime change and wants to work with Russia against ISIS," Flynt Leverett writes in a study recently published by the London-based Royal Institute of International Affairs.
Leverett, a former senior analyst for the CIA, adds: "But it is unclear whether such realist impulses would be matched by policy given the likely presence of hawkish Middle East advisers in a Trump administration, while perceptions that Trump is anti-Muslim could limit cooperation from states in the region."
Trump blames Clinton, Secretary of State during Obama's first term, for many of the outgoing president's worst blunders in the Middle East. Trump has repeatedly noted that Clinton crafted America's doomed post-Gaddafi foreign policy with Libya, held secret talks with Iranian President Mahmoud Ahmadinejad that eventually yielded a lop-sided nuclear disarmament deal, and passively stepped back from the Israeli-Palestinian peace talks.
Within the context of Clinton's foreign policy failures, Trump has promised to deploy US military forces to destroy ISIS, cancel the nuclear agreement with Iran, and end American support to Syrian rebels trying to bring down the government of President Basher Hafez al-Assad.
Promises made on the road to the White House are often hard to keep. (Does anyone remember candidate Obama's pre-election vow in 2008 to "close the prison in Guantanamo Bay"?) But inconsistency appears to be the only consistent theme in Trump's vision for the greater Middle East: many of his foreign policy pronouncements are off-set (or completely contradicted) by other declarations.
For example: Trump says he wants to abandon the "terrible" nuclear deal with Iran, yet seeks a closer relationship with Russia, a key Iranian ally; Trump says he intends to withdraw US financial support from NATO, yet will likely need the support of Alliance partners if he follows through on his promise to use military force to "crush ISIS"; Trumps collectively refers to Mideast oil exporting countries as "our foes…the oil cartels," yet is firmly aligned with Saudi Arabia's opposition to Iran's expansionist intentions; and so on.
Some clues to what America's policy will be in the Middle East under the Donald Trump administration can be gleaned from what Trump has said – on the political stump, during presidential debates, and on his campaign website.
What follows are insights (many of them contradictory) into how the Trump administration might deal with America's key Middle Eastern partners while also attempting to end many of the conflicts destabilizing the region.
Muslim Immigrants and Islam
In addition to his much-quoted (and much-criticized) dismissal of illegal Mexican immigrants as "people who are criminals, drug dealers, and rapists," Trump has gained an equal amount of notoriety for his views of Muslim immigrants and Islam.
In December 2015, shortly after a Muslim-American couple committed a mass murder in California, Trump called for a "total and complete" prohibition of the entry of Muslims into the US. He has since toned down his harsh regard for Muslim immigrants, but continues to assert that immigration authorities must first "figure out what is going on" with any Muslim who intends to enter the United States.
"We are going to look at a lot of different things," Trump said in a newspaper interview last May. "We have to be vigilant and we have to be tough and smart [about Muslim immigrants]." Two months later, while appearing on CBS television, he said he will bar entry to anyone seeking to visit the US from known terror states and nations, and would subject all Muslim immigrants to "extreme vetting." At the time of going to press, President Trump was expected to sign executive orders restricting immigration from several Middle Eastern and African nations, including Syria.
Iraq
Trump has made no secret of his condemnation of President George W Bush's military incursion into Iraq in 2003. During his election campaign, Trump attributed much of the unrest in the Mideast to Bush's decision to invade. "George Bush made a mistake. We should never have been in Iraq," he said during the Republican debate in South Carolina last February. "We have destabilized the Middle East."
Trump has been less clear about how he intends to bring stability to Iraq and to the region. He acknowledges that "Iraq is in chaos, and ISIS is on the loose," but he is skeptical about Iraq's chances of establishing a truly democratic government, and believes that the time has come for the US to abandon its strategy of nation-building and regime change because, citing Iraq, it only serves to "create the power vacuums that allow terrorists to grow and thrive."
Iran
One of the pillars of Trump's presidential campaign was the need to "dismantle" President Obama's landmark nuclear agreement with Iran. Trump said the deal was poorly negotiated. He also believes that the US should have received more concessions in return for allowing Tehran to access $150 billion that had been frozen since Iranian revolutionaries overthrew the government of King Mohammad Reza Shah Pahlavi in 1979.
Trump accuses Iran of being "the world's largest state sponsor of terrorism," and predicts that it will use the billion-dollar windfall from the nuclear deal to finance additional acts of terror. "In short, the Obama-Clinton foreign policy has…put the nation of Iran – which chants 'Death to America' – in a dominant position of regional power and, in fact, aspiring to be a dominant world power," Trump said in a speech delivered at a campaign stop in Youngstown, Ohio, last August.
Trump believes that the US-Iran nuclear pact should be scrapped, but has not offered ideas on what should replace it. However, Trump has suggested that – once the deal is halted – economic sanctions should be re-initiated and increased in order to pressure the Iranians to offer better concessions during the next round of negotiations.
Israel and Palestine
The Obama Administration has had an increasingly difficult and distant relationship with Israeli Prime Minister Benyamin Netanyahu. Israel's frustration with Obama peaked when the United States signed the 2015 nuclear accord with Iran.
Donald Trump has said that he intends to reverse eight years of chilly US-Israeli relations. "When I become president, the days of treating Israel like a second-class citizen will end on day one," he said in a speech last March. Later, during last summer's Republican National Convention in Cleveland, Trump referred to Israel as "our greatest ally in the region."
But Israelis are wary of Trump's foreign policy intentions for the Jewish state: Trump has expressed the view that the US should stay on the sidelines of the Israeli-Palestinian peace talks. Some of the Israeli distrust, however, is softened by the fact that Trump's son-in-law, Jared Kushner, comes from a well-to-do Jewish family with close ties to Natanyahu's political team. Over the years, Kushner's father – a New York real estate developer and Trump peer – has given millions of dollars to many pro-Israeli interest groups.
Saudi Arabia
Trump's future relationship with Saudi Arabia is complicated by the Obama Administration's willingness to make the Saudis the world's biggest customer of US arms. During the eight years of the Obama presidency, Saudi Arabia has spent over $115 billion for American-made aircraft, combat vehicles, artillery, ordnance (including cluster bombs), small arms, and communications and surveillance equipment. Much of this US military hardware has been deployed against Daesh fighters operating in northern Yemen.
On the presidential campaign trail, Trump routinely vowed to block all oil imports from Saudi Arabia, saying that the Saudis – like all of the other Mideast "oil cartels" – are "among our foes who seek to prevent America's energy independence."
In what some Mideast watchers interpret as a "preemptive" foreign policy declaration by Saudi Arabia, Saudi Minister of Oil Khalid Al-Falih was dismissive of Trump's threat to end all purchases of his country's oil. "At his heart, President Trump will see the benefits [of Saudi oil imports] and I think the oil industry will also be advising him accordingly that blocking trade in any product is not healthy."
Al-Falih, who also serves as Chairman of Aramco, regards the views expressed by Trump during the presidential campaign as "50,000-feet announcements" that will likely change when President Trump see things more closely and in full context in the coming days.
"The US is sort of the flag-bearer for capitalism and free markets," Al-Falih said. "The US continues to be a very important part of a global industry that is interconnected, that is dealing with a fungible commodity which is crude oil. So having equalization through free trade is very healthy for oil."
Islamic State/Syria
President Trump has declined to discuss specifics about his plan to "crush" the Islamic State. (When pressed for details, Trump often counters: "Why should I reveal my military plans to the enemy?")
But Trump also says that that he intends to "bomb" ISIS-controlled oil facilities in Syria, and has declared that his proposed bombing campaign would be part of a commitment of as many as 30,000 additional US troops in the region. "We have to break the group's momentum and then its back," Trump said in a speech delivered in New York City in November 2015. "Our goal is not to deter or contain ISIS, but to defeat and destroy ISIS."
To follow through on his counter-ISIS strategy, Trump intends to use torture (currently banned) to extract intelligence from captured enemy fighters. Trump also says that he will order the US military to target the families of terrorists; this, he says, will deter people from joining terror groups.
Closer ties between the US and Russia will be, according to Trump, essential to the success of his counter-ISIS strategy. President Trump believes that Moscow – which is closely allied with Syria's President al-Assad – is in a better position to
defeat ISIS, and finally bring some stability to this troubled region.