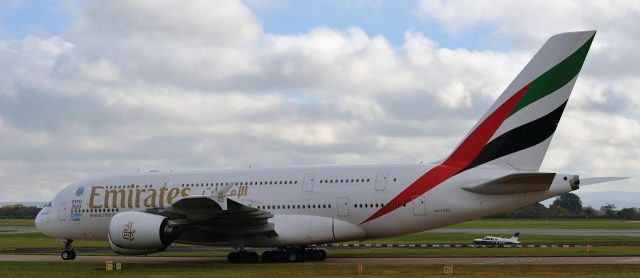 The big three US carriers – American Airlines, Delta Air Lines and United Airlines – are gearing up for another bout against the Gulf's big three – Emirates Airline, Etihad Airways and Qatar Airways – which are expanding their services to new destinations in the United States.
Although US President Donald Trump hasn't yet taken sides on the issue, his team will obviously look into the allegations with more caution once they settle in and get down to business.
The US carriers seem to have derived  encouragement from President Trump's protectionist policy agenda and his rhetoric on the campaign trail, promising to bring back jobs to America.
In an open statement issued one day after the US Presidential elections in November 2016, Jill Zuckman, chief spokesperson for the Partnership for Open and Fair Skies, the organization formed to counter the expansion of the Gulf carriers into the US aviation market, said: "We look forward to briefing President-elect Donald Trump and his new administration on the massive, unfair subsidies that the UAE and Qatar give to their state-owned Gulf carriers."
"The Gulf carrier subsidies threaten the jobs of 300,000 US aviation workers and the American aviation industry as a whole, and we are optimistic that the Trump administration will stand up to the UAE and Qatar, enforce our trade agreements and fight for American jobs," she added in the statement.
The Partnership for Open and Fair Skies was formed by the big three US carriers and the association of pilots, cabin crew and other professionals, primarily to influence US government policy against giving the Gulf airlines additional traffic rights to American cities.
The accusations
In a 55-page report submitted to the US government last year, the US carriers claim their Middle East rivals have received billions in government subsidies that have unfairly spurred their growth.
"Since 2004, the governments of Qatar and the UAE have provided $42 billion in subsidies and other unfair benefits to Qatar Airways, Etihad Airways and Emirates," the report claimed. "A strong US airline industry supports a strong US economy. Qatar, Etihad and Emirates' unfair, anti-competitive practices directly threaten the 11 million jobs and $1.5 trillion in nationwide economic activity supported by US airlines."
The American carriers' defensive position has only intensified over the past few years as the three Gulf airlines continued their expansion in to North American markets, providing one-stop connections to American travelers via the airlines' hubs in Dubai, Abu Dhabi and Doha.
In response to Qatar Airways' planned expansion to eight new cities, including Las Vegas, Nevada, the Partnership for Open and Fair Skies issued another strongly worded statement on December 2, 2016, in which Zuckman said: "The new Qatar Airways Las Vegas-Doha route is one more punch in the nose to the United States of America as the Gulf states flagrantly disregard their agreements with our country. We have extensively documented that Qatar Airways, Emirates and Etihad Airways are only able to carry out their rapid expansion thanks to massive government subsidies that violate Open Skies agreements with the US and threaten 300,000 American jobs. In just the past two years, there has been more than a 46 per cent increase in Gulf carrier flights to the US – flights that simply don't make economic sense for a rational, profit-minded business to operate. Sadly, these important international trade agreements have not been enforced, costing America solid middle-class jobs. We urge President-elect Trump to take this on once he is sworn into office."
Emirates and Etihad Airways declined to comment on the latest statements. They are expected to wait and see how the Trump administration handles the issue.
Subsidies are nothing new
The three Gulf airlines have repeatedly denied subsidy claims, while talks with the US government in June aimed at resolving the dispute were reported to have been "constructive" and ended without any formal action being taken.
Further, Etihad filed a report citing a study by the Risk Advisory Group, which revealed that the big three US carriers have themselves received more than $70 billion from the government in the form of debt write-offs, bankruptcy protection and other means.
The thing is, subsidies not a new phenomenon in the airline industry. There are plenty examples of subsidies extended by the governments of European and American countries to support ailing airlines.
"Subsidies in aviation are almost as old as air transport itself. Most if not all countries at one point or another have provided public funding to some parts of their aviation value chains, be it air carriers, airports or air navigation services, such as air traffic control," wrote Alain Lumbroso, an economist at the International Transport Forum, in an article.
"Although each side makes an eloquent case in the ongoing debate, some arguments do not pass muster. For example, while operating in a labor-union-free environment can certainly reduce costs, it is by no means a subsidy," he added.
Many in the industry believe that the Gulf airlines offer better alternatives to US travelers flying to major international cities – many of which are not served by the American carriers.
Game changers
However, before looking at the subsidy allegation, one needs to consider the game-changing business model adopted by the big three Gulf carriers that is challenging the established global leaders in the airline market.
The three Gulf airlines have been widening the choice of travel to passengers to more than 200 destinations worldwide – something the American carriers have failed to do despite dominating the country's aviation market for nearly a century.
Emirates has created a global hub in Dubai – its home market – by carrying passengers from all over the world to their chosen destinations via the emirate. The airline's business model is based on open skies policies that allow the airline to carry passengers to and from across its network via Dubai. With more than 230 aircraft, it flies more than 50 million passengers annually across its global network of 150 destinations in six continents.
By serving more passengers with more frequent choices, the airline has created a strong demand for its services. Emirates' success has motivated Etihad and Qatar Airways to operate on similar business principles and help the economies of their hub cities – Abu Dhabi and Doha, respectively – to grow.
Emirates Airline is the single-largest contributor to Dubai's economy and is expected to have an economic impact of $53 billion on the emirate's economy by 2020, contribute 37.5 percent to the emirate's GDP and support 750,000 jobs. The airline group directly employs more than 60,000 professionals.
However, the carrier's economic impact is not only limited to Dubai. The airline contributes to the economy of every city and country it serves. Its flights have changed the businesses and economies of many destinations – including in Africa – and they have helped local businesses get global connections via Dubai.
Needless to say, many US cities have also benefited. The US travel association has stated that the 1.1 million visitors to the US traveling on Gulf airlines contributed more than $4.1 billion to the country's GDP in 2014. Furthermore, the association estimates that, during the same year, 30 per cent of Gulf airline passengers transferred onto US airlines.
Meanwhile, officials from the non-hub airports in the United States have also expressed concern over the repercussions from the big three US airlines' campaign for open skies agreements. Orlando International Airport, for one, has been one of the most vocal supporters of open skies agreements during the Gulf debate; the airport also gained key services from Emirates in September 2015.
"In the absence of this free air service trade policy, Orlando International airport would be unable to provide the access for international visitors that our local tourism attractions require to sustain the area's economy, support tens of thousands of jobs and realize Central Florida's potential as the premier leisure destination in the world," the Greater Orlando Aviation Authority (GOAA) said. Further, the Authority estimated that Emirates Airline's flights to Orlando should drive $100 million in new economic activity in Central Florida and create 1,500 jobs. The other two Gulf airlines – Etihad Airways and Qatar Airways – have also developed their businesses around the same model, by carrying passengers to and from across their networks via their hub airports.
Other benefits
However, Etihad has added a new dimension by acquiring stakes in struggling European and Australian airlines and creating a new alliance between the group members and synergizing their combined strength to deliver strong results.
Its business model has helped Germany's Air Berlin, Italy's Alitalia, Ireland's Aer Lingus and Australia's Virgin Blue to deliver better results.
Qatar Airways, meanwhile, joined the Oneworld Alliance to expand the group's business, gaining an advantage from the group's combined strength.
The other economic benefit delivered by the UAE carriers to the US economy is through the more than $200 billion invested in US-manufactured aircraft in deliveries and orders since 2000. Deals include the world's largest commercial aircraft order in 2013 for more than 300 Boeing aircraft, with General Electric engines and services. The business models adopted by the three Gulf airlines are based on simple logic: widen the choices for consumers by offering better service and customer experience through a hub-and-spoke model that offers greater connectivity to international passengers.
Missing the boat
While Emirates, Etihad and Qatar Airways were expanding their network across the world, the bigger global players remained aloof and were focusing
on their traditional markets, thus missing out on the new opportunities created in the emerging economies. The three Gulf carriers helped connect cities in emerging markets and aided them in reaching new source markets for
their products.
African societies, businesses and economies have gained the most from Gulf airlines, which provided the connectivity needed for those economies to grow – but the Western airlines missed the boat. A businessman from Ghana or Tanzania could travel to China to source goods, thanks to the connectivity provided by Emirates. Similarly, Indian IT professionals could connect with Silicon Valley through Emirates.
Of course, by offering better and more frequent connectivity, these Gulf carriers have also managed to snatch passengers from other airlines and routes.
For example, Australia-UK flights used to have popular stop-overs in Singapore or Bangkok. However, with more frequent flights, Emirates has managed to snatch passengers from Singapore Airlines, Thai Airways, British Airways and Qantas, and flies them through Dubai.
Turning the tide
The leading European and American carriers failed to recognize new business opportunities and now, having lost substantial ground, they are making allegations of subsidy – something they benefited from when they were in need. If they want to turn the tide in their favor, the big three US airlines should expand their services, offer better choices and service to customers, and regain
lost ground.