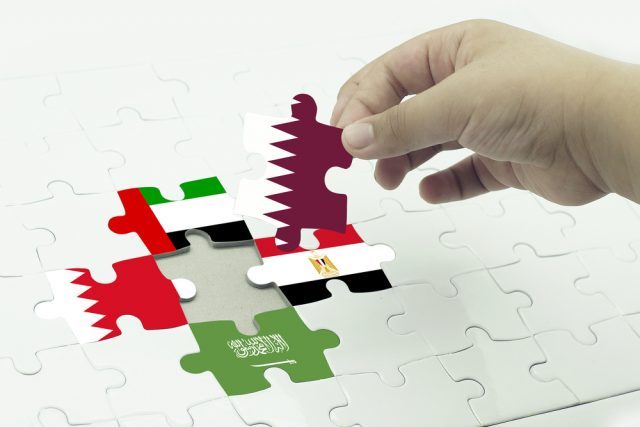 On June 29, 2013, the New York Times quoted a "senior western diplomat" on the Qataris: ''They punch immensely above their weight. They keep everyone off balance by not being in anyone's pocket. Their influence comes partly from being unpredictable."
The Times focused on the Obama administration's efforts to stop certain weapons reaching Syrian rebels for fear they would fall into the hands of al-Qaeda. There was special concern over heat-seeking shoulder-fired missiles designed to shoot down airplanes, of which at least two shipments, the New York Times reported, had been supplied by Qatar through a "shadowy arms network".
Four years later, Qatar's unpredictability and tendency to punch above its weight are as good an explanation as any for the decision by Saudi Arabia, the United Arab Emirates, Bahrain and Egypt on June 5 to sever diplomatic relations and impose trade restrictions on the tiny state with a 2.6 million population, of whom 2.3 million are expatriates. Qatar proved unable or unwilling to follow not just a Saudi-led policy of coordinating support to Syrian rebels, but also insisted on reacting alone to regional developments as Riyadh tried to bring unity to the six-nation GCC.
"This is a major event, it's not a spat," said David Hearst, editor of Middle East Eye. "It's a pre-planned operation. The trigger for it was the visit of Donald Trump, who [in May] basically gave a green light to [Crown Prince of Abu Dhabi] Mohammad bin Zayed and [Crown Prince of Saudi Arabia] Mohammad bin Salman. The end result will be either Qatar changing its policy or a change of regime in Qatar."
Adopting a hard line
The two princes, 56-year-old Mohammad bin Zayed and 31-year-old Muhammad bin Salman, have led the drive against Qatar. As leading forces in their county's policies, the two royals have prioritized a tougher line against both Iran and the Muslim Brotherhood (Ikhwan).
But so far at least, Qatar has shown no sign that it will accept a set of demands that it restrict diplomatic relations with Tehran, close a Turkish military base, sever ties with Ikhwan and close the Al-Jazeera broadcasting network.
Indeed, the demands appear to have been made public by Qatar after being conveyed privately. While the crisis began in a low key fashion when the Qatar news agency and other outlets – apparently after being hacked – published remarks from the Emir, Sheikh Tamim bin Hamad al-Thani, expressing support for Iran, Hamas, Hezbollah and Israel, it now threatens the very existence of the GCC.
As the UAE minister of state for foreign affairs, Anwar Gargash, has explained: "The alternative [to Qatar's compliance] is not escalation, the alternative is parting of ways, because it is very difficult for us to maintain a collective grouping."
Qatar has for years adopted a more nuanced – or some would say contradictory – policy on both Iran and Ikhwan. This has roots in a long-standing tendency that some trace to the 1995 bloodless palace coup, when Emir Hamad bin Khalifa al-Thani, the father of the current ruler, seized power from his father.
During his 18-year rule up to 2013, Qatar expanded gas production and became one of the world's richest countries, with a per capita national income of approximately $84,000 and a life expectancy of nearly 79. But it remains a small state, with a land border only with Saudi Arabia.
Despite this vulnerability, Emir Hamad bin Khalifa liked 'independence' in foreign policy, maintaining a generally positive attitude to the 'Arab Spring' uprisings that began in December 2010. He also welcomed Mohamed Morsi as president of Egypt, when he was overthrown by a military coup in 2013.
Qatar had maintained reasonably good relations with Iran even under 'principle-ist' president Mahmoud Ahmadinejad (2005-13). It also played mediator after 2006 in the rivalry between the Palestinian factions Fatah and Hamas, and tried to do the same both in Sudan and between the Yemeni government and Houthi insurgents. But a more dangerous situation developed as Syrian president Bashar al-Assad cracked down on demonstrators with brutality in 2011 that threatened a major conflagration.
"With the amount of killing of Sunnis [by Syrian government forces] after Assad overran Hama and Deir al-Zour, in August 2011, King Abdullah [of Saudi Arabia] made that speech that Bashar had to stop," said Khaled Oweis, former Reuters Middle East correspondent and visiting fellow at the Berlin-based German Institute for International and Security Affairs. "But the structure of the Free Syrian Army was bungled. Why? In part because of Saudi incompetence, but also because for 20 years Qatar has set out to ruin anything Saudi Arabia does. Qatar is like the student in the classroom who sits at the back and always makes noise – dropping his books, whatever. This was done in Syria both at the level of [rebel] armed groups and the political opposition. It became a debacle."
Constant funding to extremists
The government-owned Al-Jazeera television, originally launched as a single Arabic-language channel in 1996 before mushrooming into a media empire, rubbed salt into the wound with constant criticisms of Arab rulers other than those in Doha. Just as provocative to Qatar's critics was its funding of groups linked to al-Qaeda – which recently came to a head with a Financial Times story on June 9 alleging that Qatar had paid "up to $1 billion" to secure the release of hostages in both Syria and Iraq.
According to the Financial Times, roughly $300 million had gone to Shia militia and "Iranian figures" to help free in Iraq a kidnapped hunting party of 26, including nine members of the royal al-Thani family; while up to $300 million had gone mainly to Tahrir al-Sham, a group linked to al-Qaeda, to free hostages in Syria. The Financial Times quoted a Syrian rebel commander as saying: "The Qataris pay anyone and everyone, to what end? They have only brought about our ruin."
The Qatari government denied the bulk of the story, saying they had just paid a lesser sum to the Baghdad government to help secure the hostages' release.
For many years, kidnappings have helped finance both al-Qaeda and the Islamic State group (ISIS).
In November 2015, evidence that Qatar had "routinely" participated in negotiations over hostages, especially in Syria and Iraq, was given to a subcommittee of the House of Representatives in the United States Congress. These included the 2014 release of American citizen Theo Padnos, held by Nusra Front, originally an al-Qaeda affiliate and now renamed as Tahrir al-Sham.
How close was Qatar to Nusra? "I doubt Qatar's relationship with Nusra was direct," said Oweis. "There are reports that Qatari intelligence met with [Nusra leader Abu Mohammad] al-Julani, but I suspect they would have used proxies, of which they had many in Syria."
Qatar was also involved in securing the swap in 2014 of US soldier Boew Bergdahl for five Taliban commanders, who were being held in Guantanamo detention center, and in the release in 2013 of 48 Iranian pilgrims from Syrian rebels in return for the freeing of more than 2,000 Syrians from jail.
"Qatar's reckless enthusiasm for mediating hostage deals with terrorists seems to be supercharging the profits that these groups receive," said David Weinberg, Senior Fellow at the Foundation for Defense of Democracies, in his submission to the House subcommittee.
US' dilemma
But all of this sits uneasily with Qatar's links with American universities and think-tanks, and its hosting a US military base with 10,000 troops that plays an important role in air strikes on ISIS. American energy companies are also active.
Current US policy – with president Trump praising the Saudi-led action as a move against 'terrorism' and secretary of state Rex Tillerson, with a background in the oil industry, seeking to mediate – reflects Washington's dilemma.
Until now, Washington, while well aware of the Saudi and UAE reservations about Qatar's behavior has preferred to dodge the issue, hoping that it might either be resolved through goodwill between fellow members of the GCC or simply fudged. The US military presence in Qatar dates to 2003, following the 2001 '9-11' al-Qaeda attacks on New York and Washington, and involved moving air operations from Saudi Arabia, which had been nervous over the US role since the 1996 attack, attributed to Saudi Hezbollah, on a housing complex for American military personnel, killing 19.
Qatar, whose wealth was growing as gas production expanded, appeared to offer a less volatile location with fewer restrictions, with the US presence less likely to stir up domestic resentments. There are now around 10,000 Americans stationed at the al-Udeid base, giving the Qataris a sense of security as well as an important base for US air missions against Isis.
Like Qatar, Turkey does not regard Ikhwan and Hamas as 'terrorists' and has received substantial Qatari investment.
Since the crisis broke, Ankara has dispatched troops to Qatar for exercises and has flown in food. In using strong language in calling "isolating a nation in all areas…inhumane and against Islamic values" President Recep Tayyip Erdogan has raised the prospect of a serious rift with Saudi Arabia and the UAE.
For Iran, the Qatar situation now presents an opportunity to counter the Saudi regional 'united front' against Tehran. Iranian news agencies reported offers to supply food by ship to Qatar while in asserting that "neighbors are permanent, geography can't be changed" Mohammad Javad Zarif, Iran's Foreign Minister, has reiterated a long-term narrative that regional problems should be solved without 'interference' by the US.
Tehran is also well aware that Qatar has an interest in stable relations because the two share the world's largest gas-field – South Pars in Iran, North Dome in Qatar – which Tehran has been slow to develop while Qatar supplies a third of global liquefied natural gas (LNG).
Some analysts in Tehran have reacted with glee. "A rift among the pro- and anti-[Muslim] Brotherhood camps in the region is strategically in Iran's favor," wrote Hassan Ahmadian, assistant professor of Middle Eastern studies at the University of Tehran. "Saudi Arabia tried to avoid such a split by prioritizing Iran as the main threat. Yet having Qatar and Turkey versus the UAE and Egypt…turned out to be overly problematic for Riyadh."
Started facing the heat
The outlook for Qatar looks uncertain. How well placed is this small country to survive such pressure? Has its unpredictability finally come home to roost?
In the short term, probably not. "Denial of food as a means of foreign policy and warfare is not that unusual, in the Middle East or elsewhere," said Eckart Woertz, senior research fellow at the Barcelona Center for International Affairs.
"Unilateral embargoes like the [US'] Soviet grain embargo have been futile as a foreign policy tool – targeted countries were able to source alternative suppliers and the damage to US domestic farm interests was considerable. Qatar should be safe as long as its sea lanes stay open. It will only face the nuisance and additional costs of reorganizing logistics of supply lines."
It is also important that Saudi Arabia has chosen not to disrupt Qatar's energy exports by banning joint loadings, through which oil tankers take on crude from Qatar and Saudi Arabia, or Qatar and the UAE, or even Qatar and both. Qatar is also continuing to pump natural gas to the UAE through a pipeline that is partly owned by the Emirates: Dubai takes 40 percent of its gas to Qatar.
But even for a country as rich as Qatar, early signs of stress are showing. By late June, reports emerged that the Qatari sovereign wealth fund had transferred more than $30 billion in domestic equity holdings to the finance ministry, apparently to give the government greater flexibility in any crisis.
This came after S&P Global Ratings lowered Qatar's long-term ratings to AA- from AA and placed all ratings for the country on CreditWatch negative. Qatar has a relatively low government deficit at 4 percent of GDP but national debt is high at 130 percent of GDP and the country has significant investment commitments including the 2022 football World Cup. Cyprus-based Capital Intelligence has warned that while Qatar is not under immediate pressure, a longer-term rift will threaten its sovereign and banks ratings.
There is also a gap developing between onshore trade, where Qatar's Central Bank, which is reported to have net foreign reserves of $38.4 billion, is continuing to supply dollars at a rate of approximately 3.64 riyals under its pegging mechanism, and offshore trade, where foreign banks are now looking for a premium for buying riyals, effectively devaluing the currency.
Without doubt, risk analysts are nervous. The consultants Eurasia Group have argued the crisis "will continue to escalate before the Qatari leadership ultimately adjusts its policy positions, or in a slightly less likely scenario, opts to cement an alliance with Turkey and closer ties with Iran."
Either of these would represent a major shift in regional politics, but are starting to appear very possible as Doha has, if anything, stepped up its defiance, with Khaled bin Mohammed al-Attityah, the Qatari defence minister, on a visit to Ankara, calling the actions of Saudi Arabia and its allies "a bloodless declaration of war".