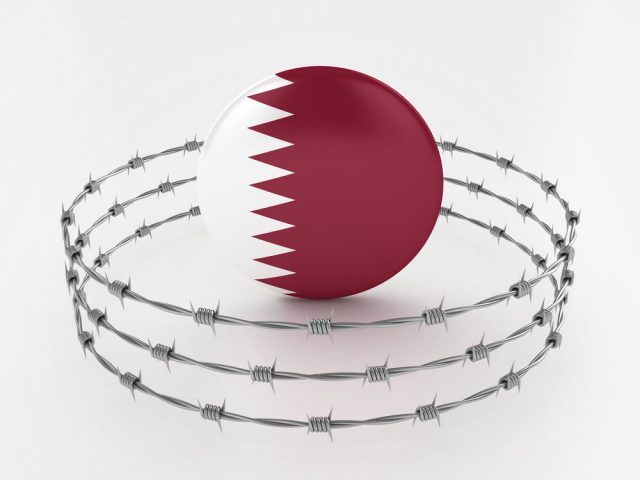 People around the world no doubt wondered how a country that funded August's $262 million world-record transfer of footballer Neymar from Barcelona to Paris Saint-Germain is continuously making news headlines for all the wrong reasons. Accused of supporting the Muslim Brotherhood – a group designated as 'terrorist' – and extremism by many Arab countries and Russia, Qatar's global image has suffered a major beating.
The move from Paris Saint-Germain, owned since 2011 by a subsidiary of the Qatari sovereign wealth fund, looked like a headline-grabbing riposte to the blockade of Qatar, by a coalition led by Saudi Arabia, including the UAE, Bahrain and Egypt. But this cash-rich move has failed to do any good for isolated Qatar, which is reeling under international doubts resulting from alleged bribery in securing the FIFA tournament and the deaths of workers when constructing new stadiums.
Shrouded under gory controversies, Qatar-funded satellite broadcaster Al-Jazeera stands accused of persistently promoting extremist ideologies and inciting hate, violence and discrimination.
Still stubborn and far from accepting the 13 demands from KSA and its allies in June, later moderated to six broad principles, Qatar is now making every desperate attempt to garner outside support.
From unleashing frantic PR exercises and hastily expanding its ties with Turkey and Iran, Doha is trying every bit to turn around this harsh reality.
Offensive for Qatar economy
A Bloomberg survey of economists in August found them expecting Qatar's economy to expand this year at the slowest rate since 1995, cutting their expectations of 2017 GDP growth from 3.1 percent to 2.5 percent.
There have also been reports of the Qatari central bank urging leading banks to borrow internationally to avoid further depletion of foreign reserves and credit-rating downgrades: Moody's was among the agencies lowering Qatar's outlook from stable to negative. At beginning of August, Qatar Airways dropped plans to buy a ten percent stake in American Airlines, two months after the announcement of its intentions provoked an outcry from American Airlines. Qatar reportedly wanted to replicate the partnerships established by Emirates with JetBlue Airways and Alaska Airlines, but US airlines have long argued that Qatar Airways has unfair advantages from hidden state subsidies.
Some analysts argue that it is just a matter of time before Qatar concedes. "The four countries blockading Qatar believe that it's not costing them anything to continue, while Qatar bears the pain. [They also believe] Qatar will eventually capitulate," a Saudi academic tells TRENDS. "Saudi Arabia is losing nothing from the blockade, except for the Almarai dairy company losing its share of Qatar market."
Taking advantage of this stand-off, Turkey has stepped up its military presence in a Qatari base, opened under a 2014 agreement, a move that emphasizes the fact that Ankara and Doha tend to take the same side in regional conflicts, including supporting the former Muslim Brotherhood-aligned Egypt president Mohamed Morsi.
Saudi standing firm
Mohammad bin Salman, the newly appointed Saudi crown prince, appears determined to stand firm. "The Saudis probably do think the blockade is working and continue to hope that it will pressure Qatar to make concessions," Elana DeLozier, head of research at the Delma Institute, a risk advisory firm in Abu Dhabi, tells TRENDS.
"The Saudis have much less to lose in holding out than in giving in from a reputational perspective. Qatar has already provided some concessions in small ways, although it has also done a few things to further needle its neighbors. Let's not forget it took eight months to resolve the crisis with Qatar in 2014. It's only been two to three months so far this time," she adds.
Riyadh is also aware that Qatar has a poor standing in US public opinion. A YouGov poll in July for Arab News found only 27 percent of Americans considered Qatar an ally, while 31 percent thought it an enemy. Fully 67 percent recognized the root of the Gulf crisis in accusations of Qatari support for 'terror groups' and interference in other
countries. Of the 60 percent of Americans aware of Al Jazeera – whose coverage has long alarmed Saudi Arabia, the UAE, Bahrain and Egypt – half believed the network promoted a negative image of the US and 44 percent agreed it gave a platform to groups linked to Osama bin Laden; with only 18 percent disagreeing. Asked for general perceptions of Qatar, the highest proportion, 34 percent, cited accusations of terror financing, ahead of 16 percent citing its scheduled hosting of the 2022 FIFA World Cup.
The American public's famous disinterest in foreign affairs was belied by what Stephan Shakespeare, CEO of YouGov, called "the significant attention" gained by "the current tensions" between Qatar and its regional neighbors – suggesting that Qatar's PR efforts have not worked, and may even have backfired.
Winning appreciation
US concern is palpable, even if the Trump administration has floundered. Donald Trump's trip to Riyadh in May, his first foreign visit as president, was widely perceived as encouraging the Saudis to take their stand, but secretary of state Rex Wayne Tillerson subsequently attempted to mediate.
Nonetheless, the Saudi case is gaining ground in Washington. The influential former senior security official Dennis Ross has argued in the pages of the Wall Street Journal that the US should insist Qatar gives up supporting the Taliban and radical Islamists in Libya and Syria, and stops giving airtime to the Muslim Brotherhood and should stipulate that, should Qatar not do so, the US would withdraw its forces from the al-Udeid Air Base. "This is the type of threat that should concentrate [Qatari ruler Sheikh Tamim bin Hamad] Al-Thani's thinking," wrote Ross.
DeLozier tells TRENDS that, with exceptions such as Ross, Washington policy-makers and advisors were slow to realize just how serious the Saudi-led coalition was. "Few people noted what a big deal it was for the Gulf states to publicly censure Qatar like this," she says. "In a region where problems are dealt with behind the curtain for reasons of politeness, this public showing is quite extraordinary. To me, that act alone suggests the seriousness of the Saudi-led bloc's concerns with regard to Qatari behavior."
The Trump administration is also paying increasing attention to a crucial issue for the Saudis and the UAE – Iran's regional role. Tehran is reportedly netting $400,000 from Qatari overflights diverted from routes over the Gulf countries, but this might count as chickenfeed given the wider issues at stake. DeLozier was guarded in comments to TRENDS in recalling that one spur to the Saudi action was a Financial Times story that Qatar had paid $300 million to Shia militia and "Iranian figures" to help free a kidnapped hunting party of 26 in Iraq, including nine members of the royal Al-Thani family.
"The royal family ransom – part of which was alleged to go to Iran – was pretty damning, but less because of Iran itself and more because it showed Qatar was willing to provide so much money to people the Saudi bloc considers 'bad actors'," says DeLozier. "That said, the Saudi bloc's issue with Qatar is not about one issue – whether Iran or the Muslim Brotherhood or terrorist financing. Instead, from the Gulf's perspective, it's a whole laundry list of things – only a few of which are talked about in the West."
Downsides of Arab Spring: Qatar's role
The 'laundry list' includes what many in the Arab world see as the significant downsides of an 'Arab Spring' that was once championed by Qatar and Al Jazeera news. Members of the Bahrain parliament are discussing taking Doha to the International Criminal Court for 'interference' in domestic politics. UAE economist Mohammad Al Asoomi, a strong critic of Qatar, has put overall GDP losses around the region from the 'Arab Spring' at $700 billion, with 70 million people falling into poverty, 1.5 million killed or injured, and 14 million displaced.
Downgrading relations with Iran, with whom Qatar shares the world's largest gas field, was one of the Saudi-led coalition's initial demands. While the differences between Trump and some of his aides have sown confusion, few doubt that KSA is strengthened by Trump's wariness over Iran and his growing focus on combating 'terrorism'. New US sanctions on Tehran in July – slapped on 18 individuals and groups linked to Iran's expanding missile program – are less significant than news of how close Trump came to not 'certifying' Tehran's compliance with the 2015 nuclear deal, the JCPOA (Joint Comprehensive Plan of Action). The next US presidential review of the JCPOA is due in October, when the US would precipitate an uncertain situation where Iran and the other signatories might still maintain the agreement. However, Trump's withdrawal could nonetheless encourage Riyadh to try new ways of pressurizing Qatar to distance itself from Iran.
Underneath the glitz of Neymar's transfer, Qatar's position is fragile. To those who argue there are no winners in the stand-off other than Iran or Turkey and that a compromise by the Saudi coalition is needed to calm a dangerous situation, DeLozier offers a simple reply. "Saudi's perspective would be that there were no winners before this crisis either."