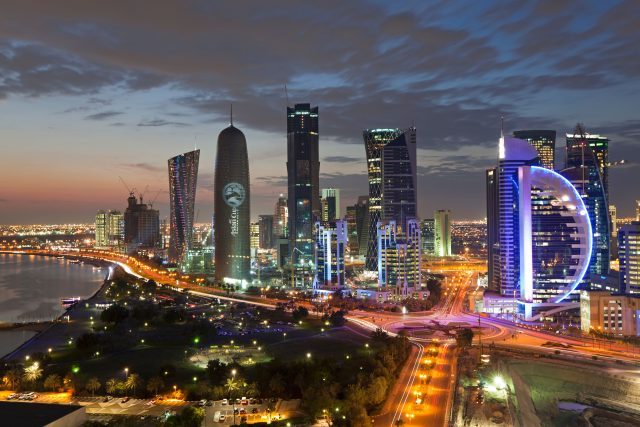 The Qatari crisis has entered its third month, and more problems are brewing up for this tiny island nation. Qatar's history to punch above its weight and its continuous impulsive behavior, despite many appeals by neighboring countries to amend its actions, had led to the boycott of Doha by the Arab quartet.
Besides suffering massive setbacks, economically and politically, Qatar's global image has also suffered a major beating following this incident. According to market pundits, this negative branding of Qatar is expected to build up in the coming days as Qatar's stubborn leadership is showing no signs to comply with the demands of Arab quartet – led by Saudi Arabia.
Associating Qatar with terror financing
According to a latest poll conducted by Arab News, in association with YouGov, only 27 percent of Americans consider Qatar as a friend or ally to the US, while many are associating Doha with accusations of terror financing.
Stephan Shakespeare, CEO of YouGov — the globally renowned online polling company — noted that the American public "is not usually characterized by its high interest in foreign affairs, rather the opposite. However, this latest poll shows the current tension between Qatar and its neighbors is gaining some significant attention."
The poll findings revealed that 71 percent of Americans are aware, to various extents, of the diplomatic row. It also found that those who are aware have a good understanding of the reasons behind the crisis, with 67 percent correctly identifying that Qatar had been accused of supporting terror groups and meddling with the internal affairs of regional countries.
George Hayden, a New York-based veteran on GCC affairs, told TRENDS, "Instead of solving the conflict amicably, Qatar took the issue to international corridors. This was a big mistake and it has dashed all hopes of achieving an early solution for this crisis."
"In fact Qatar is paying the price of its past deeds. Its international image is tarnished as people have started associating it with extremism. Despite of having plenty of wealth and huge oil reserves, the road ahead is not at all easier for Qatar."

Staging for a dazzling fall
Qatar is accused of supporting extremism, getting nearer to Iran, interfering in the internal affairs of other countries and posing regional terrorism threat. Because of the errant attitude of Qatar and its obstinacy to not to budge from its current stance, it seems that the dramatic rise of Doha could be followed by an equally dramatic fall.
S&P Global Ratings has lowered Qatar's long-term ratings to AA- from AA and placed all ratings for the country on CreditWatch negative. Foreign deposits at Doha's banks are expected to suffer a sharp dip in the forthcoming months as various Gulf lenders have declined to roll over holdings. In June 2017, foreign deposits had also fallen the most in last two years.
Moreover, Qatar's national debt is high at 130 percent of Gross Domestic Product (GDP) and Capital Intelligence (which is providing credit analysis and ratings since 1985) has warned that while Qatar is not under immediate pressure, a longer-term rift will threaten its sovereign and banks ratings.
Americans in dilemma over US military base in Qatar
The Arab News / YouGov poll has also measured public opinion regarding the US military base in Qatar. The Al-Udeid Air Base currently hosts more than 11,000 American soldiers.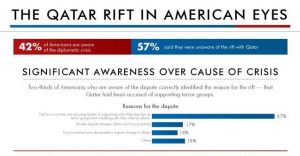 Around 49 percent of Americans say they are unsure if it is best for the base to remain there, while 20 percent thought that it should be moved somewhere else. Only 31 percent said the base should remain in Qatar.
The US military presence in Qatar dates to 2003, following the 2001 '9-11' al-Qaeda attacks on New York and Washington, and involved moving air operations from Saudi Arabia, which had been nervous over the US role since the 1996 attack, attributed to Saudi Hezbollah, on a housing complex for American military personnel, killing 19.
Qatar facing Global wrath over facilitating terror outfits
Qatar has also drawn international wrath for directly as well as indirectly funding various terror groups in the past.
"Qatar's reckless enthusiasm for mediating hostage deals with terrorists seems to be supercharging the profits that these groups receive," said David Weinberg, Senior Fellow at the Foundation for Defense of Democracies.
Doha was also involved in securing the swap in 2014 of US soldier Boew Bergdahl for five Taliban commanders held in Guantanamo detention center. In 2013, it also mediated in the release of 48 Iranian pilgrims from Syria rebels in return for the freeing of over 2,000 Syrians from jail.
According to the Financial Times, nearly $300 million had gone to Shia militia and "Iranian figures" to help free in Iraq a kidnapped hunting party of 26 including nine members of the royal al-Thani family; while up to $300 million had gone mainly to Tahrir al-Sham, a group linked to al-Qaeda, to free hostages in Syria.
The Financial Times quoted a Syrian rebel commander: "The Qataris pay anyone and everyone, to what end? They have only brought about our ruin."
Qatar rift in American eyes
According to the Arab News / YouGov Poll findings, around 42 percent of Americans are aware of the diplomatic crisis while 57 percent said they were unaware of the rift with Qatar.
Interestingly two-thirds of Americans who are aware of the dispute correctly identified the reason for the rift that Qatar had been accused of supporting terror groups.
While talking about the reasons for dispute, 67 percent of the Americans said that the four countries are accusing Qatar of supporting terror groups and meddling with their internal affairs.
"Two months into the crisis, and given the US government's keenness to mediate; it was important to gauge the sentiment of the American people with regard to this issue," said Faisal J. Abbas, Editor-in-Chief of Arab News — the Saudi Arabia-based English language daily that commissioned the study.
"It is interesting to see that despite the billions spent by Qatar on various 'soft power' initiatives — from education to charity to international sport — the study has found that there are more Americans that associate it with supporting terror than anything else," added Abbas.
Nearly 34 percent of Americans has accused Qatar of financing terror groups. Whereas 43 percent of Americans are unsure if Qatar is an ally or enemy of the US and 31 percent think Qatar is unfriendly or the enemy of the US.