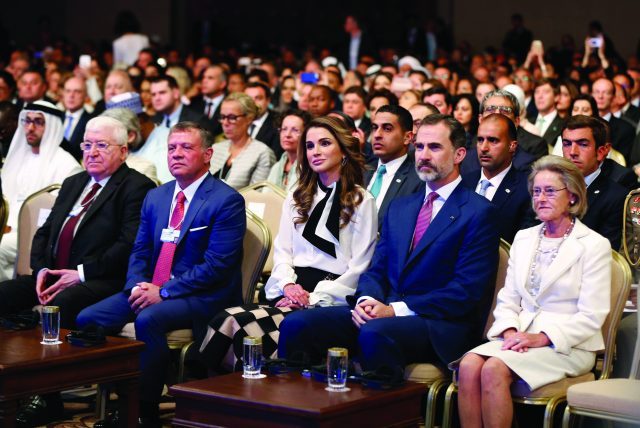 Launching a $100 million fund to revamp the Palestinian education system; tackling MidEast youth unemployment; ensuring gender parity; building inclusive economies to generate new jobs; reiterating the principles to ensure a healthy relationship in the region; addressing the immediate needs of refugees – these were some of the discussions that took place at the World Economic Forum (WEF) on the Middle East and North Africa (MENA) 2017, that took place at the Dead Sea, Jordan. Under the theme 'Enabling a generational transformation', the three-day conference (May 19 to 21) witnessed the participation of more than 1,100 political and business leaders from more than 50 countries.
Giving hope
Providing hope and support to the Middle East's youth is vital, as they suffer from  high unemployment rates, rising population, political dilemmas, regional challenges and a spread of radical movements that are relentlessly seeking to wreak havoc and thrive on despair.
"What Arab youth want is what youth everywhere want: a fair chance, a chance to be heard, a chance to make a difference. What is unique to Arab youth, though, is a yearning and thirst that I have not seen anywhere else. Perhaps that's because our dire circumstances make us cling more tightly to hope," said Crown Prince Al Hussein bin Abdullah II of Jordan at the conference. "What [young people] need most is for you all to take a bet on them; to support them – morally and financially – so they can create their own impact. They need your help to advance and scale their projects, so they can see for themselves the difference they can make. Our young people need a region-wide support system for opportunity, access and hope."
Harnessing potential
Delegates contemplated the repercussions of the technological advances of the Fourth Industrial Revolution, analyzing whether it will threaten jobs or, in fact, open new employment avenues in the future. As 31 percent of young people in the region are unemployed, new initiatives and urgent actions are needed to realize their potential. Another problem identified was that even when skilled talent is present – particularly educated women – it is not being deployed effectively.
According to the findings of a report launched at the forum, titled The Future of Jobs and Skills in the Middle East and North Africa: Preparing the Region for the Fourth Industrial Revolution, MENA has so far realized 62 percent of its full human capital potential, compared to a global average of 65 percent.
Tackling terrorism
Speaking about the increasing threat of terrorism in the region – and indeed the world – Iraqi President Fuad Masum said combating terrorism militarily is insufficient. "There is a need for social and economic development to restore hope and give opportunities to people," he said. "Without proper education and opportunities for the youth, there will be no genuine impact, as focusing on these two is vital for the reconstruction of Iraq, which is very close to annihilating terrorism."
Start-ups gaining momentum
This year, for the first time, the WEF and the International Finance Corporation joined forces to highlight the 100 top Arab-world start-ups, which are applying their innovative world views to artificial intelligence, advanced robotics, augmented reality and the Internet of Things. Examples include a mobile game studio run by a team from Gaza, an Arabic voice-recognition software developer from Syria and the first e-mobile wallet firm from Libya. Delegates agreed that these companies were perfect examples of how innovation can prosper in even the most demanding of geopolitical environments.
Innovative economic frameworks
Most of the delegates were of the opinion that policy-makers need to design new economic frameworks that create value and are accessible to all.
"Once economies are transforming in an inclusive manner, we shall create jobs for the millions of Arab youth entering the labor market every year. A profound economic transformation calls for a massive leap in human-capital development," said a WEF spokesperson.
Pushing Palestinian education
Aimed at introducing innovative approaches to teaching and initiating new learning methods, a $100 million fund was launched at WEF, with the aim of helping to refurbish the Palestinian education system. Titled the Palestinian Education Trust (PET), this not-for-profit organization was set up by philanthropist businessmen Samer Khoury and Khalid Abdulla-Janahi. Approximately $10 million has already been pledged.
"The aim was to win the hearts and minds of Palestinians by focusing on liberating Palestinians through education. Our slogan is: Educate a child, liberate a country," said the Palestinian education minister, Sabri Saidam.
Banking on youth and technology
With a focus on youth power, the WEF in MENA conference has witnessed a record participation from  Global Shapers (under 30 years of age) and Young Global Leaders (under 40 years) .
Participants looked into what is needed for the region to achieve a more inclusive future and they also explored the causes and consequences of the Middle East's infrastructure development, now and through time.
They brainstormed innovative ways on how technology can be harnessed to provide quality care in the region. Besides, they also explored the issues of the gap between humanitarian assistance and unmet needs, and the requirements of refugees and host communities alike.