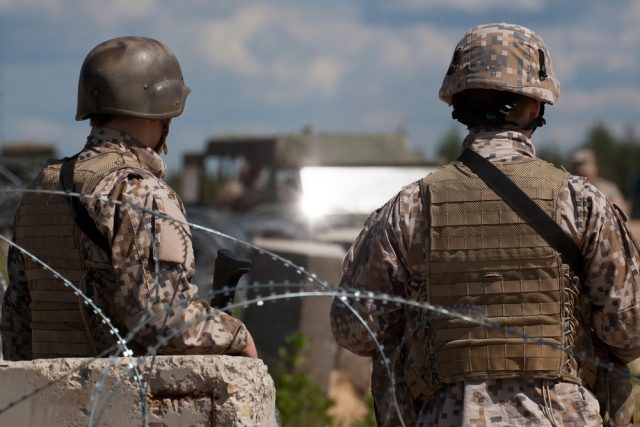 Beginning in December 2014, the US Department of State has offered qualified Afghans and Iraqis who once worked for the American government an opportunity to immigrate with their families to the US. According to former Secretary of State John Kerry, these entry permits – Special Immigrant Visas (SIVs) – were created to help Iraqis and Afghans "whose work for the US government put them in danger of retaliation. The program was designed to identify people who faced genuine threats and to speed their entry to this country.''
In what may have been a self-fulfilling prophecy, Kerry warned in a June 2014 Los Angeles Times editorial that the US "risks stranding deserving [people] who helped us in the war effort".
Today, of the 8,500 SIVs originally earmarked for Afghans, only 1,437 remain. When these last visas are issued, say experts, another 15,000 Afghans and their families will still await SIVs.
Acting more proactively
For Scott Cooper, a former Marine Corps lieutenant colonel who now serves as director of outreach at Human Rights First, a Washington-based advocacy group, abandoning these Afghans is not just a moral failure; he thinks it also weakens American foreign policy.
"In the foreseeable future, the US will continue to be engaged as a partner and ally with many countries in the Middle East," Cooper told TRENDS. "These countries – whether it's the Emirates, Saudi Arabia, Iraq, Afghanistan, Syria, or Jordan – need to be assured that the US is committed and engaged, and is a nation that keeps its word. This is what, ultimately, we are trying to do with the SIV program."
The total number of at-risk Afghans and Iraqis hoping to enter the US with SIVs, according to Matt Zeller, another American veteran of the war in Afghanistan, may be as high as 100,000 people. Zeller, co-founder of No One Left Behind, an Arlington, VA-based advocacy group, owes his life to Janis Shinwari, an Afghan interpreter who in April 2008, preemptively killed two Taliban insurgents.
"The enemy does not make a distinction between the person who has signed up to work with the Americans and his wife and children," says Zeller, who continues to serve as a captain in the Army Reserve. "If the enemy decides to target the local national employee for retribution, they will also target the entire family."
SIVs: largely a 'last resort'
Cooper, Zeller, and many other immigrant-assistance advocates agree that emergency evacuations are needed for many people in the Mideast whose lives are in danger because they once worked for Americans. They also agree that SIV and similar immigration programs created for Mideast asylum-seekers should not – to use Zeller's words – "be the only option in our toolkit. In fact, I think it should be the last option after all other options have been used."
Cooper, reflecting on his wartime experience, says that every local national he encountered – interpreters, translators, gate guards, equipment operators, logisticians, road engineers and so forth – chose to work with him and his Western colleagues out of a desire to make their country better.
Zeller, who holds Master's degrees in public administration and international relations from Syracuse University, notes that conflicts in the 21st century increasingly require deployed military forces to simultaneously pursue two seemingly opposite missions: first, to destroy a foreign enemy and, second, to rebuild areas where the enemy operates.
For American forces deployed to the Middle East, Zeller says local nationals are critical to mission success and the troops' survival.
Zeller says local translators working within the Afghan military units that he advised frequently predicted when violence would likely occur.
Cooper's experiences in Afghanistan are similar to Zeller's: "The Taliban recognized how local nationals were essential to the success of our mission. As a result, the first people they would shoot would be our translators," says Cooper. "Our translators were our critical link; without them, we couldn't engage with the local population."
Defining "soft networks"
The enemy tactic of targeting local nationals who choose to support the West was the subject of a Master's thesis written in 2009 by Steve Miska – a retired US Army official, now consulting at the Washington-based Global Peace Foundation – while he was earning his MBA from Cornell University.
Miska's thesis is also credited with originating the phrase 'soft networks': "nonmilitary and indigenous partners who support US counter-insurgency [COIN] and counter-terrorism [CT] operations," Miska writes.
"US diplomats and military personnel usually conduct COIN and CT missions from within the safety of military bases, embassies and consulates; this makes them hard networks that – from the enemy's perspective – are very difficult to attack," Miska tells TRENDS. "People in soft networks are easy targets. These people and their families are constantly at risk of being identified, threatened, interdicted, coerced and physically harmed by the enemy."
Like Cooper and Zeller, Miska believes that safeguarding soft networks through immigration programs like SIV should be a "policy of last resort". Instead, Miska thinks the identities of the people working within these networks should be protected by the US government agencies that hire them.
Taking cues from global agencies
According to Miska, the American government should follow the example of non-governmental organizations and major news outlets operating in conflict areas: they ensure the safety of their stringers and local staff by giving them nicknames and providing them with discreet transportation to and from their workplaces.
Miska says the American government should also take note of what civilian employers do when the identity of a local national employee is compromised: "They insulate the local national. If necessary, they even relocate them to another part of the city, country, or elsewhere in the region."
Miska argues that the American government is already proficient in relocating and sheltering at-risk individuals: "Since 1970, in the US, the Federal Witness Security Program has been using these methods to protect thousands of people who have agreed to testify in court cases against organized criminals."
Scott Cooper believes every future American military operation in a foreign country should include a strategic plan for dealing with soft networks. "When the US military prepares to go to war, it crafts a campaign plan," he says. "I believe these planning documents should also include plans – and funds should be allocated – for the preservation of local national networks."
Protecting soft networks
A subject that arose frequently during conversations between TRENDS and Cooper, Zeller and Miska was the issue of "America's moral obligation to its friends and allies". They all agreed that the ideals of the US Constitution – which each of them had sworn an oath to defend – are the guiding principles for how they conducted themselves while operating overseas.
"The single ethos that defines what it means to be an American on deployment is that we're helpers; we are constantly trying to help people," says Zeller.
Miska, who frequently testifies at congressional hearings on behalf of Afghan and Iraqi asylum-seekers, believes that the paltry number of allocated SIVs will not stop American military commanders in Iraq and Afghanistan from taking extraordinary measures to save their local national staff.
Miska likens the increasingly dire situation for soft networks in Iraq, Afghanistan, Syria and elsewhere in the Middle East to what happened during the final days of the Vietnam War, when US diplomats, Navy commanders and other American officials disregarded orders to the contrary while evacuating thousands of people fleeing from North Vietnamese invaders.
Cooper says that there are two questions that many veterans of Iraq and Afghanistan will likely ask: "Was the sacrifice of American blood and treasure all in vain? Did my service and sacrifice over there really make a difference?" Instead of dwelling on these questions, Cooper prefers to focus on the people he has helped during his deployments and his continuing effort – through the Human Rights First organization – to "keep the faith with them." "I try to frame this narrative around that idea that this is both a values argument and a strategic argument," Cooper says. "Not some kind of altruistic notion of us trying to be the world's do-gooder."
Miska notes that the US Constitution is an "aspirational document" that identifies and urges people to achieve higher principles, yet "recognizes that we're human beings, we have faults, and we may fall short." Miska believes, however, that this "doesn't mean that we should stop striving towards those ideals. Yet, when we fall short, I'm sure that's when the US will disappoint many of our partners in the Middle East."
Much-needed boost
In May 2016, members of soft networks that once operated in Afghanistan received encouraging news: Congress had agreed to set aside an additional 2,500 SIVs. Senator Jeanne Shaheen (D-New Hampshire), a long-time supporter of the SIV program, said letting the assistance effort languish would have sent a message that the US was willing to abandon its supporters.
"It's both a moral and practical imperative that Congress approve additional visas," said Shaheen in a written statement. "Thousands of Afghans have put themselves, and their families, at risk to help our soldiers and diplomats accomplish the US mission and return home safely."
"We don't want to lose the hard-won momentum or put lives at risk," John Kerry cautioned in his 2014 editorial. "Fortunately, the special immigrant visa program has strong support among members of both political parties. This is not a partisan issue. Nor is it a gift. Rather, this effort fulfills the commitment to those who risked their lives working alongside Americans… At the State Department, we have done our best to honor that obligation."