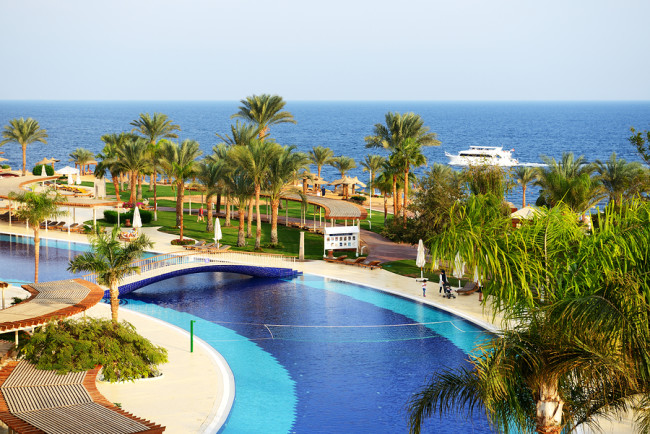 A recovery in Egypt's hotels and hospitality sector is expected to be scuttled in November as the country's tourism sector reels under the aftermath of the Russian jetliner purportedly downed by ISIL terrorists in the Sinai desert killing 224 people on October 31.
Latest data from STR shows that the country reported decreases across key performance metrics in October, with occupancy down -2.9 percent to 59.2 percent, ADR down -2.9 percent to EGP625.72 and RevPAR down 5.7 percent to EGP370.48.
While year-to-date RevPAR is up by 31.2 percent, as the country's hotel industry gradually recovers after a prolonged slump due to political instability, "the October 31 Russian plane crash in the Sinai Peninsula is expected to weaken performance results for November", STR said in its global hotel performance results for October.
Tourism is Egypt's lifeline, with more than 1.5 million jobs depending on it directly and indirectly. Egypt saw a 6.9 percent increase in tourist numbers in the first three months of 2015 and was expecting to close the year with 11.5m to 12m visitors, its Tourism Minister Khaled Ramy had told TRENDS during the Arabian Travel Market 2015, held in May this year. The country had also launched a major promotional campaign, spending tens of millions on marketing initiatives to meet its strategic objective of 20m tourists by 2020.
However, the tourism ministry has now said the country stands to lose EGP2.2 billion a month following the Sharm El Sheikh incident that has led to a flurry of flight cancellations and travel alerts. The number of tourists is also expected to drop by 13 percent in 2015 to reach nine million, which is expected to have a direct bearing on hotels.
Egyptian media report that, in response to the crisis, the Ministry of Tourism has launched another promotional campaign called "Sharm El-Sheikh in our hearts" that has led to hotels in the resort town giving a 25 percent discount on their charges to attract tourists. However, press reports quoting travel agencies suggest that interest in the country has quickly dwindled and advanced bookings are extremely low, leading to several of them even ceasing to publish deals for Egypt.