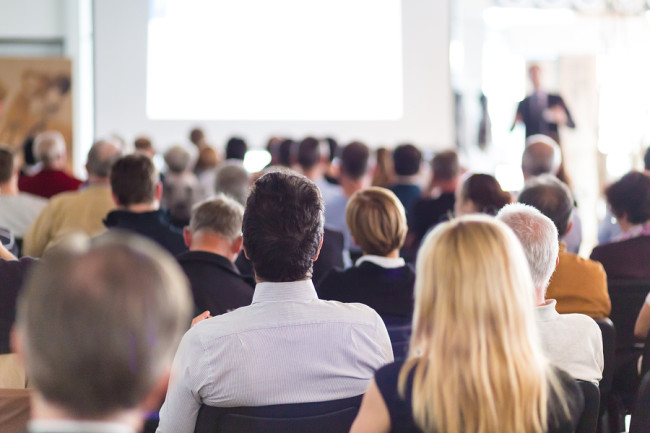 Networking at a conference typically means rushing into a teeming crowd for coffee breaks and trying to make small talk. As an introvert, that scene isn't for me. While I enjoy getting to know people one-on-one or in small groups, shouting to be heard by strangers and engaging in speed dating-style conversations is a nightmare. And yet I attend conferences regularly, as a professional speaker, averaging at least 60 events per year.
Here's how I've learned to play to my strengths and network successfully in unexpected ways:
— Request to speak on a panel. Many people confuse introversion and shyness, and they're surprised that, as an introvert, I relish public speaking. But it's actually far more comfortable for me to speak to a large group than to plunge into one and try to find a conversation partner. That's because after you speak, people will come up and find you, so you don't have to seek them out and awkwardly fumble for a topic to discuss.
— Host a dinner. A lot of conferences have scheduled downtime, such as lunch or dinner on-your-own one day. Take advantage of this opportunity for making a more intimate connection. I'll frequently research restaurants in the area and make a reservation for about eight people. Then, as I meet interesting people throughout the conference, I can invite them to join me.
— Prepare for the chance encounter. Some conferences publish the list of registrants in advance, along with their bios. Identify about five people you'd most like to connect with and let luck meet preparation. You can certainly try to reach out in advance to set up meetings, but if you don't know the person well, or at all, it can be hard to convince them to make time for you. So set yourself up to impress during serendipitous meetings. Memorize the person's face (this is far more impressive if you're trying to meet the CMO of a small company, rather than a movie star) and some aspect of their biography that you share in common, or about which you have questions or an intelligent comment.
— Interview people. As I discuss in my book "Stand Out," interviews can be a surprisingly effective networking strategy. If you write for an established publication, that's great, but many will agree even if it's an interview for your own blog or podcast, because it's still searchable and accessible to others on the Web. You can also ask your company or professional association blog or newsletter if they'd be interested in a story, and can leverage that imprimatur, if appropriate.
— Use wardrobe strategically. Making small talk with strangers is hard for almost everyone. But you can make the process easier for your conversational partners if you give them a ready-made topic to discuss. Wearing a distinctive clothing item can be a great icebreaker, whether it's a Madeleine Albright-style signature brooch (which can spark a conversation about the trip to Italy where you bought it), or colorful socks, which tell the world you're not the typical investment banker.
Between registration fees and travel expenses, conferences are often pricey. We all want to get our money's worth out of them, and networking is one of the biggest payoffs. But instead of swarming the buffet line and throwing out workplace versions of hackneyed pick-up lines, you can use these strategies to get to know people on your own terms. Over time, that can pay the biggest dividends.
(Dorie Clark is a marketing strategist and professional speaker who teaches at Duke University's Fuqua School of Business.)
© 2015 Harvard Business School Publishing Corp. Distributed by The New York Times Syndicate