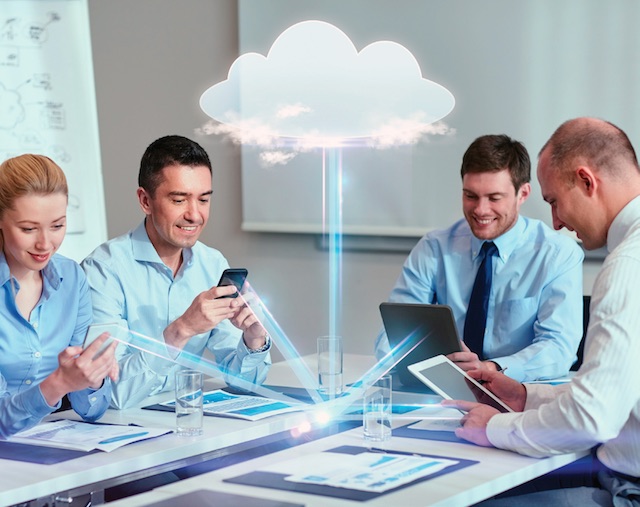 Cloud computing is becoming the main means of delivering business technology. Once cutting-edge, the Cloud is now an established technology platform. It provides technology as a service, virtualizing servers, storage and applications. Multiple companies can use the same bank of servers, lowering the cost for each of them.
Companies in the Middle East are increasingly using the Cloud to solve their most important business and technology challenges. For some, this is an important opportunity to be both suppliers and consumers of Cloud services. Already, some firms in the region are starting to provide government and private Cloud services.
The Cloud's advantages are that it is flexible, scalable and fast. The problem is that moving data and services into the Cloud is not easy. Too many companies mistake technology implementation for strategy. The result can be that migration to the Cloud can become involved
and costly.
Companies need to build their Cloud capabilities, so they can design a Cloud strategy that they can implement successfully. To achieve this, they should take six steps.
Prioritization exercise
Companies should undertake a prioritization exercise to decide what to move into the Cloud and how. Prioritization should take into -account such considerations as the total cost of ownership (which covers complete direct and indirect costs), strategic impact, data privacy and confidentiality. For -example, not all information can, or should, be stored in the Cloud. In some cases, laws and regulations can demand that companies keep certain data on their own proprietary networks.
The prioritization exercise is about more than what moves and when and how much it will cost. It initiates the building of the capabilities that will enable firms to shift their IT into the Cloud and then to manage those business services and information that end up in the Cloud.
Different mindset
Companies need a different mindset about what constitutes IT. Until recently, IT has mostly been about devices, enterprise applications and infrastructure. IT in the future will mostly be about services, with little infrastructure and hardware on-site or even owned by the company. Accordingly, some traditional IT functions, such as asset management, operations and maintenance, will have to be reviewed. Instead, companies will have to establish a new generation of IT functions, with a focus on IT service definition, service-level agreement management and service sizing and consumption.
Dealing with vendors
Firms should reconsider how they deal with vendors and how they decide what enters the Cloud. At present, companies worry about licenses and components. As the move to the Cloud accelerates, they will focus on how they contract services and how much capacity they will need. Accordingly, companies will need to understand and manage the various types of services provided and the corresponding payment schemes – cost per capacity, user, usage, etc. – and match it to their own IT consumption pattern, to ensure an optimal service configuration and leverage cost efficiencies.
The capacity issue is critical and is an area in which governments will have to take the lead. They will need to invest in the fiber network, because private companies alone cannot take on the cost of these investments. What will be required will be a national-level infrastructure
investment. Expanding the fiber network will, therefore, require a joint effort by the private sector and the government, as well as centralized coordination to bring together the many and fragmented fiber initiatives currently being rolled out. The private sector will also need to push regulators and governments to ensure that investments are made.
Interdependencies
Next, firms should be more concerned about interdependencies. The Cloud allows companies to pick and choose providers for different services. Companies must think about how to integrate these different services so that "they talk to each other". This will demand a hybrid enterprise architecture, as integration will also include applications that remain in-house.
In addition, software vendors are taking solutions that used to be traditionally hosted on companies' premises and offering them as services in the Cloud.
The complexity of integrating a myriad of various applications and services distributed across -different domains and networks will require a particular focus on integration platforms, in addition on who will bear the cost of integration – the client or service provider.
Cybersecurity approach
Companies should change their approach to cybersecurity. In the past, too many firms treated cybersecurity as an afterthought and the consequences have been severe. The -corporate world has suffered massive cybersecurity attacks, in which hackers have stolen tens of millions of credit card numbers and hundreds of millions of dollars. A new attitude is urgently needed, as the cybersecurity challenge is about to become more intense as we enter an era of billions of connected devices, which create massive amounts of sensitive data stored in the Cloud. Companies must incorporate cybersecurity into their Cloud strategy from the very beginning.
Talent strategies
Companies that have recruited developers and administrators until now need new talent strategies. As they move into the Cloud, they will need architects who -understand the Cloud and contract managers who understand the service models on offer from vendors.
Growing and acquiring the talent needed for the Cloud is inherently challenging, particularly for emerging markets, such as Middle Eastern countries. Corporate programs need to proceed in cooperation with government initiatives that seek to encourage interest in digital careers and provide incentives to enter the industry. For example, educational establishments and companies can work together to ensure that the right courses are taught, so that those graduating have the correct skills.
Companies then need to provide competitive packages and career structures to retain talent in the region, while also attracting Middle East talent to return to the region.
Today, many organizations are willing to move to the Cloud, but are facing a shortage of established Cloud providers in the region. Cloud suppliers will need to take the same steps in terms of strategy and capabilities, but will have to address additional issues.
Foremost among these are privacy and confidentiality, concerns that have stopped some regional firms from seeking Cloud services from major foreign providers and have prevented the growth of the Cloud market in the Middle East.
One option is for local and foreign Cloud providers to establish partnerships to create top-notch data centers. In terms of services, Cloud providers will need to offer responsive service support and a creative approach to services for companies seeking Cloud services. Cloud providers will also have to be aware of the importance of interdependencies, but in a different manner from their customers. Providers will face competition from software solutions providers, as well as the large foreign Cloud companies. Major software vendors now routinely offer their solutions through the Cloud. For example, many leading HR solutions now reside in the Cloud, relieving companies of the need to host this data themselves.
Cloud service providers will need to be able to innovate and to elaborate their Cloud offerings, and ensure access to talent to deliver such offerings. For Cloud providers and their clients alike, prioritization and building capabilities will allow them to create, implement, and manage a successful Cloud strategy.
Samer Bohsali is partner at Strategy& (formerly Booz & Company), part of the PwC network and Sevag Papazian is principal at Strategy&