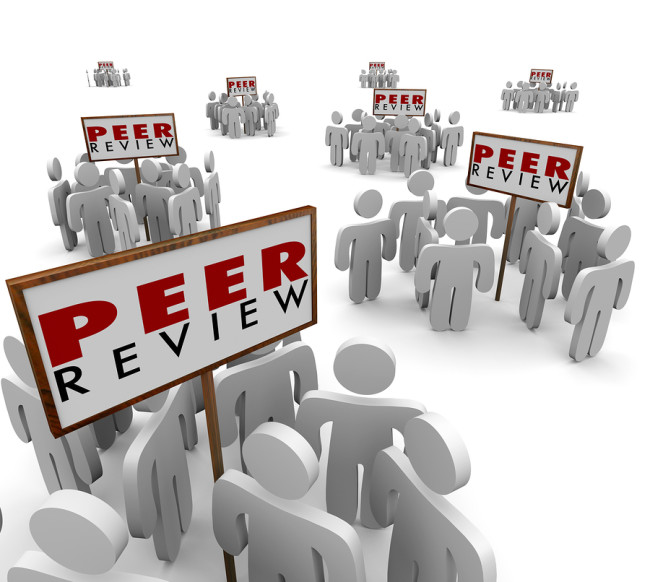 Employee performance reviews are a hot topic once again. Deloitte and Accenture have abandoned annual evaluations and rankings. What practices should be instituted instead? Many people think real-time peer reviews will be a key piece of the puzzle. Why? By providing instant and continuous recognition of positive behavior, typically via a public social platform, they yield richer data on employees, offering managers a clearer picture of a team or company's strengths and weaknesses.
Most programs enable and encourage the sharing of praise and appreciation – immediate acknowledgment that a colleague is doing great work. But how do you create and sustain a successful real-time peer review program? We recommend the following steps:
– Reflect on core values. Ensure that the metrics on which people are recognized are aligned with your company's mission. JetBlue, for example, has five core values – safety, caring, integrity, passion and fun – so its Lift peer-review program encourages its 16,000 crew members to recognize each other for achievement in those areas. Another company might choose to emphasize fiscal responsibility, collaboration or innovation. This allows for detailed tracking and comparison on key strategic objectives by group, team or department, as well as across the company.
– Embrace new technology. Today's workforce is multigenerational and global. So pick a program that is intuitive, easy to use, fun, interactive, engaging and fully mobile. Peer reviews shouldn't feel like work. If they do, you'll have a hard time getting employees to embrace the system. When Intuit was using a stale, catalog-based program with lengthy delivery times it logged 5,000 recognition awards per year. But when it moved to a more modern solution that number jumped to more than 20,000.
– Explain and celebrate the launch. Position the program as a change designed to help recognize and celebrate employees, and not a new way to monitor or judge them. At The Hershey Company, the launch of its SMILES peer-review program was accompanied by posters, badges and luggage tags, an online campaign kickoff, and launch-day events featuring cupcakes, photo booths, tutorials and more. This led to 800 recognition moments in the program's first week, 14,000 in the first three months, and 40% of all employees participating within the first 90 days.
– Get everyone on board. Managers and leaders need to be early adopters. Active support from senior executives communicates to staff that the program is worth their time. You must also make sure that any employee, at any level, feels empowered to participate. Emphasize that positive, public feedback is universally welcomed. Members of the executive team should be recognizing even the most entry-level employees and vice versa. For example, JetBlue's Robin Hayes has at one point given each crew member in the company a Lift award for reaching certain milestones.
– Encourage frequent, timely recognition. Sooner is better when it comes to promoting desired behavior. When you note good work immediately, the employee feels compelled to repeat it immediately. If recognition is delayed, the link might be lost and the company has missed out on better performance and higher engagement in the meantime.
– Empower managers to track results. Give managers access to detailed, real-time, easily actionable reports on recognition activity, correlated to key business goals. For example, when ConAgra Foods analyzed its peer recognition it found that failure to recognize an employee's good performance was a key predictor of attrition. Managers needed to step up the praise when they saw that key workers weren't getting enough of it.
Effective real-time peer-reviews motivate people to perform well every day of the year, not just when a quarterly or annual evaluation is approaching. But these programs can't be casually instituted. They must be tied to core corporate values, compatible with the latest technologies, launched and communicated well, used by everyone in a timely fashion and relied upon by managers to inform employee development plans.
(Eric Mosley is CEO and co-founder of Globoforce, a social recognition firm.)
© 2015 Harvard Business School Publishing Corp. Distributed by The New York Times Syndicate