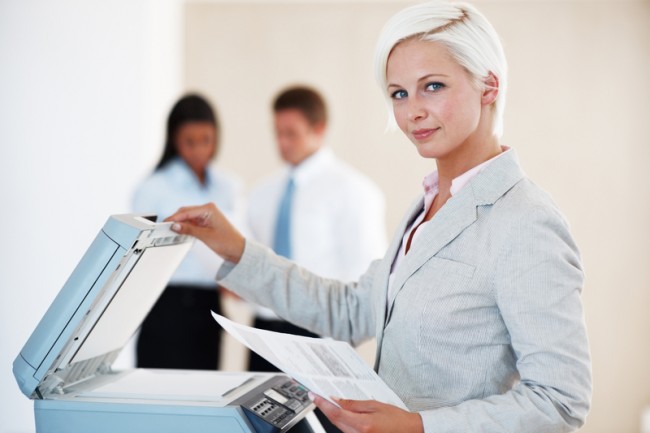 As more small and medium sized businesses seek ways to better compete with larger organizations, technology vendors are churning out new and improved products that are specifically designed to keep productivity high and costs low for small and medium-sized businesses (SMBs). Now more than just a piece of furniture, the office printer is fast becoming an integral part of their success.
Keeping up the productivity pace, with the correct printing solution
With leaner budgets and workforces, smaller businesses are constantly challenged to make the most of every asset – and that includes time. When every minute counts, workers can't afford to spend time fixing paper jams or sifting through piles of paper clutter throughout the office. With this in mind, Xerox has introduced the newest kid on the technology block – its Workcentre 5019/5021 multifunction printer.
Tailor made for SMBs, the MFP prints at up to 20 pages-per-minute and has the paper capacity of 850 sheets, which means office workers can take few trips to reload, leaving them more time to focus on their real business priorities. The product's duplex printing capabilities allow employees to create two sided prints without having to get up and flip the paper over. These flexible features improve the document management cycles and the productivity levels of a pressured workforce.
Printing green: Better for the environment, and your wallet
Years ago, environmentally friendly work practices were seen more of a "nice to have" rather than a business necessity. Today, green offices can be friendly to the environment but implementing new green processes can be viewed as an unnecessary expense, and because of this often exist lower down the business priority list. However, starting small doesn't mean thinking small and with the correct technology in place, long-term green dreams can be brought to fruition, and can actually improve SMB bank accounts.
The Xerox ColorQube 8700/8900 is a newer printing technology that uses solid ink cartridges, rather than laser jet to create documents. With GreenPrint software, this solution remains sustainable by identifying and removing unwanted paper – costs are kept low with less waste incurred.  SMBs can now create high volumes of documents such as marketing materials needed to raise awareness of a company and improve growth opportunities.
SMBs need to remain savvy about costs, whether workforce or office equipment related, because every penny counts. The Xerox ColourQube 8700/8900 runs on just 45 Watts of power – energy consumption is low, meaning electricity costs remain contained. With a smart printing solution, costs and energy consumption can remain low.  Businesses can use recycled paper to decrease the environmental impact, without sacrificing quality of prints and with energy saving features like power down when idle or not in use, the energy savings add up as well. Offices can keep fewer standalone office products up and running by consolidating into multifunction systems that can do more in one single device.
Accommodating the on the go worker
Now more than ever, workers are on the go – working from their cars, homes and even planes. Smartphones are an essential to keeping busy executives connected to the office. Products like the Xerox WorkCentre 5019/5021 include mobile print capabilities so on-the-go workers can print directly from their smartphones, from anywhere, at any time. Furthermore, in a time when workers are conducting business on the move, the last thing that they want slowing them down is not having access to a printer.
Smartphones and tablets are being rapidly adopted and are becoming more integral in business environments and processes, but don't have printing capabilities. Businesses are looking for smart technology solutions that will help them realign the workforce – solutions like mobile print allow employees to work while remaining independent and flexible in their day-to-day work life. Mobile technology gives SMBs the ability to think outside the traditional printer box and implement intelligent solutions that helps them have a competitive edge and keep productivity levels high.
So a printer really is for long term success?
Like all technology, choosing the right solution for your business can sometimes be a big decision – how do I help my employees work better, how can I enable improved collaboration across the workforce, and will buying new technology solutions really affect my bottom line? These are all questions asked by small medium businesses.
What SMBs should remember is that technology bolts, like printers, will always been integral to business success. However the rise of new technology, printing solutions also need to evolve. This being said, SMBs must carefully identify key priorities and choose a printing solution in line with these. A printer is no longer for the office; it can in fact enable long term success.
Dan Smith is head of integrated marketing for the Middle East and Africa region of Xerox's Developing Markets Operations.