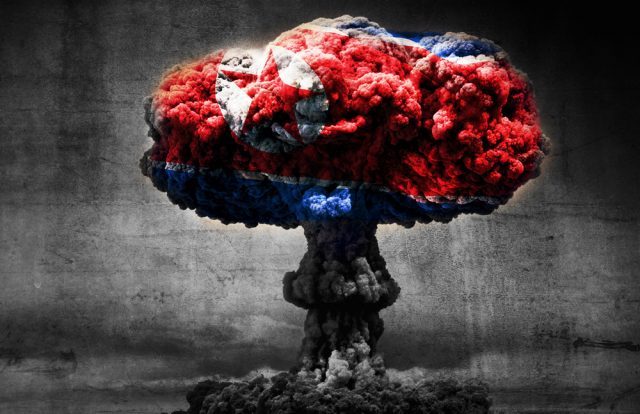 Peace in the Korean Peninsula is not viable without denuclearization and the dismantling new missile defense system in South Korea, which accounts for the Chinese – and Russian – unease in the region.
After a decade of policy failures, South Korea's strategic U-turn and Washington's increasingly ominous tone, tensions are escalating in the Korean Peninsula – as evidenced by the UN Security Council's most recent and comprehensive sanctions.
As the US policy has failed in the Korean Peninsula, dark scenarios cast a shadow over the region – but could also pave way for peace.
Chinese unease  
While Washington has never had diplomatic relations with Pyongyang, China has been North Korea's close, though increasingly ambivalent ally. The conditions that once gave rise to the partnership have progressively diminished. Nevertheless, both Koreas are located in close proximity to the mainland, which remains vital to Beijing.
In Washington, Beijing's role is regarded as invaluable to contain Pyongyang's nuclear weapons and ballistic missiles, to prevent nuclear proliferation, to enforce economic sanctions, and to support North Korean refugees that cross into China. But Beijing does not see itself as the enforcer of US foreign policy, particularly one that's considered misguided.
Moreover, Beijing opposes Trump's attempt to couple sanctions against North Korea with sanctions against Chinese companies and against North Korean people. If Trump persists in the current approach, he will risk alienating China.
Washington's stated interest is denuclearization and human rights, but in Beijing's view US actions have escalated nuclearization and weakened human rights in the region. Neither Kim Jong-un's disruptive actions nor Trump's aggressive rhetoric serve China's interest in peace and stability in the region.
On September 3, after North Korea claimed that it has successfully tested a hydrogen bomb designed to fit into an intercontinental ballistic missile (ICBM), the US Geological Service and the China Earthquake Administration recorded a 6.3 magnitude earthquake as a result of the detonation. It was followed by a 4.1 magnitude quake, due to a suspected cave collapse resulting from the explosion. Chinese scientists warn that North Korea's nuclear test site is at risk of imploding, which has a potential for a massive environmental disaster.
Neither Chinese nor South Korean policymakers want another Fukushima and a massive humanitarian crisis within their borders.
Only one viable scenario
So what can be done and what is likely to happen next? There are a few potential scenarios, fewer probable ones – but only one that's sustainable.
Walk the war talk
Recently, US Secretary of Defense Jim Mattis threatened North Korea with an "effective and overwhelming military response." But in the Korean Peninsula, hostilities cannot be limited to a conventional conflict. Under threat, Pyongyang will opt for a nuclear strike, even if that would result in massive devastation. It would be a Pyrrhic victory.
Total destruction threats
If the Trump administration will continue to promise shock and awe but won't deliver any, it will risk being perceived as a paper tiger. Moreover, as Pyongyang is likely to continue its tests and target provocative destinations vital to South Korea, Japan and the U.S., the THAAD would be perceived as an expensive but useless deterrent. Unless, of course, the administration will choose to execute Trump's "total destruction" threat, but that would have even darker consequences across the world.
Broader sanctions 
As Washington resorts to sanctions, it is now also trying to corner China by extending sanctions to Chinese companies. While China accounts for 90 percent of trade with North Korea, much of the remaining 10 percent can be attributed to India, the Philippines, Taiwan and France. If they are not included within the sanctions, the latter will be seen as containment against China. If they are included, the White House will frustrate its allies.
Peace agreement
While there are all kind of short-term scenarios, there is only one longer-term option. As the stakes are mounting for regional devastation, so are the chances for a peace agreement. It would be the most effective way to subdue North Korea's nuclear stance over time. As long as it remains threatened, Pyongyang will rely on its nuclear strategy. But if that threat is defused, nuclear scenarios will be undermined.
A peace treaty would mean reduced US presence in the region, which has been highly objectionable to Washington. However, despite its hawkishness, the Trump administration does not see itself as bound by previous defense arrangements. In Beijing's view, peace agreement would pave way for pacification and stability; delimit nuclear threat in the region, while North Korea's sovereignty would prevail.
Bilateral peace in denuclearized Korean Peninsula
In August, former US President Jimmy Carter, who has negotiated with several North Korean leaders, noted that, for a long time, Pyongyang has sought a "peace treaty to replace the [1953] ceasefire." In his experience, North Koreans want peaceful relations with the US and regional neighbors but are convinced that Washington is planning a preemptive military strike against their country. In view of US record of regime changes, that's not a futile concern.
A true peace agreement would have to be a bilateral agreement with two sovereign Koreas and the acceptance of Pyongyang as a nuclear power. Since North Korea accounts for only 0.6 percent of global nuclear forces, that translates to affirming realities.
The old nuclear regime that prevailed in the Cold War and the post-Cold War era is history. In addition to current nuclear powers – US, Russia, India, Pakistan, China, France, UK, Israel, North Korea – proliferation is likely to increase in the multipolar era.
In the 21st century, sustained peace is not ensured by restricting nuclear capability to one, two or half a dozen nations, but by collectively- monitored certainty that nuclear proliferation will be limited for peaceful purposes only.
(The original, shorter commentary was released by China-US Focus)