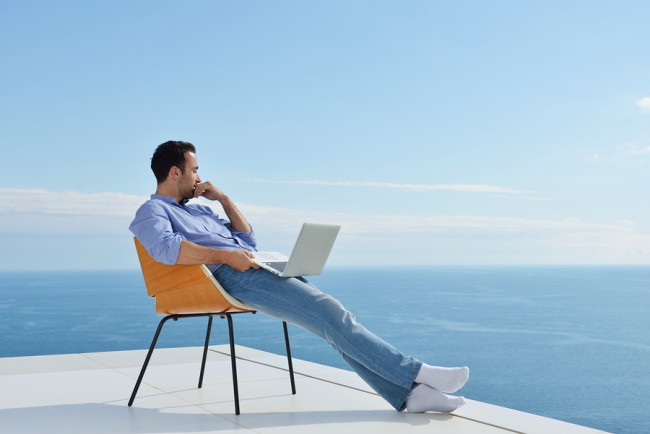 WORK VS. LIFE
Whether you're working from home full-time, living life as a road warrior, or simply working the occasional day away from the office, you'll be most effective if you have the right digital infrastructure for remote work.
Here are the tools I recommend based on almost two decades of experience working from home or from coffee shops, both as a freelancer and remote employee:
SOFTWARE
+ Document collaboration. Google Drive is already the go-to service for sharing documents with colleagues, but it's doubly useful when you're working remotely.
+ Note sharing. I use Evernote, a digital notebook application, to keep allmy notes and Web clippings in one place. It's a terrific tool for remote workers because it keeps my notes synced across all my devices – so I have access to all my notes no matter which laptop I have with me, and if I don't have a laptop handy, they're accessible on my phone and iPad.
+ Calendaring. If you need to schedule more than the occasional meeting or phone call, set up your calendar with appointment slots that let other people book themselves into your calendar. You can use Google Calendar's appointment slots, or use a service like Calendly.
+ Screen sharing. Even if you aren't doing sales calls, screen sharing is often the most efficient way to show someone what you're talking about. I find join.me is the most reliable option, and the basic version is free.
+ Instant messaging. It can provide many of the benefits of collegiality without the disruption of a ringing phone or a colleague plopping themselves down at your desk when you're working to a key deadline.
+ Social networking. It's a way to get some of the ambient sociability and serendipity of working in an office: For instance, a 5-minute Twitter break can give you a sounding board for a new idea, or let you discover that bit of industry news you'd otherwise miss.
HARDWARE
+ Your own hotspot. You can't be dependent on the vagaries of coffee shop WiFi, so make sure you have a way of producing your own Internet connection anywhere, anytime.
+ A great headset. Make sure you have a reliable headset for both your home and mobile phone. I've tried a dozen different Bluetooth headsets and headphones, but I prefer using a wired headset so I don't have to worry about charging and pairing.
+ A mini travel charger. If you carry your own power strip, you'll never find yourself in a café where all the power outlets are already spoken for: just ask someone if you can unplug their computer so you can both use your power strip. This trick will make you friends in crowded convention centers, too.
+ Extra cables. Buy an extra charging adapter for your computer, and extras cables for all your devices (phone, tablet, etc). If you keep all your cables in your bag, rather than unplugging them at home every morning, you'll never find yourself stuck without a way to charge.
+ Battery and car adapter. Better yet, buy an inverter that will allow you to plug your laptop into your car, so you can always take that crucial sales call from the privacy of your vehicle . without worrying that you'll lose power mid-presentation.
+ A lightweight laptop. The more mobile you are, the easier it is to work anywhere, anytime.
(Alexandra Samuel is the author of "Work Smarter, Rule Your Email.")
© 2015 Harvard Business School Publishing Corp. Distributed by The New York Times Syndicate