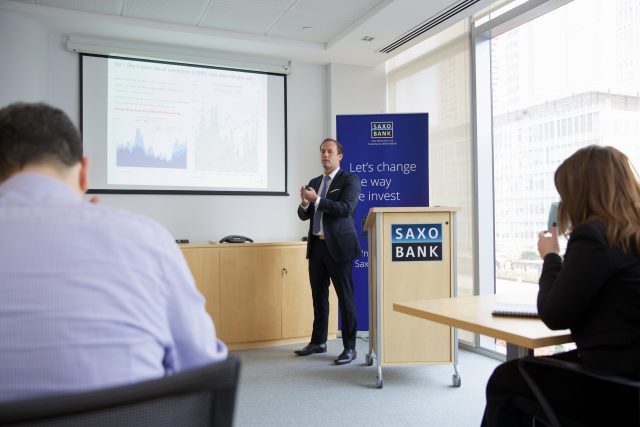 Financial markets have started the year strongly, with a rally in equities leading to a huge rotation of investors moving from bonds to equities, which may bring further demand for equities in the coming weeks, says Saxo Bank, the online multi-asset trading and investment specialist in the region.
Saxo Bank's head of fixed income, Simon Fasdal, said that although deflation fears are finally gone and there are positive signs that more markets are seeing economic improvement, there are significant market risks emerging from the forthcoming elections in France, Germany and the Netherlands.
"There is an uncertainty as to how the anti-establishment, populist votes will play out in the European elections, which is raising the European risk premium, negatively affecting investments in European stocks and bonds," Fasdal said.
"Already, we are seeing spreads in European government bonds reflecting this uncertainty with France['s] ten-year sovereign bonds versus the German Bund recently hitting a four-year high. The spread for this pairing is particularly noteworthy as it shows the higher premium traders currently require in order to buy French debt," he added.
Meanwhile, other market risks focus on US President Donald Trump, with several spikes in volatility already observed in recent weeks, alongside surprise announcements. The market is eagerly waiting for Trump to set out his economic policy, although he has already indicated that he prefers a weak US dollar so as to increase competitiveness at the expense of other nations.
"We have seen Trump set the ground for a currency war with China by publicly stating the Chinese Yuan is too weak, which also implies the dollar is too strong," said Fasdal. "If Trump makes good on his word to introduce protectionist measures in the US, we expect to see a big contraction in global trade, leading to less demand for US dollars and perhaps even an outperformance in gold and silver."
For the GCC region, the major indicator of economic strength continues to be the oil price, but also the positive trend for more global credit demand and strong equity markets is expected to have a positive impact on the regional economy.
Fasdal added: "Oil prices continue to remain in focus and there has been a big bet in markets recently that oil will go higher as soon as supply and demand balances out. However, it's important to note that there will be a huge cap on the upside, due to the fact that shale oil producers and other producers outside of the OPEC agreement will still be supplying the market, which may keep the price down."
"Speculative oil flows are a major market mover and it can't be understated that oil is also at a short term risk of correction if the OPEC cuts do not play out in reality. Major corrections in the oil market are often triggered by overextended positions in either direction and there is currently a gross-long close to one billion barrels, no doubt supported by the belief that OPEC will deliver on the promised production cuts," he continued.
Fasdal was, however, positive about the UAE economy and praised policy makers on their diversification efforts. He said: "We have seen a positive impact from diversification in the local economy as well as an improving global economy. I expect that the UAE will continue to benefit from the travel and tourism sector, but good development is crucial to cope with the high debt for Dubai. I expect that if investment continues, the economic growth will continue to be positive."