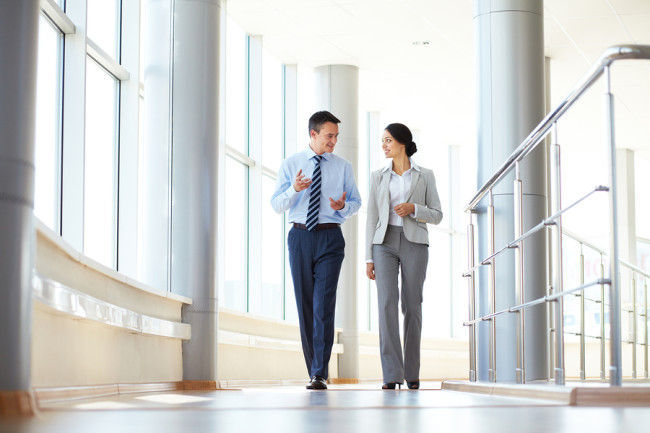 A walking meeting is simply that: a meeting that takes place during a walk instead of in an office, boardroom, or coffee shop where meetings are commonly held.
Recent research finds that the act of walking leads to increases in creative thinking. This certainly supports the usefulness of walking meetings. Plenty of anecdotal evidence also suggests that walking meetings lead to more honest exchanges with employees and are more productive than traditional sit-down meetings.
Based on this, we undertook an exploratory study of the benefits associated with walking. We surveyed a population of approximately 150 working adults in the U.S. to gather input about their walking meeting and work habits. In short, we find that those who participate in walking meetings are 5.25% more likely to report being creative at their jobs than those who do not. Additionally, the responses suggest that walking meetings support cognitive engagement, or focus, on the job. Those who participate in walking meetings are 8.5% more likely to report high levels of engagement.
Just how do walking meetings produce positive benefits in the workplace? Ted Eytan, medical director of the Kaiser Permanente Center for Total Health and a vocal advocate of walking meetings, has some ideas. First, from a neurochemical perspective, Dr. Eytan emphasizes that our brains are more relaxed during walks due to the release of certain chemicals. This aids executive function, which governs how we focus on tasks and deal with unforeseen events, among other things. Furthermore, Dr. Eytan believes walking meetings lead to better employee engagement by breaking down barriers between supervisor and subordinate or between co-workers.
If you are inspired to give walking meetings a try, here are a few tips:
– Consider including an "extracurricular" destination on your route. Dr. Eytan, whose office is located in Washington often mentions the nearby Washington Coliseum as a place to stroll by, and notes it is where the Beatles played their first U.S. concert. Naming a point of interest, he says, provides more rationale and incentive for others to go for a walk.
– Avoid making the destination a source of unneeded calories. One of the arguments in favor of walking meetings is the health benefit. However, this is easily negated if the walking meeting leads to a 425-calorie white-chocolate mocha that wouldn't otherwise be consumed.
– Do not surprise colleagues or clients with walking meetings. This allows them to arrive dressed for comfort, perhaps having changed shoes. You might also keep water bottles on hand to offer on warm days.
– Stick to small groups.
– Have fun. Enjoy the experience of combining work with a bit of exercise and fresh air. Perhaps this is the one piece of advice that doesn't need to be given. Our data show that those who participate in walking meetings are more satisfied at their jobs than their colleagues who don't.
(Russell Clayton is an assistant professor of management at Saint Leo University's Donald R. Tapia School of Business. Chris Thomas is an assistant professor of management at Saint Louis University's John Cook School of Business. Jack Smothers is an assistant professor of management at the University of Southern Indiana's Romain College of Business.)
© 2015 Harvard Business School Publishing Corp. Distributed by The New York Times Syndicate