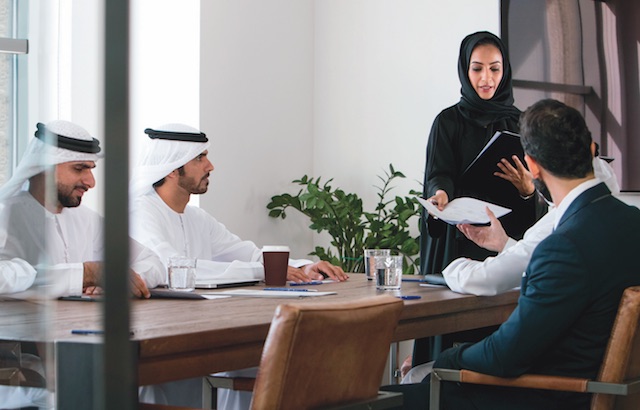 "What's it like being a woman business leader in the Middle East?" If I had a dirham for every time I've been asked that question, I wouldn't need to go out to work at all.
Nonetheless, it's worth considering why this question features in so many of my conversations – particularly with friends and colleagues from overseas. The implication – stated or otherwise – is that, as a woman, I must have found it difficult to climb the corporate ladder, due to the prevalence of men in senior positions, the mindset that has women beholden to domestic duties while their husbands go out to work, ancient traditions that have prevented women from venturing into offices, factories, laboratories and workshops… The list goes on.
Granted, such imagery has more than a grain of truth in it, but times are changing. Women's economic empowerment – the challenge of making sure women participate in the workforce and develop and advance to senior positions – has recently taken firm root in the UAE government. The task now, however, is to ensure it permeates our business sector with equal success.
Why women?
Why now? Why is this such an important issue? After all, there is no shortage of challenges for our leaders to address. The countries of the Gulf Cooperation Council may have enjoyed an average annual growth rate of 6 percent to 13 percent over the past 15 years, but ours remains a region beset by high youth unemployment, as well as lingering security instability and underwhelming economic integration. And that's not even counting the impact that the fall in global oil prices is likely to have on future regional development.
Listing these challenges and complexities is one thing, but solving them is quite another. They test our leaders day in and day out – and there are no easy solutions. This means we need the best and brightest to be present at decision-making tables – and this includes women. Diverse teams deliver a diversity of perspectives and points of view. They stimulate innovation and problem-solving. They spark better debate and better ideas. In short, they lead to improved decisions, governance and results. The case is overwhelming.
There is an abundance of female talent becoming available – women now -constitute more than 50 percent of university graduates in the region – but workforce participation rates remain too low, especially in the private sector, and there is limited advancement to senior positions and boardroom roles. What needs to happen now is to ensure this talent is transferred from lecture hall to workplace – the sooner the better.
Leading by example
The UAE government needs no persuasion. There are now eight female ministers, constituting 27.5 percent of cabinet seats. Under the country's constitution, women enjoy the same legal status, claim to titles, access to education and right to practice professions as men. They are also guaranteed the same access to employment, health and family welfare facilities. Furthermore, in 2012, it was made compulsory to appoint at least one woman to the boards of public and private sector organizations – making the UAE the first country in the Arab region and the second in the world to introduce a mandatory female presence in the boardroom.
Much can be traced to the example set by HH Sheikh Mohammed Bin Rashid Al Maktoum, Vice-President and Prime Minister of the UAE and ruler of Dubai, who has long been a strong advocate of women's advancement in the workforce. For example, the new cabinet includes five women: HE Sheikha Lubna bint Khalid bin Sultan Al Qasimi, Minister of State for Tolerance; Najla Mohammed Al Awar, Minister of Community Development; Jamila Salim Al Muhairi, Minister of State for Education; Noura AlKaabi, Minister of State for Federal National Council Affairs; and Shamma Al Mazrui, Chair of the Youth National Council.
This strong endorsement from the country's leader sets an important tone, but there are other factors at play. Positioning the country as a hub between the East and the West, the UAE's leaders believe an open and diverse approach will drive investment, help create jobs and sustain economic growth.
Another important factor is the country's small population. Leaders recognize the importance of fully utilizing the entire pool of national talent – 50 percent of which is women. With this in mind, it should come as no surprise that the education attainment gap between genders has also long been bridged, resulting in a generation of young women, fully educated and eager to find gainful employment.
While I can't predict upcoming legislative activity, the recent creation of the Gender Balance Council also bodes well for the future. A new federal entity that aims to promote equality and opportunities for women in the workforce, it is a further indication that change, while often slow and laborious, is happening – at least from the ground up. But is this sufficient? Are these moves – welcome though they are – ensuring that enough women are breaking through into boardrooms?
Moving on, moving up?
Unfortunately, the number of women making it through to senior executive roles in the private sector remains far too low. Women hold only 1.5 percent of listed company board seats in the Gulf region. So, to say there is room for improvement is clearly an understatement. Long-held and mistaken preconceptions that women may be distracted by family obligations or might not want to travel are perhaps holding back more progress.
One would hope that the UAE's commitment to gender diversity at the top level of government will be a source of inspiration, but there are also some solid steps that can be taken to help make glass ceilings a thing of the past. For example, given that new directors are often appointed on the basis of board members' recommendations, women candidates should not be overlooked in favor of male colleagues.
Huge progress could be made by persuading just some company boards to specifically look at highly qualified women candidates to fill vacant positions.
The UAE's gender quota system has made an important start, but more can be done across the region as a whole. Inspiration could perhaps be taken from further afield, where more countries are looking at gender quotas to bridge the boardroom gap. Germany, for instance, has made quotas mandatory and has tasked its companies to ensure that 30 percent of non-executive board seats are filled by women.
If they need further persuasion, perhaps steering them gently toward stories of successful women business leaders may help them see the light. A quick look at Forbes' list of 100 most-powerful Arab women is a vivid reminder that ours is a region replete with talent and vision, where women are spearheading social, economic and business transformation. Such stories should help remind women that they themselves have an important role to play. They need to be the change. Put your hand up – don't hesitate to contribute and speak up in meetings, networks and elsewhere. There is nothing wrong with being ambitious. On the contrary, women need to aim high – which is what men have been doing without hesitation for generations.
Doorway of opportunity
Empowering women in the UAE and across the region is more than just a sound bite. It's actually a social and business imperative. Evidence abounds of how gender diversity on boards is correlated to better financial performance – Fortune 500 companies with the greatest representation of women in management positions deliver returns to shareholders that are 34 percent higher than companies with the lowest representation, says a report from Catalyst.
But real change is about more than just numbers on a balance sheet. Real change is when we who live and work in this region we are lucky to call home can see visible progress with our own eyes. When we are not surprised by women forming the majority of participants in a meeting. Or by a woman engineer fixing a jet engine. Or by a women entrepreneur achieving business success across borders.
Change is coming – there's no doubt about that. But we need to pick up the pace. If we do so, my daughter, as well as my son, will have equal chance to step into a future laced with professional opportunity – one where, if she chooses to follow in my footsteps, she will not be asked what it's like to be a woman business leader in the Middle East.
Dr Leila Hoteit is a partner and managing director in the Abu Dhabi office of the Boston Consulting Group