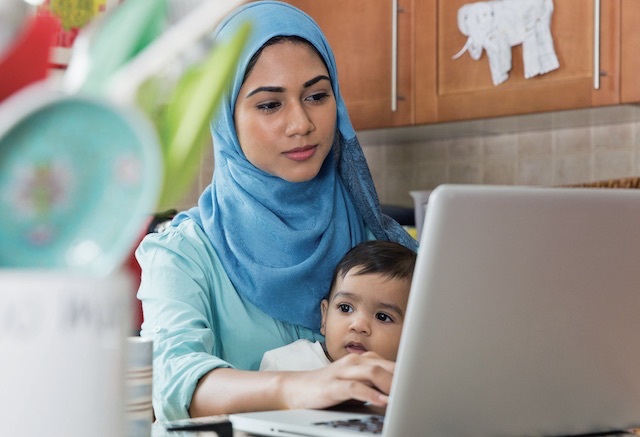 Her first pregnancy had not been planned, but Hana wanted to take time off to stay with and look after her daughter for the first four years.
Hana, who had worked since she had graduated ten years ago and had risen up the corporate ladder with a multinational, wanted to do things differently now that she was about to start a family.
"As her mother, it was important to me that I be with and raise Gemma myself and be with her at least until she was old enough to enter school," she says.
She took four years off to raise her daughter, but Hana's plan was always to go back, and rejoin the workforce. And she's not alone.
Across the Gulf, thousands of women find themselves in the same position as Hana: career professionals who are educated, highly skilled and who have decided to take time out of employment in order to raise a family.
And yet, the majority of those women want to return to work after having a child.
Eager to return to work
Research undertaken by YouGov and female recruitment agency [email protected]  – the survey questioned 1,000 women in the UAE – found that 77 percent of moms want to return to work. The desire to go back into the workforce is even more acute among mid-level professionals – the survey showed that, among mothers aged between 30 and 39, 88 percent had either returned or were eager to do so.
While a majority certainly want to resume their careers, is there a way? Half of the mothers surveyed said they would only return to work if there were flexible or part-time working options available.
One senior recruitment executive believes that there's never been a better time for moms to look for flexible work roles. "We have done our research here [through our parent company Mackenzie Jones and YouGov] to ask our clients about moms in the workplace. We got an outstanding positive response when we asked if they would hire mothers," says Louise Karim, the managing director of [email protected] "Since our launch [in April] we have had more than 3,000 CVs, a good percentage of which are very strong candidates – women who were in management and executive positions. With clients, we have had a strong response," she adds.
While the concept of flexible working hours is commonplace in regions such as Northern Europe, the idea of getting mums back to work is still in its infancy here in the GCC. A number of organizations, such as [email protected] and Hopscotch Middle East, are working to transform perceptions about working mothers and promote a change in working practices, such as the introduction of flexible hours and remote working.
"Hopscotch Middle East was set up to be much more than a recruitment firm. We are a support platform to support women and get them back into the workplace. Part-time work is doable, but it's not how it is perceived," explains Helen McGuire, co-founder and managing director of Hopscotch, which was set up by her and her husband Justin McGuire, who founded the recruitment agency MCG Associates.
"A lot of full-time roles are full-time simply because that is the standard; that's the norm. We are opening up a new talent pool that hasn't existed before and that means potentially a new way of working for everyone in the region," she says.
Both organizations are looking to tap into what they believe is a significant pool of professionals. Many of them are senior-level executives, who are based in the region but don't feel ready to commit to full-time work, opting instead to work flexi-hours or remotely, if the option was available. The reaction from employers to the notion of hiring working mothers and providing them with the means to rejoin the workforce has exceeded expectations, states McGuire. "We have been astounded by the response, not just from women but also from businesses and the media," she notes. "We imagined some companies would take a little persuasion, but so far the -response to bringing a new product to this market, which we have done, has been really positive."
Different approach
As part of their engagement with mothers who have been out of the workforce for some time, both Hopscotch and [email protected] are going beyond the typical recruitment service and providing additional support to get them ready to re-enter the workforce. Hopscotch is currently running a series of workshops in association with HSBC. Meanwhile, in addition to workshops and mentoring, [email protected] is developing a portal that Karim hopes will turn into a support network for sharing advice and providing guidance and support.
For one Dubai-based executive, concepts such as flexible working hours can be a boon for both the employee and the employer. "Flexi-time can help employees when it comes to family responsibilities, such as the drop-off and pick-up from school," explains Lucy Harvey, -regional director at Hill+Knowlton Strategies, which has a female-majority workforce. "And it can benefit the employer as well. Take, for instance, the summer season. Moms can take six weeks off during summer as a vacation with the family, which in turn helps reduce costs during what is typically a lean season when it comes to work."
For Harvey, the idea of concepts such as flexible hours allow for opportunities that wouldn't otherwise exist, such as the hiring of working moms who are senior or who practice a certain type of specialty. However, she cautions that there needs to be openness and transparency on what flexibility means to each party.
"To make it work, you need openness on both sides," she explains. "Employers and employees need to have a conversation around the concept and what it means to practice, to make sure that both of them understand."
She adds: "Once you have got past that point, you will find that employees pay back that respect and trust by doing their jobs better and working as and when they need to. Employers can significantly increase employee loyalty as well."
A different approach to females in the workplace is being taken by the 30% Club, a movement that was conceived in the UK back in 2010 and which found its way to the Gulf last year. The idea is simple – get more women on company boards and they will push for a change from within. The Club, which advocates a minimum of 30 percent female representation at board level, has spread rapidly around the globe, including in the Gulf  countries, where it is being supported by numerous organizations.
"Gender balance on boards not only encourages better leadership and governance, but diversity further contributes to better all-round board performance and, ultimately, increased corporate performance for both companies and their shareholders," explains Felice Hurst, Gulf chapter board volunteer and MENA managing director for Hanson Search. "Women play a very powerful role in the Middle East when it comes to business and we are witnessing an increased number of women in government, -running private businesses, and driving the economy forward in countries such as the UAE, Qatar and Saudi Arabia."
The wider debate
For Hurst, herself a working mother, the issue of getting mothers back into jobs is part of the wider debate about female representation in management. "As an executive recruitment professional, the topic of enhancing the female talent and enabling them to perform well both as mothers and businesswomen is at the top of the priority list. Women bring in a "new" and often wider perspective to management problem solving, and expanding the female participation in the workforce will expand the pool of talent that the GCC organizations can tap into."
The argument is also economic, explains Hurst. More female participation will only be better for the local, regional and global economy. "McKinsey recently produced a report titled Women Matter, highlighting that companies greatly benefit from gender diversity in leadership positions, with more diversity going hand in hand with higher organizational effectiveness. The report argued that there is an economic case for gender parity and that advancing equality could add $12 trillion annually to global GDP by 2025. This is a pressing global issue with huge ramifications, not just for the lives and livelihoods of girls and women, but, more generally, for human development, productivity and GDP growth."
However, challenges to both approaches remain. Research undertaken by Deloitte and the 30% Club found numerous obstacles to raising the percentage of women on boards across the Gulf.
Firstly, having women on boards is not seen as a priority for business owners and shareholders currently, due to more pressing concerns on both the regional and global levels. The region's social norms and business culture are still acting as an obstacle to getting women into work and helping them rise up the corporate ladder. And, while the -private sector is often the only choice for expat mothers, many nationals prefer to work in the public sector where working hours are shorter and vacation leave days more numerous.
"While we have numerous programs in place globally to ensure that we attract and retain professional women who are also mothers, we have found it hard going here in the Gulf," one senior HR executive told TRENDS on the condition of anonymity. The executive added: "There is little understanding of what is part-time or flexi-work, which is reflected in lack of a suitable visa type for such work arrangements. Remote working isn't popular either, as employers still have trust issues when it comes to employees not being in their line of sight. Many businesses till strictly follow standard work hours and require their staff to show up in the office. I am seeing some changes, but it's slow going compared to Europe or the US."
For Hana and the thousands of women in her position across the Gulf, change can't come fast enough to the job market. "I have always worked hard and I'm proud of how much I've achieved in my career," she says. "Me and my husband have also wanted to have children for some time. I shouldn't have to choose one or the other, especially when adding in the cost of living in a place like Dubai. I hope employers come to realize the experience and the skills that we as working moms bring with us, and accommodate our needs. It will work out in the best interests of both the employer and the working mom. So what are we waiting for?"