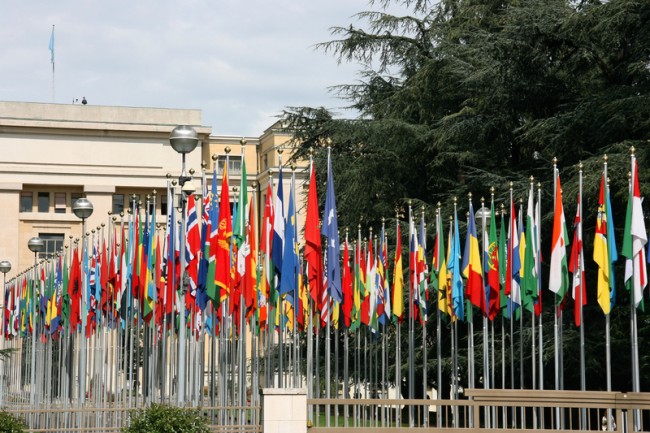 "Your actions count. We need you to be architects of a sustainable future," UN Secretary General Ban Ki-Moon addressed about 1000 senior managers and government officials during the UN Global Compact Leaders Summit on September 20thin New York.
While world leaders gathered for the 68 General Assembly, Ban Ki-Moon made it a top priority to endorse Georg Kell, the executive director of the UN Global  Compact. He called upon the business community: "Help us to respond to the urgency of our global challenges".
In the midst of an escalating war in Syria and countless other conflicts and catastrophes on his shoulders the UN Secretary General was pleased to win powerful new allies.
Jean Guy Carrier, the Secretary-General of International Chamber of Commerce and Sudhir Vasudeva, Chairman and Managing Director of Oil and Natural Gas Ltd., the largest public sector company in India, announced their new "Business for Peace" initiative. "If peace is not there, business can not be there. They go hand in hand," Vasudeva told TRENDS. "Business can play a very important role in guarding peace. Why should peace only be left to the policy makers."
In a very personal way Ban Ki-moon talked about his childhood in South Korea: "I grew up in a country devastated by war. I knew hunger."
The Secretary General is putting all his weight behind the Global Compact – a partnership between the economic players and the United Nations – because he feels that companies have the power to transform. "The Global Compact has helped generate a major shift in corporate mindset in just one decade. Enlightened leaders are making sustainability a core part of business strategy," said Ban Ki-moon. Now, with 8,000 business participants in 145 countries, the UN Global Compact is the world's largest corporate sustainability initiative.
The Global Compact Network for the GCC States was established in the UAE under the patronage of His Highness Sheikh Hamdan bin Mohammed bin Rashid Al Maktoum, Crown Prince of Dubai and Chairman of Dubai Executive Council.
The Sharjah based Crescent Group is one of  the currently 89 member companies. Badr Jafar, CEO of Crescent  brought his Perl Initiative for better governance to a new level by signing a partnership with UN Global Compact.
Ban Ki-Moon want to see more initiatives like this and demands: "We need business to play a leading role."
The summit also witnessed the launch of new issue platforms on Education and Sustainable Agriculture as well as the introduction of a new sustainability report.
According to the Global Corporate Sustainability Report 2013, released ahead of the Summit, 52 per cent of corporate boards participating in the UN Global Compact address corporate sustainability, and 65 per cent of CEOs have developed policies and strategies for a more sustainable operation.
To read the UN sustainability report 2013, please click here.