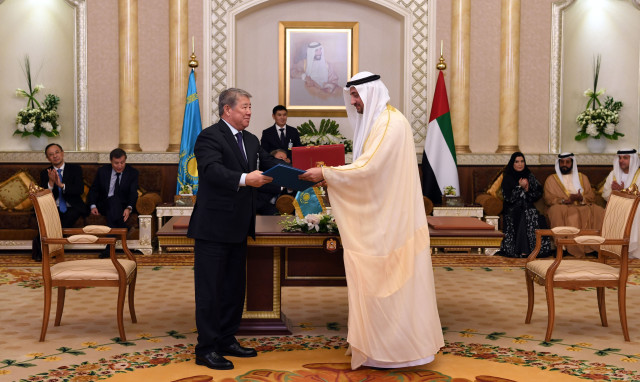 National Company Astana EXPO-2017 and EXPO Dubai 2020 Bureau signed a memorandum of understanding and cooperation on the sidelines of the recently held World Future Energy Summit (WFES) in Abu Dhabi.
The document was signed by the Chairman of the Board of JSC "NC "Astana EXPO-2017" Akhmetzhan Yessimov and Executive Director of EXPO Dubai 2020 Bureau Najeeb Mohammed al-Ali.
"The UAE is one of Kazakhstan's key partners. Given the fact that both countries will be hosting EXPO, it is necessary to strengthen cooperation between the organizers of the exhibitions. We have agreed to share knowledge and experience and provide the maximum support for each other," said Yessimov.
Preparations for EXPO 2017 are going according to plan; construction works are 95 percent complete. The pavilions are now being handed over to the participating countries to be filled.
"EXPO 2017 is a huge infrastructure and business project for Kazakhstan, involving the participation of a large number of companies," said the Director of the Content and Event Organization Department of JSC "NC "Astana EXPO-2017", Marat Omarov.
The President of Kazakhstan, Nursultan Nazarbayev, also attended the Summit in Abu Dhabi. Speaking at the opening ceremony, he said that in the future the infrastructure of EXPO 2017 will host the Astana International Financial Centre. "We held talks with the Dubai International Financial Centre and agreed to use its experience in Kazakhstan," said Nazarbayev.
The President emphasized that at the session of the UN General Assembly he proposed to create the International Center for Development of Green Technologies and Investment Projects under the auspices of the UN on the basis of the EXPO 2017 infrastructure.