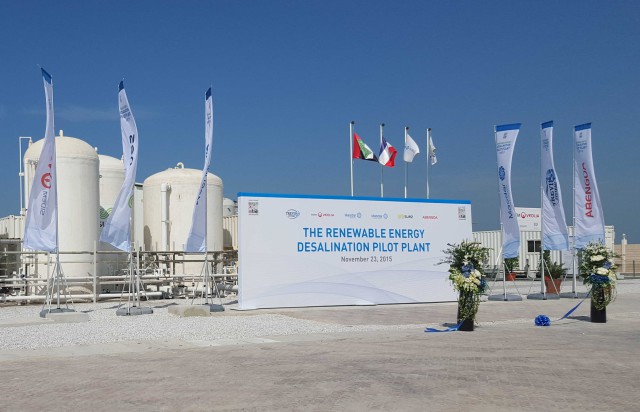 A review of recent research into water security, conducted ahead of this month's International Water Summit (IWS) in Abu Dhabi, has demonstrated significant potential for innovative desalination technology to improve sustainability in the UAE's water supply.
The UAE and other GCC states are global leaders in desalination, and have proved the value of the technology in underpinning water security worldwide. Historically, the region has used thermal processes using waste heat from electricity generation. The IWS 2017 Market Report, compiled by Frost and Sullivan, found the UAE uses thermal processes for around 88 percent of its desalination needs, based on figures from Global Water Intelligence.
"Innovative desalination technologies have the potential to make a significant contribution to the energy goals of the UAE and MENA region," said Mohamed Al Ramahi, CEO of Masdar.
"This region has led the way in proving desalination as a viable and secure source of fresh water, and we are now at the forefront of researching new solutions which are both sustainable and commercially viable," pointed out Ramahi.
Masdar is leading efforts to link desalination to renewable energy, investigating the latest advances in technologies such as reverse and forward osmosis, which use a high-tech membrane to filter seawater, and integrating this with solar power generation. The aim is to find the best, most advanced solution, tailored to the region's environment.
Hosted by Masdar from January 16-19 as part of Abu Dhabi Sustainability Week, and held in strategic partnership with Abu Dhabi Water and Electricity Authority (ADWEA), IWS is dedicated to closing the sustainability gap in the region's water supply.
"The region is seeing heavy investment in solar energy, and there will be less use of fossil fuels in future expansion of the electricity supply across the region," said Abdullah Musleh Al Ahbabi, Chairman of ADWEA. "That will make new desalination technology absolutely essential to maintaining future water supplies, and we need to make decisions based on information that is reliable and which is based on local conditions."
The world uses almost 87 million cubic metres of desalinated water every day, and the MENA region accounts for 44 percent of that figure, according to the International Desalination Association. In the GCC alone, Saudi Arabia, the UAE, Kuwait and Qatar are all among the world's 10 largest users of desalination.